REVIEW: Go Tell the Bees That I Am Gone by Diana Gabaldon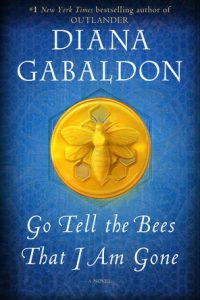 Spoiler alert: There are probably spoilers. I've tried to keep them mild. Read at your own risk.
CW: discussion of sexual assault (non-graphic), graphic violence
Dear Diana Gabaldon,

The long-awaited book 9 of the Outlander series is a doorstopper (like most of the earlier books). Ordinarily it would be supremely difficult to sum up such a long book in a review. As it happens, the TL;DR is this:  It's very long, not a lot happens but at least no-one is raped. And there are a lot of bees.
At this point the main reason I'm continuing with the series (and this was true for the prior book too) is because I've invested too much into it to quit. There will be one more book  – I'll read it, for the same reasons – and then the series will be done. I'm well aware of its flaws  –  the main one being how in previous books it crossed way over into torture porn territory (arguably it did that in book 1 but my tolerance has changed a lot over the years). This book does not so, hooray. That was my biggest fear to be honest. That it would be full of rape and torture and I'd be unable to manage it.
There are references to prior rapes (Claire's, Brianna's, Jamie's – this is not an exhaustive list by the way) so readers should note it's not a rape-free book altogether but no-one is actually raped in this book. I mean, that's progress.
There is some graphic and squishy violence – spoiler alert – one secondary/tertiary character is mauled by a bear and there are some war wounds described but all in all this is probably the least graphic book of the series.
I listened to it and probably the main reason I rated it as highly as I did is because Davina Porter is an excellent narrator and I could probably listen to her recite the dictionary. The other thing was that I was deep into my Christmas baking and had a lot of time to listen and I was grateful that I did not need to concentrate much on the story to follow it. Well, I say story. There's not really a coherent through line. It's not a book with a clear beginning, middle and end. It's more like a very long installment. There are a lot of rabbit trails and some of them really don't go anywhere much. It's not that I disliked or resented the side trips really but looking back I was asking myself "why?".  Why was it in the book? What purpose did it serve? How does this add to the overarching Outlander story? Many times when I asked myself that question I didn't have a good answer. Self-indulgence maybe? (And that's not really what I'd call a good answer.)
What's really odd about it is there are a some things which do happen and they needed more detail but did not get them, in favour of things which, overall, didn't matter much at all (coughthebeescough). One character has a baby but apart from the pregnancy announcement, one mention of a pregnant belly and then the birth scene, it's …not a thing. There was a whole health issue set up and it kind of fizzled out. (I expect it will come back in the final book but this could be quite heartbreaking for readers and the characters as I expect a "difficult choice" may need to be made and if so, I will be pissed. Frankly I'd rather it fizzled.)  On the other hand, Claire is completely magic now so maybe she'll just fix it? 
(Yes, that's right, Claire has jumped the shark and is fully magic. I'll leave readers to discover how. It's been foreshadowed for a while of course.)
Another character located a heretofore unknown child who ends up being brought into the family and this is basically a non-event. The child doesn't seem to have any trauma about leaving their mother and/or being in a new location with strangers? Really??
Brianna and Roger and the kids go on a journey. And then they come back. Ian and Rachel and Jenny go on a journey and then they come back. William goes on a number of journeys and (mostly) comes back (he's mid-journey at the end – not dead, don't worry!). Jamie nearly dies (Claire is magic now so it's okay.) Fergus and Marsali barely rate a mention. In fact, I was really confused about them for a while because Fergus said he was going to Savannah but then he ended up somewhere completely different and it was only briefly mentioned ages later. I kept expecting Fergus to bob up in Savannah and was wondering why he did not. As it happens, it's because he wasn't there.
There were a number of repetitions of events which have happened in other iterations of the series and a heavy (heavy) reliance on bees. So. Many Bees. (This would bother me more probably but I really do love the way Davina Porter says "bees" – she makes it quite onomatopoeic.)
Late in the piece there's some stuff about other time travellers which I think just makes things messy but okay.
You have promised (and I'm holding you to it) that the series will end happily. Jamie and Claire might be 85 when it does but I do trust they won't be dead. (I do hope I don't live to regret that trust.) I'm sure they'll still be banging often if this book is anything to go by. They're they only ones who get any kind of explicit intimacy though there's clearly a fair amount of banging going on elsewhere too.
The book does end on a mild cliffhanger but (and this is ME saying this) I didn't get bent out of shape about it. I'm not at all worried. It's more… sequel bait – a signal to readers that this is not the end. (Famously this became necessary after the ending of The Fiery Cross. It was a whole thing. Readers can look it up.)
At this point the only people reading Go Tell the Bees are those who have read all the others. There's no point otherwise and nobody who hadn't would understand it anyway so in a way it's all fan service. I didn't hate the book. (The non-torture and non-rape went a long way toward my feeling on this.) I didn't mind spending time with characters I care about (in spite of everything) but the reality is that not much of any significance actually happens. I was entertained however while I did my Christmas baking and I had more than 57 hours of listening for the price of a credit so I cannot say I didn't get my money's worth. The ebook is retailing in Australia for $12.99 and the trade paperback can be picked up for $22.99 and again, given the length of it, it's going to provide hours of fairly gentle (well, relative to the series as a whole) if extremely meandering entertainment. The final verdict is: sure, buy it if you've read the others. Why not?
Grade: C

Regards,
Kaetrin