REVIEW: Darius by Grace Burrowes
Dear Ms. Burrowes:
I chose this book because the titular hero is a man ho. I read and enjoyed Claire Kent's Escorted, a contemporary whose hero is a gigolo, and thought it would be fun to read a historical with the same premise. It wasn't. Darius is well-written and has sympathetic leads. But the storyline never pulled me in and my attention wandered every time I sat down and tried to read.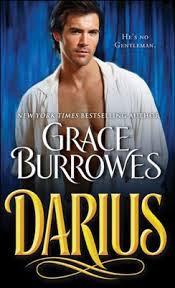 Darius Lindsey is an impoverished second son who makes his living by sexing but not having intercourse with women in the ton. He's known for his prowess and his discretion. Despite his skill set, he's slipping into desperate financial straits. He is saved by aged and dying Lord Longstreet. Lord Longstreet offers Darius all the money he needs if Darius will take on the task of impregnating the Lord's young wife Lady Vivian. The baby will be the heir Longstreet needs and, once the deed is done, Darius is to have nothing more to do with Vivian or her child.
Darius is the third historical I've read in the past few years with an impregnation plot. I enjoyed the other two, Cecilia Grant's superb A Lady Awakened and the well-done Waking up with the Duke by Lorraine Heath, far more than I did Darius.
After Darius hammers out the terms of his service(s), he and Vivian head off to spend a month together at Darius's estate in Kent. In the beginning of their relationship, they are classic cliché characters. Darius is the whore with a heart of gold who hides said heart because life has treated him cruelly. Vivian is, despite her marriage, a virginal good girl who tells Darius she wishes she could "put a sack over my head, stuff cotton wool in my ears, and hum some good old Handel while you do the going on." And though, at the beginning of the month, they've only known each other a few days, they each sense the other's true self. It's as if rather than sharing insta-lust, they share insta-almost love.
When they become lovers–they have to wait a few days because Vivian's having her period–both find the experience galvanizing. (I am so tired of virginal heroines having fabulous intercourse only-orgasms the first time they make love. I realize this trope is as common to romance as chase scenes are to Bond flicks but I'm weary of both.)
Bliss rippled up from their joining and washed out over his body in long, hot pulses, until he lost the sense of where his skin separated him from Vivian, or any other aspect of creation. He heard himself moan—he never moaned—and felt himself clutching at Vivian more desperately than he sought his next breath. His body gave itself up to drenching spasms of pleasure, until he realized that harsh, grating sound was his breathing, and he was going suffocate Vivian if he didn't turn loose of her.

"Jesus." He echoed her earlier prayer. "Holy Jesus."

She pushed up to peer at him. "Was that how it was supposed to go?"

He smiled at her, loving the earnest concern in her expression, the rosy flush of pleasure on her chest. "It will do for a start."

"You're teasing me." She settled down against his chest, content, and he was content to have her in his arms. More than content, God help him.
Within days of their first coupling, both have developed strong emotions for the other. The month they spend together is well-detailed by Ms. Burrows; we see them sharing not just their bodies but their lives. Despite seeing all this intimacy, though, their love for each other seemed a bit out of blue to me. Yeah, they desire each other and Darius pampers and pleasures Vivian every chance he gets but I struggled to see them as soul mates. However, when it is time to part (at the 50% mark in the novel), the two are deeply in love and Vivian has indeed conceived.
When Vivian and Darius return to town, their story began to slip into tedium. They can't be together but, by the story's end, they must–this is a traditional romance. Between leaving Kent and living happily ever after in London, Darius and Vivian face melodrama and menace, none of which I found interesting. Darius's old clients act very badly. Vivian's evil psuedo-stepfather threatens her and her child's futures. People are mean to Daruis's sister whose story will, I'm sure, be explored in one of the other seven books Ms. Burrowes is publishing in this Lonely Lords series. I perused two hundred very slow pages before I, happy to do so, finished the book.
To be fair to Ms. Burrows, I appear to be in the minority. The book has gotten strong reviews elsewhere and 175 Goodreaders have given it over a four star rating. This is my review, however, and I give Darius a C.
Mulishly,
Dabney