REVIEW: American Witch by Thea Harrison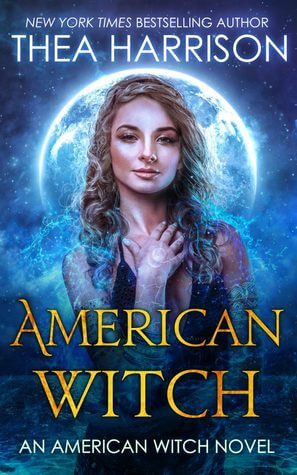 Content warning: Domestic violence, assault (non sexual)
Dear Thea Harrison,
The Elder Races series and it's spin-offs is one of the very few PNR series' I have actually kept up with and I was excited to read the newest installment, American Witch, the first in a new trilogy set in the (Elder Races version of the) USA, revolving around, as the title suggests, witches. Unfortunately, American Witch didn't work nearly so well for me as I'd been hoping it would and not as well as previous Elder Races books.
Molly Sullivan is the wife of a prominent Atlanta lawyer and has been for nearly 20 years. She gave up her own career to support her husband and has been a faithful devoted society wife to him all these years, despite the love having gone out of their marriage a long time before. When she discovers evidence that Austin had been cheating on her (again) she reaches her breaking point and decides enough is enough. The opening scenes are a bit info dump-y; the argument Molly and Austin have didn't feel like words people would actually say. It had nothing to do with the level of meanness (on his part) and more to do with me not quite buying that Austin and Molly would need to recap their history with one another for any other reason but to fill readers in.
I did like the way you showed Molly's sadness and bewilderment at the end of her marriage. While she hadn't loved Austin for a long time, they still had history. The way you described it made sense to me.
The meandering years of conversation that had made up their marriage had been chopped off midsentence.
At around the same time as discovering Austin's cheating, Molly starts manifesting magical Power. She doesn't recognise it at first, but Josiah Mason, the new DA and a guest at the party where the big argument occurs knows magic when he sees it. He's a powerful witch himself and Molly's uncontrolled Power zinging around the place is likely to draw undue attention from someone he's been working to locate and defeat for many years. She's an inconvenience but he's also fascinated.
Molly leaves and raids the house safe on her way out the door. She finds some interesting financial information which points to some shady dealings and next thing you know, Austin is showing a violent side never before revealed. The violence is unpleasant and could be a problem for some readers.
As the only other magic user Molly knows, it is Josiah to whom Molly turns after the assault.
It is not very long after that things turn romantic between Josiah and Molly and it was all a little too quick for me. I found it difficult to believe on a number of levels. First of all, Josiah initially does a good impression of a villain rather than a hero. I have a note early on where I wrote down that I wasn't sure I liked him yet. He's abrasive, rude and kind of mean. His raison d'etre for decades has been to find and destroy a powerful witch who had enslaved him for some years and he's very focused on his goal. He has ambition as well, to gain more power and his initial interest in Molly is that they combine their talents and rule the Eastern seaboard. I didn't find it very attractive to be honest. (Thankfully, neither did Molly and she told him so quick smart.)
Molly is a woman who has been faithful in a marriage which hasn't been working for a long time. In the midst of dealing with the trauma and grief of the end of the marriage and then the shock of a violent assault, I found it very difficult to believe she would jump into bed with anyone, let alone a man who had spent most of their interactions being rude and obnoxious to her in one way or another.
At one stage early on (and prior to the assault by Austin), Josiah tries to rile Molly into accessing her magic by kissing her against her will. I did not love it.
What saved the story for me was Molly herself. She's coming into her own Power as a witch but also as a woman. She's standing up for herself for the first time in forever and she's not going to put up with bullshit from anyone, particularly a man, anymore. She calls Josiah out explicitly and holds him to account. Even when he apologises she holds her ground. It was glorious.
"It's exactly what you said," she snapped. "You kissed me to rile me up. You wanted to make me do what you wanted me to do. You manipulated me—again. And maybe you only manhandled me a little, but what makes you think a little is acceptable? Then you got condescending when you talked about tolerating me because I dared to respond with outrage. So yeah, I'm still angry, and I don't know when or if I'm going to forgive you. And I certainly don't know if I'm going to trust you again."

Silence pulsed. When he spoke again, the impatient annoyance had left his voice and he sounded serious. "Okay. You're right about all of it. I behaved badly, and I'm sorry. You didn't deserve it, and I shouldn't have done it."

She told him, "That's what you should have said on Monday."
Molly doesn't allow Josiah to pay mere lip service in an apology. She pushes back hard and forces him to take a good hard look at himself.
She was right. He hadn't treated her very well. Meeting Molly, and interacting with her, was like confronting himself in a fucking mirror after decades of avoiding his reflection.

And he didn't particularly like the man he saw. He had fallen into the habit of seeing people and things as potential tools he could use to achieve his objectives. The long years of focusing single-mindedly on his mission had changed him, and not for the better.

"Guilty as charged," he muttered. More quietly, he added, "I'll do better."
From then on, Josiah did do better and I appreciated it. He was always somewhat abrasive and demanding – at least right up until the last chapter when it appeared he'd softened significantly. But until then he and Molly had a somewhat contentious relationship and I didn't always like the way he spoke to her.
Also, I tend to like romances where the main characters spend a lot of time together and preferably, some of it working together to solve a problem external to themselves. In American Witch, much of what Josiah and Molly did was separate. Molly was learning how to harness her Power and Josiah was pursuing his adversary. Yes, things did converge but there was a fair chunk of the book where their arcs were parallel but quite apart. I actually liked the sections where Molly was learning more than Josiah's revenge storyline. I could happily have read more of Molly and her lessons and the found family she discovered in her new home.
Late in the story, Molly, who up until then had been very clever and sensible made what I thought was an incongruous decision which went against her stated goals (and common sense). This action did bring about the final conflict but it didn't feel organic or true to her character.
American Witch felt somewhat choppy to me, not the smooth build up of romance and tension I've experienced in previous books but I did like Molly very much, especially the way she really came into her own as the story progressed.
Grade: C
Regards,
Kaetrin