REVIEW: The Third Twin by CJ Omololu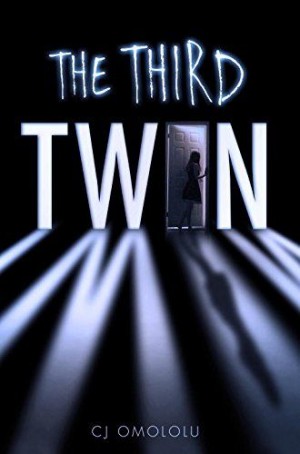 Dear Ms. Omololu,
Let me know if this sounds familiar. We have a pair of twins. They switch places and occasionally assume each other's identity. Eventually, they're found out. Your novel, The Third Twin, takes this to an extreme I didn't know existed. Lexi and Ava don't assume each other's identity. They assume the identity of an imaginary third sister, a third twin. Or, as most people like to call them, a triplet.
Lexi and Ava grew up the adopted, twin daughters of a very rich man. Lexi is the studious sister. Ava is the sister who wants to have fun. And Alicia? Alicia is the made-up sister the twins assume when they want to go out with inappropriate boys. Or rather, when Ava wants to date boys who don't meet her standards (translation: they're poor with no future prospects) and Lexi is roped into taking her place when she has a schedule conflict.
It started as a way to blow off steam, but things take a dark turn when one of the boys "Alicia" dated winds up violently murdered. Soon, there are signs that Alicia might not be so made up: a parking ticket, a salon appointment, and worst of all, photos posted on a Facebook page that are of neither Lexi nor Ava.
I love sister stories, and I have a secret love for twin stories. The idea of twins making up a made-up sister to take the blame for their mistakes fascinated me. The people close to them would know it was a lie. Why would they persist and how could they continue to succeed? Of course, the boys Ava picked to date in her Alicia guise didn't go to their high school so how would they know the truth? Theoretically, the risk would be low.
I enjoyed the relationship between Lexi and Ava, even though I sometimes had a difficult time empathizing with Ava. She's doing a shitty thing, pretending to be someone else so she can date these boys she wants…but on the down low. Those guys aren't good enough for her "real" self. That's terrible. And as the Alicia thing escalates, I found myself wondering about her reactions. I get that Ava's a selfish person, but don't worry so much about a fake ID when you're potentially implicated for murder. There's being a stupid teenager, and then there's being downright foolish.
One aspect I would have liked to see more of was the relationship between Lexi and Zane. It was fairly obvious to me that their story would follow the friends to lovers route, but the trajectory felt lopsided with most of it happening at the end. Since Lexi is dating one of the Alicia boys in the beginning, it would have been nice to have a bit more of Zane to counter that.
A word of caution I have for readers is that the first chapter opens with a sexual assault. It's thwarted, but I want readers to be forewarned — both for its presence and for the fact that because the POV character is a teenager, some of the internal dialogue is problematic because she doesn't know better. I confess I squinted a little, since you never know with new-to-me authors, but this is the only scene like that in my opinion.
While the true killer wasn't a complete surprise, I thought the set-up leading to the reveal was flimsy. It seemed awfully convenient. And I'm tired of the "The perpetrator is crazy!" explanation with thrillers and mysteries. It's lazy and ableist to rely on this again and again and again.
I have mixed feelings about this book. It has elements I love (sisters, twins, friends to lovers), but I was so frustrated by the characters (Ava, what are you doing? Why do you treat these boys and your sister like crap?). In some ways, I kept reading to see what ridiculous, over the top things they'd do next. Which is not a slam against the book, because that kind of compulsive reading factor takes skill. But it also depends on a certain reading mood. Balancing things out, I give this a C+.
My regards,
Jia