REVIEW: The Search by Nora Roberts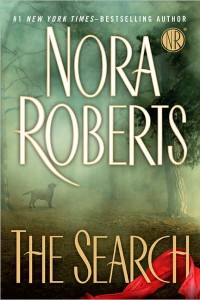 Dear Ms. Roberts:
I have to confess that my enjoyment of The Search is based in large part of my personal circumstances and therefore my review could be wildly inaccurate for others. The Search is about a search and rescue dog.  I mean, it is more than that but it is primarily about dogs, the training of dogs, the magic of dogs.  A dog lover will probably love this book.  Others?  I don't know.
For the past couple of years, Ned and my daughter have wanted a dog.  We've watched what seems like a hundred episodes of Dogs 101, It's Me or the Dog, and Cesar Milan's Dog Whisperer. The dog mania hit a fevered pitch last year when Ned began researching breeders (i know, we should have adopted but Ned wanted a specific dog). Non fiction books on dogs began to appear around the house. Then we told my daughter and once you tell a child that you are getting a dog, YOU ARE GETTING A DOG.
So I was fully steeped in dog lore when The Search arrived on my doorstep. To some degree it's like a fictional characterization of one of those dog trainers on TV.  This could have been a special on the Animal Planet.
Fiona Bristow is the head of Canine Search and Rescue. Her unit is comprised of handlers and their dogs who assist in search and rescue operations such as the location of lost children. When not helping local police, Fiona helps train other dogs. Her skills bring Simon Doyle, a fairly famous wood artist, to her doorstep. His mother gave him the puppy and since the puppy's arrival, Simon has not known a minute's piece.    Simon is a surly, intractable man who slightly resents his attraction toward Fiona. The more time he spends with Fiona, the more he likes her, learns her and the more he feels aggrieved.
Fiona welcomes Simon and her attraction toward him. She had once loved quite deeply and then lost her fiancé when he was killed by a serial killer trying to enact revenge upon Fiona for escaping his clutches.  Fiona was to be his thirteenth victim.   Fiona has the best revenge by living and enjoying her life, but it is lonely at times and Fiona has a big heart.  She's ready for Simon.
The book is quite lengthy and I never really understood why it took so long to unpack what seemed like a fairly simple plot: serial killer threatening Fiona, Fiona and Simon unwillingly falling in love, the end.  I also thought that given the length of the book (nearly 500 pages) that the ending was really quite abrupt.  However, I was not bored but that is primarily because all of the dog stuff, from the basic training  techniques  Fiona taught Simon to the more elaborate search and rescue exercises, was very interesting to me. I couldn't help but wonder whether others might find it pedantic.
The characters of Fiona and Simon will be familiar to Roberts' fans. There is no new ground broken here. Even though their backgrounds might be dissimilar to previous characters, their mannerisms are the same. I found Fiona's speech patterns, in particular, to be very recognizable. She talks in longer paragraphs but with the same staccato rhythm. Simon didn't speak much so he's harder to peg but his internal monologues are classic. Even so, the dialogue is snappy and very authentic. Both get in some very good lines. Simon says to Fiona at one point "I'm pissed off about the five years you shaved off my life. I had plans for them."
It's hard to read a Roberts' novel and not like the main protagonists.  Fiona and Simon are eminently likeable which makes the journey of them falling in love, which happens a little bit at a time, also enjoyable.   The suspense isn't going to keep a reader up at night. It's the characters and what is happening in their lives that keeps you turning the pages.  C+
Best regards,
Jane
Book Link | Kindle
| Amazon
| nook | BN | Borders
| Sony | Kobo |
This is a hardcover published by Penguin, one of the Agency Five.