REVIEW: Silhouette Nocturne Bite Quickies
For readers not familiar with Harlequin/Silhouette's various imprints (completely understandable because I confuse them myself), the Nocturne Bites are the paranormal novella line.   Often times, they're related to full-length Nocturne novels released around the same time.   That's not always the case, but it's something to keep in mind if you peruse what's on sale.
Blackout by Linda Thomas-Sundstrom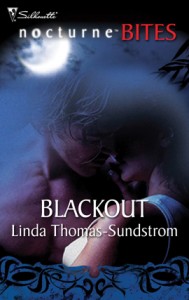 Despite some weak worldbuilding and questionable set-up, I found myself liking this.   I think it's because of the relationship dynamics between the couple.   Dylan Landau is a Deputy D.A.   who comes from a family of werewolves.   Don't you hate it when that happens?   Anyway, I'm not quite sure how the werewolf thing works in this world because there are hereditary ones like Dylan, but there are also made ones too.
Dylan had hoped he'd escape the family curse but he discovered six months ago that wouldn't be the case.   Ever since he's wandered the streets, trying to hide the fact that he's become a werewolf.   I'm still not sure how walking Miami's busy streets at night equals hiding but I guess if he didn't, he would never have met the heroine, Dana Delmonico.   Dana is a police officer and she's out on her nightly patrol when she's overcome by the Blackout, a werewolf's first transformation.   They meet when she basically staggers out of her police car and strips in front of him in a daze.
Like I said, the set-up is a little questionable.   The rest of the story is devoted to Dylan trying to help her through her first transformation while trying to hide his identity which is well known to law enforcement given the fact that he's a Deputy D.A.   Of course, his good intentions are tossed aside when his beast is attracted to hers.   Anyone who's read a shapeshifter romance can probably guess what happens from there.
While I did like the way the overwhelming attraction was presented, I was distracted by the unclear worldbuilding.   In addition to my confusion about the difference between hereditary and made shapeshifters, I wondered about their hidden community.   There's point in the narrative where it's implied that while their existence is officially a secret, some people know.   Are all those people shapeshifters?   Or are others in on it too?   And the plot thread involving who made Dana into a werewolf and why was also left unresolved.   I have no problems with open endings but it seemed like the story ran out of space so that plotline just stopped.   That's entirely possible since this is a novella but it weakened what otherwise started out as an entertaining read.   C+
This book can be purchased in ebook format only.
Claws of the Lynx by Linda O. Johnston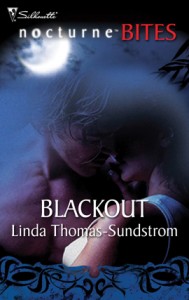 Another shapeshifter romance but one that didn't work for me quite as well.   The heroine, Nella Reyes, and hero, Alec Landerson, were once in a serious relationship during college.   Unfortunately, when Nella revealed to him that she can transform into a lynx, he freaks out and pretends the hallucinated the whole thing so she dumped him after that.   Nella is now a member of Alpha Force, a military organization made up of shapeshifters, and Alec is a congressional aide.
The two are reunited when Nella is sent to retrieve a stolen jump drive containing classified information about Alpha Force from a tabloid reporter with Alec as backup.   The story then proceeds as expected with no surprises — the two immediately fall into bed and then head off to get the back the jump drive.   I didn't find there to be much chemistry between the hero and heroine, and it annoyed me that the main reason for their breakup was a misunderstanding that could have been resolved if they'd actually talked to each other.
I also thought that Nella's choice involving a certain potion in the middle of the mission came out of left field.   I get that there need to be complications during a mission because that's what makes it exciting to read about, but I think a couple hints would have helped alleviate the sense this was pulled out of thin air.   Of course, this story is an example of a Nocturne Bite that's related to a full-length novel and having not read the book(s?), something might have just gone straight over my head.   D
~Jia
This book can be purchased in ebook format only.