REVIEW: Midnight Vengeance by Lisa Marie Rice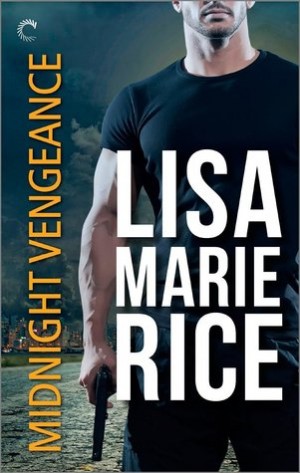 Dear Ms. Rice:
Midnight Vengeance is the fourth book in a series that was first published in 2004. I've always enjoyed the Midnight series and have re-read the first one (as well as recommending it to others). The best thing about Midnight Vengeance is that it picks up right where the last Midnight book left off and it is written in the same spirit and tone as the other Midnight series. That said, it brings nothing new to the table. While the beginning was strong, it wrapped up rather quickly leaving me feeling a tad shorted.
Lauren is on the run from her wealthy family. She's inherited a fortune from her stepfather's illegal organization. Her step brother wants to claim the fortune and so arranges to have her killed. (Ignoring, of course, laws of inheritance to some degree. If she has a will, the money would go to those in her will. A stepbrother might not even inherit if she died without a will.) She lives a low key life although has allowed her art to be displayed by one of her friends. During an art showing, Lauren feels that she is exposed and that the danger she left behind has just caught up with her.
Morton "Jacko" Jackman has been poleaxed from the moment he saw her, barely able to form to coherent sentences in her presence. The conceit of the LMR book is that the hero is so taken with the heroine that he devolves into a single cell organism capable of only one action–being close to the heroine. As a former Navy SEAL and current security services professional, he's uniquely suited to protect Lauren.
Beyond the setup, there isn't any emotional activity in the book and I'm not certain why they fall in love other than they do. There were many scenes devoted to the person who was pursuing Lauren and perhaps a few of those could have been focused on seeing why Lauren and Jacko belonged together as a couple beyond their physical imperative.
The story easily pulls off the sweetness of the big bad security guy falling for the talented, beautiful and fragile heroine. Jacko's internal monologues were humorous and Lauren's worry about her safety was understandable. There was very little dialogue, however, which maybe contributed to the lack of connection I felt between the two and the love scenes seemed truncated and less intense.
One weird element is that he has his motorcycle stashed in the back of his SUV for nearly the entirety of the book. I found that odd and I kept getting hung up on it. Like could a big hog really fit in the back of an SUV? Felicity, a geeky Star Wars quoting nerd girl, was a scene stealer and I look forward to her book.
I'm glad I read Jacko but for newcomers to LMR, I'd recommend Midnight Man to start with. C+
Best regards,
Jane