REVIEW: Point of Retreat by Colleen Hoover
Dear Colleen Hoover:
Even though I was not overly enamored of the first book in this series, Slammed, when I finished it I started Point of Retreat right away. I was interested enough in the lives of the characters at that point to want to see how things played out.
Warning: there are spoilers for Slammed in the review ahead.
Point of Retreat begins about a year after the bulk of Slammed ends, and a few days after the epilogue at the end of that book. Lake Cohen's mother has been dead about four months, and Lake and her boyfriend Will are living across the street from each other, each raising their younger brother. Lake has started college and Will is pursuing a graduate degree in education.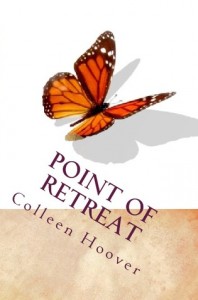 Early on, the novel has a strangely episodic feel, dealing with the couple's bout of food poisoning and their struggles to discipline their brothers, who are getting in trouble in school. Neither of these subplots seem to have much relevance to anything else in the book. The major relationship-related plot point of the first third of the book is Will and Lake's decision to finally have sex. The way sex is handled in PoR felt a bit strange to me (this was true of Slammed, as well). Lake and Will make out and express a desire to be together, but the love scenes feel oddly G rated; there's no real heat expressed. Though they've been together for over a year, they haven't slept together; that in itself stretched my credulity. They are healthy, normal 22-and-18-year-olds, and neither seem to have religious or moral objections to pre-marital sex. The ostensible reason for waiting was in part a request from Lake's dying mother to Will that he hold off for a year, which I found kind of creepy. Like, you're going to be dead soon; stop trying to run your daughter's sex life from beyond the grave. You don't even get the feeling they've done much other than kiss in that time, which, again, didn't ring true to me, given the circumstances.
I don't mean to belabor the sex issue, but I guess it bugged me because I couldn't figure out if it was written that way to make the book okay for younger audiences (it is a YA book, after all) or if it was a case of following the old and annoying romance novel device of putting off sex for as long as possible to increase the tension. Indeed, there are contrived interruptions at several points that prevent the couple from doing the deed. I just found it tiresome; I wasn't jonesing for some Will/Lake sex, but I did want to see the relationship move forward. (By the end of the book I wondered if there wasn't some old-fashioned morality at play here as well, but I can't really talk about that without spoiling the ending of the book.)
From the moment Will's ex-girlfriend is mentioned in PoR, and given a name (she was mentioned but not named in Slammed), I knew she was going to be a plot point/obstacle to Will and Lake's happiness. As expected, the girl (her name is Vaughn) pops up in Will's elective class on Death and Dying and attaches herself to him like a suckerfish.
While Slammed was narrated by Lake, PoR is told in Will's voice, in the form of journal entries, though I kept forgetting that conceit until the date headings popped up; the prose didn't read like journal entries. Will's voice is rather flat, as befitting the general lack of personality he shows in the two books.
The main problem I had with Point of Retreat was that it felt disjointed and completely unnecessary as a sequel. The ending of Slammed resolved the characters' issues just fine, and all that Point of Retreat does is create stupid conflict based on the characters acting dumb and/or obnoxious, which once again only points out (as it did in the first book) the shaky maturity of their supposedly deathless love. Further, there are yet more plot developments later in the book that highlight how very soap-operaish these two books are – most of the conflict (heck, most of the plot) is driven by cardboard villains, fatal illness or horrible accidents.
I just realized that this review is about 60% the length of my regular reviews, and I think that reflects the fact that I just don't have that much to say about Point of Retreat. My grade is a C-.
Regards,
Jennie