REVIEW: Aftershock by Jill Sorenson
Dear Ms. Sorenson,
Last year I read and enjoyed your romantic suspense novel, The Edge of Night, and ever since then I have been interested in reading another of your books. When I heard about Aftershock, a book set during and in the aftermath of an earthquake, my interest perked up and I decided to read it.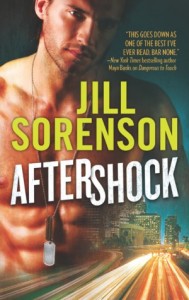 Aftershock is set in Southern California and begins in the POV of Lauren Boyer, a paramedic. Lauren and her ambulance-driving partner Joe are on the freeway when a magnitude 8.5 earthquake strikes San Diego. The resulting crashes and collapses kill Joe and create a large cavern in which Lauren is trapped. Despite the terrifying situation, Lauren keeps her head and manages to not only leave the ambulance but take her emergency kit and a fire extinguisher with her.
Outside, she discovers death and devastation, but although she fears at first that she is the sole survivor in the cavern, she soon hears another voice calling out, asking if anyone needs help. The voice belongs to a large, fit man who introduces himself as Garrett, and Lauren learns that he is a former marine who did a tour in Iraq.
The attraction between Lauren and Garrett is instantaneous despite (or perhaps because of) the dangerous situation. Together the two find other survivors, including a pregnant teen initially trapped in a car, Penny, a grandfather and granddaughter in an RV, Don and Cadence, and a few other injured or unconscious people whom Lauren does her best to care for.
The survivors pool together their resources and search cars for more food and water. They eventually discover via shortwave radio that an evacuation has been ordered and rescue is likely to be delayed.
But that isn't their only worry. A police transport vehicle that was transporting dangerous convicts is nearby, the policeman dead and three criminals on the loose. One has a gun, another is a rapist, and a third bears swastika, burning cross and Aryan Brotherhood tattoos.
Meanwhile, Lauren struggles with a situation that forces her to bond with her patients – something she never had to do before. She also notices that Garrett does not value his life enough. She does not know that Garrett is hiding a dark secret from her and from the rest of their group.
Can the survivors outwit the criminals whom they cannot outmuscle? Can they signal their presence to the outside world and last long enough for rescue to arrive? And if they do, will Lauren and Garrett's feelings remain the same outside the cavern, once Garrett's secret is revealed?
I have mixed feelings about Aftershock. On the one hand, the plotting is tight and suspenseful. I was on the edge of my proverbial seat almost the whole time I read the book.
I also liked Lauren, who was clearly capable and without whom most of the group would not have made it. I appreciated that she did not behave in a TSTL fashion at any point, except arguably in one instance when she was justifiably upset and therefore not thinking clearly.
Most of the other characters in Lauren's group also appealed to me. While I was disappointed that unlike your earlier books, this one had no POC protagonists, I was still appreciative of the multicultural supporting cast (Penny is Mexican-American and Cadence biracial).
I live in Southern California, and the book had a convincing sense of place. I can only hope never to experience an earthquake of such high magnitude as close to the epicenter as the characters did, but this one was portrayed well enough to scare me.
At the same time, though, there were things I found problematic. Garrett is strong, brave and all that jazz, as crucial to the others' survival as Lauren, but his lie of omission, although understandable to me (at least intellectually) made it difficult for me to feel an emotional connection to him as I read. In Lauren's shoes, I would have found it difficult to get over.
The initial moments of attraction between Lauren and Garrett felt inappropriately tacked on. I very much doubt that in the middle of dangerous earthquake aftershocks, sex would be on most people's minds. Both characters realized that their thoughts weren't fitting to the situation, but it was still an eye-rolling moment for me.
A bigger issue for me was Owen, the young, tattooed criminal. As the story progresses it becomes clear that Owen's Aryan Brotherhood membership is a matter of survival in prison and not a choice he is proud of. Even though he's not the racist he appears to be at first glance, I was still disturbed by the secondary storyline he shared with Penny, the pregnant teenager.
Penny was Mexican-American, and as I read and put myself in her shoes, I thought she was too quick to get over her revulsion to Owen's tattoos. I say this because I don't know that I could ever get over something like that enough to forge a bond with someone. The storyline may be realistic in other ways (there are racist gangs in prison) but it pushed a button for me. I'm sure this subplot will appeal to some readers, but I was very uncomfortable with it myself.
My discomfort also extended to the other two convicts, Jeb and Mickey. They were the villains of the story, and as such seemed to have no human qualities. I found them unpleasant to read about and wished the suspense storyline had focused more on the challenges of surviving an earthquake and less on threats from rapists and killers.
I like to think of myself as having a high tolerance for gritty realism and flawed characters in a romance, but this book was so edgy that I couldn't enjoy it much until the last few chapters. I was emotionally involved throughout and even cried near the end, but ultimately, I can't say this was a pleasurable or satisfying read. C-.
Sincerely,
Janine Ballard