REVIEW: Too Good To Be True by Kristan Higgins
Dear Ms. Higgins: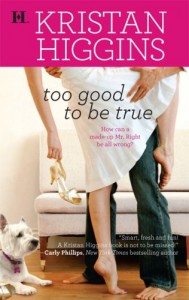 For longtime readers of Kristan Higgans (which I suppose is only a few years), Too Good to Be True represents an interesting flip on the plot of Fools Rush In which appears to be your debut book with Harlequin.
Fools Rush In is the story of a girl who falls in love with her sister's ex husband and, of course, is beset by guilt and insecurity as their relationship blossoms. Too Good to Be True is the story of a sister who's sister and fiance fell in love.
Grace Emerson, a high school teacher at a local private school, is tired of the pitying glances and the sympathetic murmurs and the just all the talk that has enveloped her life ever since her ex-fiance, Andrew, started daing her younger sister. So she makes up a boyfriend, a perfect pediatric surgeon who is so devoted to his practice that he can't make it to Grace's frequent family get togethers where she has to endure the furtive glances and pained looks as Andrew and her sister try to hide their attraction.
Complicating the matter is Grace's attraction to her new next door neighbor Callahan O'Shea. Grace, I think, although it is never expressly stated, is ashamed of her attraction to Callahan. He has a disreputable past, one that Grace has no compunction about sharing to one and all in order to save themselves from him.
Grace's lie takes on new import, though, when she falls for Callahan and he falls for her (although sometimes I wondered why because Grace was particularly rude to him at times). Grace's lie about a boyfriend might not ordinarily matter to a man, but it matters to Callahan because it says something to Callahan about how Grace perceives him.
Grace is a charming narrator who describes her relationship with her family as loving but complicated. Grace is close with her father and they go to Gettysburg reenactments together. These scenes were hysterical because they show the devotion to the enactment and the seriousness in which the participants view the enactments and manage to poke fun at both the enactments and those who don't take the enactments seriously.  Grace's longing for love and companionship is one that is recognizable to many individuals, married or single.
One real problem I had with the story was that through Grace's mother, sister and herself, it presented three distinct stages in a woman's life and her relationships with men. Grace's mother and father fought constantly but their marriage was quite strong. The sister moves in with Grace at some point because her marriage is struggling. Grace, of course, is single, but desparate to be part of the married crowd.
The problem isn't the deft representation of the stages of life and love but that no other alternative but love and marriage was ever presented as a valid choice. There was never even one character who decided living by herself was a legitimate life choice and it would have been nice to have that alternative point of view represented in this discussion about whether the pursuit of a man was worth all the hassle and the lies.
The good thing is that this book is fun with a great modern tone and that the Higgins books are consistent. The bad thing is that you can't read too many of the Higgins books in a row because there is homogenity of voice of the characters. There's nothing that distinguishes Grace, as a narrator, from previous narrators of past stories (the pursuit for togetherness is unrelenting in all the stories). Perhaps this is a by product of the first person narrative.
I will say that there is a fabulous scene at the end of the book where I practically stood up and cheered. There are great moments of dialogue and I enjoyed my time with the book. You are compulsively readable and I look forward to your next release. B-
Best regards
Jane
This book can be purchased in mass market from Amazon or ebook format from the Sony Store and other etailers on February 1. Will update link (if I forget, someone remind me).