REVIEW: Soulless by Gail Carriger
Dear Ms. Carriger: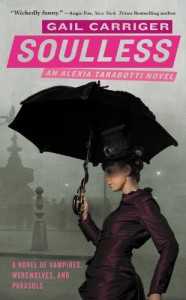 Orbit kindly sent me a copy of your book for review. (Thanks Orbit). I became interested in this book, not because of a blurb or someone else's review or anything like that. No, I became interested in the book after spending far too long playing with the Soulless digital paper doll. (Readers, it's a timewaster. Don't cl—okay, well, come back after you are down, okay?)
I have very little knowledge of the sub genre called Steampunk and its sister creatures. Therefore, a review from me will not have the scope or depth of someone familiar with the trope. I am afraid that my inexperience is going to seep through here, but the best I can do is tell you what I liked and what I didn't. If the reader is a long time lover of steampunk or intimately acquainted with period pieces like gaslight fantasies and the like, then the reader may have a completely different reaction to this book.
Based on the previous discussion of steampunk, I would classify this solidly as a gaslight fantasy. It has steampunk elements, but very little of the book is focused on the technological aspects of the period. Instead the story rests upon the relationship of Alexia Tarabotti, Lord Maccon, the Alpha of Woolsey Castle; and a strange monstrous creature that is neither werewolf, vampire or ghost, the only supernaturals that are supposed to exist. This strange creature, or group of creatures, are picking off the lone wolves and the lone vampires (roves) and have an unseemly interest in Alexia. With this background, Lord Maccon comes to the realization that he is greatly attracted to Alexia and Alexia has to overcome her lack of self esteem to accept Lord Maccon's permanent attentions.
Soulless is set in 19th Century London, the center of technological and sociological advancement. There are fun references to this time period being so "modern" and how things aren't done in this "day and age". Cleverly, the acceptance of the supernatural among the humans is tied to real world events.
Before the hives and packs made themselves known on the British Isle. Before that prestigious revolution in philosophy and science that their emergence triggered, known to some as the Renaissance but to vampires as the Age of Enlightenment. Supernatural folk called the time before the Dark Ages, for obvious reasons. For them it had been an age spent skulking through the night.
Werewolves and vampires presented a peculiar place within society, of a class like successful tradesmen. They weren't the first choice for the upper echelon of society to mingle with, but they do have a certain cache. They advise the Queen and hold powerful political positions. They are rich and interesting.
Alexia Tarabotti is neither human nor supernatural. According to the Bureau of Unnatural Registry (BUR), Alexia is preternatural because she had no soul. Supernaturals were those beings who had an excess of soul and therefore could handle the transition of human to supernatural, be it vampire, werewolf, or ghost. Additionally, most wanted to preserve their youth and thus requested to be transformed at a young age. Alexia presented a danger to supernaturals. By her touch, she could raise up their human nature and render their magic null. There were few soulless individuals and apparently it was something Alexia inherited from her father, along with his exceedingly long nose and unfavorably dark skin.
Alexia, having learned early on that she was soulless, determined to embrace it by learning all she could from her father's library of the supernatural. She understood that was an unlikely bride for any man. Indeed, her mother had decided the best place for Alexia was on the shelf. "So Alexia, whose nose really wasn't that big and whose skin really wasn't that tan, had gone on the shelf at fifteen." Alexia believes her lack of connection to people is based on her soullessness and her conviction of this leads to her being brash and alienating to those around her. It is a vicious little circle. She holds herself aloof from society before it can reject her, causing her to become different enough for society to reject her.
The worldbuilding was extremely robust and given in small, telling details as well as broader strokes. Alexia knew, for example, that a vampire that attacked her was very young because he had a "fang-lisp" and "among vampires, lisping was the height of vulgarity." Heavy velvet drapes had become in fashion at the emergence of the supernaturals who avoided sunlight. The "daytime folk" observed different societal customs than those of the Pack or the hives (vampires). Courting between the two was very awkward.
At times the storytelling was a bit clumsy. There was awkward head hopping that was used to create sympathy for characters or provide a more omniscient view of the characters for the readers. The point of view shifts from individual to omniscient to individual whenever it was convenient. At one point, Alexia presses Lord Maccon's Beta for information about whether Lord Maccon was interested in her. It seemed very grade school like.
Alexia's self pity (her belief that she couldn't be attractive, even or especially, to Lord Maccon) was made obvious time and again. This tendency toward repetition seemed to be a stylistic choice as it occurred, well, repeatedly. For example, Ivy Hisselpenny is Alexia's best friend. She is known for her hideous hats. Every scene with Ivy must contain, then, a fulsome description of the hat and Alexia roundly criticizing Ivy for her deplorable taste.
This story, while labeled horror/fantasy, is more paranormal romance. You could not remove the romance between Lord Maccon and Alexia and have the same story. Further, the romance makes up a substantial physical portion of the story, let alone meaning. To those readers who pick this story up expecting something like a historical War for the Oaks will likely be disappointed. I wish it had been marketed and labeled a romance. It would have been better in setting expectations.
The ending kind of fell apart for me. It was a little too focused on the romance at inopportune times and it was a little too heavy handed on the setup for the next book. That said, I did enjoy Soulless. I think most romance readers would as well. There is plenty of sexual tension and accessible worldbuilding. I am eager for the next Parasol Protectorate novel which, Orbit, can be sent to me at any time. ;) B-
Best regards
Jane
This book can be purchased at Amazon or in ebook format from Sony or other etailers. (for some reason, the book is not showing up at the Sony store, so here's the link to BooksonBoard.)