REVIEW: Right Behind You by Gail Giles
Dear Ms. Giles,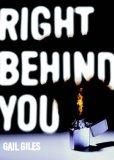 While I've read many young adult novels since I rediscovered the genre a few years ago, I will be honest and say that I haven't read many contemporaries told from the perspective of a teenage boy. I'm not sure why that is. It's not like I purposely ignore young adult novels featuring male protagonists, but it sure seems like there's fewer out there.
When Kip McFarland was nine years old, he set his seven-year-old neighbor on fire because he was jealous of the baseball glove the boy received for his birthday. Three days later the boy died and Kip was committed to a juvenile facility for the criminally insane, where he spends the next four years in rehabilitation. At the age of 14, Kip is released and moves with his father and stepmother to a new town, with a new name, to begin a new life. But the past is not so far behind and Kip, now known as Wade, has to reconcile his new perfect life with that of the child monster the media once portrayed him to be.
This is a very quick read but that in no way detracts from its power. Right Behind You is a story about rage and redemption, guilt and forgiveness, and finally, acceptance. Much of Kip's self-hatred began when his mother died of breast cancer. His family lived out in the Alaskan countryside and because she chose to keep her illness a secret, the cancer had spread by the time Kip's father realized she was sick and brought her to a doctor. While both parents hold some responsibility for what happened, Kip blames himself because he read her diary a few weeks before and learned she had cancer, but said nothing. But can you hold him responsible for that when he was just a child and didn't know the consequences of that choice?
That is the heart of this book. Kip was just a child when he murdered his neighbor and it is something he'll pay for during his entire life. But does that exonerate him from his crime? There are many people who don't think so: the murdered boy's parents remain enraged until the end of the book; his father's house is burned down; his friends abandon him because they don't want his stigma to rub off on them. At what age should a person be held responsible for their actions? 18? 16? 14? 9? There are no clear-cut answers here, but there is a lot of food for thought.
Despite his actions, Kip — then Wade — is a very sympathetic character. I felt his confused anger during his therapy sessions, and then his overwhelming guilt when he obtains a perfect life. I never expected that — after all, he did murder a little boy over a baseball glove — but seeing Kip in the juvenile facility, alongside other juvenile offenders who truly showed no remorse over the crimes they'd commited, showed that he had a chance at redemption. That he had made a mistake and that while he could never erase what he'd done, perhaps he deserved a chance to find peace.
What prevented this book from being an A read for me was the section set in Texas. I loved the parts set in the juvenile facility, and the middle section set in Indiana was very gripping, but last third simply felt weaker to me. Part of this might be because I felt Kip/Wade's relationship with Sam was underdeveloped. Sam is another character whose past constantly haunts her, though not to the same extent as Kip/Wade's, and I would have preferred more back and forth on those parallels. A solid B for me.
My regards,
Jia
This book can be purchased in hardcover . No ebook format.