REVIEW: Infinity Gate by M.R. Carey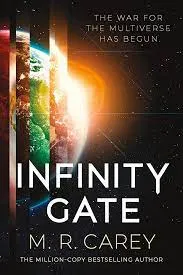 Dear M.R. Carey,
I was first introduced to your work with The Girl with All the Gifts, which I loved. The next year I read the prequel, The Boy on the Bridge, which I also liked a great deal. In the past few years, I've read and enjoyed The Rampart Trilogy and so when the first book in a new series (The Pandominion) popped up, I was eager to give it a try. Blurb time:
The Pandominion: a political and trading alliance of a million worlds – except that they're really just the one world, Earth, in many different realities. And when an AI threat arises that could destroy everything the Pandominion has built, they'll eradicate it by whatever means necessary, no matter the cost to human life.

Scientist Hadiz Tambuwal is looking for a solution to her own Earth's environmental collapse when she stumbles across the secret of inter-dimensional travel. It could save everyone on her dying planet, but now she's walked into the middle of a war on a scale she never dreamed of.

And she needs to choose a side before it kills her.
I was a little concerned at the outset about how science-y these books might be, and the first 10% of this book really heightened that concern. There is a tiny bit of character development; you get a bit of a sense of Hadiz (serious, no-nonsense) and she interacts with an AI named Rupshe, who also shows a little personality (well, for a computer). Except for a brief appearance by Rupshe's creator, these are the only characters in the first part of the book, and the vast majority of the writing is about Hadiz's experiments, once she realizes she can travel to alternate versions of Earth. The prose there was technical, above my head, and honestly boring to me. Example:
Physicists divide the forces and effects that govern the universe into two separate categories, called scalar and vector. Scalars are quantities that can be fully described by a numerical value alone – quantities such as pressure or density. Vectors – like, say, gravy, velocity or rotation – require both a magnitude and a direction. The vector values, collectively, define an object's unique position in universal space-time. Hadiz put scalar and vector values together in the same box and shook them until their labels fell off. Essentially, she was overwriting the quantum signature of a small volume of space-time so it looked like a piece of intergalactic elsewhere. She was hoping that if the dark energy boson wandered by it would be confused enough to stick around while she took its picture.
Yeah, I have no idea what any of that means, at least not after the descriptions of scalars and vectors.
The first chapter begins with physicist Hadiz Tambuwal on a nearly deserted campus at a university in Lagos. Note: I believe Hadiz is from our Earth, but I'm not 100% sure, and I don't know if it even matters. Suffice to say I didn't notice anything that suggested that Hadiz comes from a parallel world, though the world depicted is not present-day Earth; it's much further along the path to destruction.
The campus is deserted because society has broken down; wars and environmental degradation have created a textbook dystopian nightmare of death, destruction and scarcity. Hadiz has taken to living in her lab. She is working on some sort of solution to Earth's massive habitability problem, but time is running short. She is reluctant to engage with her colleague's AI, Rupshe, but finally decides that she needs another mind to look at the problem, and Rupshe is about all that's left when she finally makes this decision.
Together the two accidentally discover parallel worlds, a seemingly endless parade of them. Most of them are more habitable than Earth but Hadiz wants more; she wants a world that actually already has human habitation, and she can't seem to find that.
(In retrospect I wondered why Hadiz didn't seem to have concerns about how she and other Earthlings would be welcomed in another world with an established civilization. I get not wanting to start from scratch, but I would expect some acknowledgment that the invaders might well be treated as, well, invaders.)
The second main character introduced is referred to on the first page of the prologue as a "rogue", but I didn't think that was an accurate description. Essien Nkanika is too dark a character for that label. Essien grows up in a Lagos quite similar to ours, though his Earth is not as far along on the path to destruction as Hadiz's is. But he grows up in abject poverty, and his experiences harden him considerably. He is a pitiable character but not a likable one for the vast majority of the book.
The third and final main character was by far the most sympathetic, though she's not introduced until 40% into the book. Topaz Tourmaline FiveHills – Paz – is a 19-year-old rabbit on Ut, a version of Earth where rabbits have evolved into the dominant species. A note about Paz's age: the rabbits of Ut live to be about 150, so Paz is more of an adolescent than a young adult.
Paz is the only one of the three main characters who grows up as part of the Pandominion and is thus initially aware that the Pandominion exists. Societies on many of these infinite Earths developed faster than our Earth, created step technology (the ability to travel from one Earth to the same spot in another Earth), and subsequently went to war with each other. After a bunch of slaughter, these Earths realized that they were stronger together than against each other, and the Pandominion was born. It's essentially an enormous bureaucratic structure that governs the worlds that are members.
As noted, many worlds (again, there are INFINITE worlds) are not part of the Pandominion and thus not aware of it. This includes Hadiz's and Essien's versions of Earth. The Pandominion considers these Earths and many others dumps, more or less; their denizens referred to as "sinkholers" – savages not worthy of the Pandominion's time or attention.
There are also "Scour" worlds, which are worlds that once had civilizations that have collapsed completely, so that no intelligent life on the planet remains. Scour worlds are used as a cautionary tale for those in the Pandominion – a warning of what can happen to any civilization.
Generally, though, the powers that be of the Pandominion are arrogant – they believe they are the only serious players in the multiverse (which really *is* arrogant, when infinity is the standard). They are bigger, stronger, and have better weapons. They have millions of terrifying soldiers, a force of "selves" (what the sentient beings of the multiverse tend to be called, rather than "human", since many of them are cats or rabbits or whatever). The force is called the Cielo, and the soldiers undergo modifications to make them taller, stronger, faster and more deadly than anything else around.
In the course of the story, Hadiz comes up against this force, as the Pandominion monitoring systems have been made aware of her incursions into other Earths. She is considered a threat that needs to be neutralized. But there is an actual threat that is infinite times larger (see what I did there?) than the non-existent one presented by Hadiz. She is just trying to save herself and the other people left on Earth; collectively they represent a fraction of a drop in the bucket that is the Pandominion.
There are a couple of other key players whose perspectives we get throughout the story – a Cielo soldier named Moon Sostenti and a villainous Pandominion functionary named Orso Vemmet (Moon is a cat of some sort of Orso is some version of a hedgehog; I found the latter detail amusing). At times Infinity Gate felt very much like what it was, the first book in a series, introducing the players and worlds they inhabit. Since the worlds are infinite, and there are a lot of differences in them, a lot of technology, and a fair amount of politics, there were parts of the story that definitely dragged.
The book is narrated by an unknown entity (I feel like I should have a clue as to the identity of the narrator, but alas, I am not good at guessing that sort of thing). Mostly the narrator feels like a standard omniscient narrator, though s/he occasionally breaks through with asides or observations that remind the reader that there's an actual entity narrating.
I almost quit this book many times early on, and I never quit books. I resolved at one point to just skim it, but somehow around that time I got drawn in to the story. The introduction of Paz helped a lot. Sure, she's a rabbit, but she's a normal and likable teenager who just happens to get caught up in extraordinary events. The structure here reminds me a lot of The Book of Koli; there I also had a problem with the slow start in the first half but got absorbed in the second half.
That last half of the book contained a lot of action, and characters converging in satisfying ways. Also like books one and two of The Rampart Trilogy, Infinity Gate ends on a cliffhanger, and I know some readers don't like that. Personally, I didn't resent it; rather it left me sad that the book was over and looking forward to the next book in the series. Because of the rocky start, my grade for Infinity Gate is a straight B.
Best,
Jennie