Review: Chaos Etched in Flesh by Lyn Gala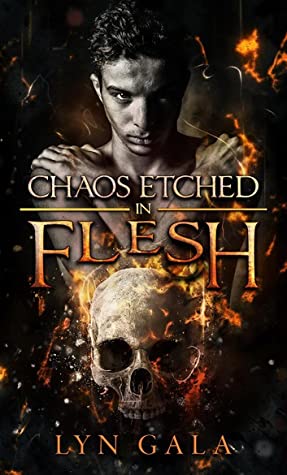 Kilian Kildare is a soldier, fighting the witches and vampires who twist the gift of magic into something dark. However tragedy after tragedy have left him struggling—he's been turned into a vampire, ostracized, and left to grieve alone. An offer to join an elite Army unit should be the answer to prayers he no longer dares to say. Instead, the move brings new dangers, and new pain.
A demon has slipped its leash, killed its summoner, and now hides within a host. The only barrier between the demon and a world unprepared for its pure veil magic is the fragile flesh of a man Kilian had once cared for. The demon is seeking a way to either kill or corrupt Stephen to escape, and Kilian finds himself guarding a man he'd rather save. When Stephen and the Army end up on opposite sides, Kilian has to choose between them, a decision made nearly impossible because he's not sure which side is actually protecting the world, and which may bring about destruction.
Review:
Warning – HORROR ELEMENTS.
Dear Lyn Gala
You used to be one of my very favorite m/m writers, but your last couple of books were more on a miss side for me. This one is *definitely* closer to being a hit even if it did not knock my socks off.
The blurb gives you a decent set-up. You have a soldier turned vampire, who agrees (well with the help of partial blackmailing, but he definitely agrees on his own) to help guard/ protect the guy who is possessed by a demon. Stephen is able to control his demon more often than not, but there were occasions when the demon took over and it was not pretty. Army is worried because it looks like the demon is getting stronger.
I thought the world- building was a bit messy and confusing. I usually prefer when a writer throws me (the reader) in the middle of the action and either explains the details of the world- building as the story unfolds or lets me figure it out on my own. I did not mind at all when this is what happened here – the writer certainly did not spent time doing an information dump in the beginning BUT I would like not to be confused when the story ends as to how the world / magic/ magical creatures work. And I was still confused as to some things here when I finished reading. Although I also suspect (only based on where the army base in this story was located) that this world is the same as the world in "Tap Dancing in the Mind Fields", but I could be wrong since besides having paranormal creatures I did not think these books had any other connection.
I did love the beginning of the romance a lot. To me the romance couple either has chemistry or they don't and to me Stephen and Kilian very much had such a chemistry. I once again suspect that this is the beginning of the series, because as I said the romance just begins here and they deal with a lot of danger and death and destruction and did I mention danger?
I usually love well done bickering and I thought here it was well done. Eating people is mentioned, I promise it happens once, it is of dead person and bad person and not described in all the gory details.
"You're right, it isn't. And if I were a nice person, I would give you a little privacy, but I'm not nice. I'm so not nice that I blackmailed a base of supernatural badasses into leaving me alone. What shot do you think you have in winning this little battle of wills we have going on? I'm going to nag you until you accept your lack of evilness." "I'm asking you as a friend to give me some space," Kilian begged. Maybe tomorrow he could believe that, but tonight he carried more guilt than even a Judas vamp could handle. He felt as if he were sliding into some moral abyss and he didn't know how to save himself. Eating an enemy in the field—that was a line he had no right to cross."
I wanted to give a special mention to the character of Mia. I usually hate manipulative characters, but somehow I was able to tolerate her, which is an achievement in itself. Maybe because I did not think that she was manipulative for any kind of personal gain?
Also, these days I will pretty much never buy a book when I see vampires mentioned in the blurb. Because it was Lyn Gala I did.
Grade: B-