REVIEW: The S Before the Ex by Mira Lyn Kelly
Dear Ms. Kelly:
I believe that someone told me to read this book but I can't remember who but I would have read it anyway. It's part of my HP subscription! The S Before the Ex is a reunited lovers story. Claire Brady married one of the wealthiest financier's in the world but they've been apart for the last 6 years. Ryan Brady comes back into Claire's orbit after she files for divorce. She is refusing to take any part of his assets and Ryan feels so guilty about their break up that he cannot allow them to divorce without her having a full understanding of what he is worth and an agreement she will take a healthy settlement.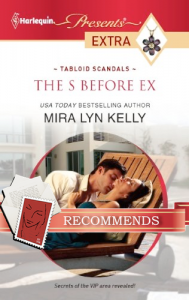 The plot of the story was thin, but I loved the emotional conflict. Claire agrees to return to Ryan's California home to go over his assets one by one. Because of his extensive holdings, it takes them quite some time. Together for the first time in several years, they both realized that their passion for each other hasn't diminished. They use their time to explore each other physically rather than getting the work of their divorce accomplished.
It is during this time of renewed togetherness that they both learn a little more about what really broke them up so many years ago.  Both Claire and Ryan had given up on the marriage, but in different ways.  Claire was beaten down emotionally by the loss of their child, and a few other things, and she could not bring herself to be comforted by Ryan.  She left Ryan and called him to tell him it was over.
Ryan had been everything to her. The rising sun, laughter beneath the midday rays, and love through the star-speckled nights. But after Andrew…at the end, she hadn't been able to be with him in any meaningful way. Hadn't been able to talk to him or explain the dark place she'd gone to. Her heart had broken, her body and mind had shut down to everything but grief and a resentment she'd known, even then, she had no right to…and yet couldn't fight. The shame, sorrow and anger had eaten her alive until all she could do was close herself off from everyone and everything. All she could do was leave. Try not to look back, because she couldn't stand to see whether it was relief or betrayal shining in Ryan's eyes as he watched her go.
Believing that Claire had moved on to other men, Ryan was secretly relieved to call it quits as the emotional struggle of being in the marriage had become too overwhelming for him as well. It was both relief and betrayal. Ryan didn't have to view this marriage as his failure if Claire was telling him to leave.  Claire used the time to grow into herself as an individual rather than a moon that orbited around Ryan's sun. In some ways, Claire was far stronger than Ryan.
The plot devices used to bring Claire and Ryan together and the use of an old flame to drive them apart again seemed trite given the authenticity of the characters' autopsy of their failed marriage.  They were both at fault and they both have grown. While it was a book that showcased the contrasts, it also showed the parallel paths they both had taken to get to this point where they could have a happy ever afer. I believed that this time around both were going to make it because Claire was a much stronger person  seven years later and Ryan had faced his fear of failure.
Best regards,
Jane