REVIEW: The Pleasure Principle by Jane O'Reilly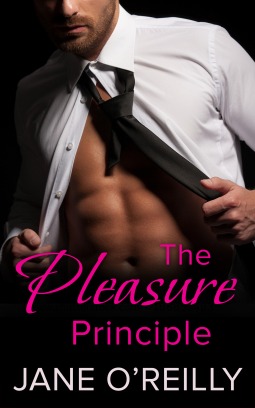 Dear Jane O'Reilly,
Your novella Indecent Exposure was one of my top reads from last year.  When I saw you tweet that you had NetGalley widgets available for your new release, The Pleasure Principle, I waved my hand and said "pick me! pick me!"
Verity is devastated when she finds out her former boyfriend has given her 2 stars on "ratemyshag.com". The comment thread is full of people gleefully cracking jokes at her expense. The revelation of the post also makes sense of the strange comments and looks she'd been recently getting from some of the men of her acquaintance.  But Verity is not only humiliated – she fears her ex-boyfriend is right.   She is a tall woman – around 6 feet and when she was growing up, her mother was forever bemoaning Verity's lack of "femininity". She grew up on a steady diet of critical comments from her mother to the effect that no man would ever find her attractive or sexy.  It had a profound effect on her; she tries to hide her body – sex is under the covers and in the dark, she even slouches to make herself appear smaller, and her self-esteem is generally low.
Cal Bailey is an architect and co-owner of The Full Package, the business where Verity works as an interior designer. He's reputedly very good in bed and, according to just about everyone, has had plenty of practice.  When Cal sees her crying at work, he invites her to a party at his house.  "Parties" at Cal's have a reputation as turning into orgies – but this suits Verity's quest to be more than a 2.
Verity is rather shy and just walking into Cal's party is an overwhelming experience for her (preach it sister).  So, she hides in a sitting room to catch her breath.  Only, the sitting room isn't empty – there are two women and a guy in there getting "busy" and she ends up being an embarrassed but very turned on (and envious) voyeur. When Cal slips into the room too, things get even more interesting.
Cal thinks at least some (a large bit of some) of the responsibility for Verity's low star rating is on her ex-boyfriend.  Clearly the ex didn't try hard enough to know or please Verity. It's true, Verity does have hangups about her body but it's equally true her ex-boyfriend is a pig.  Cal volunteers to give Verity an assist.  All this happens very early on in the piece and the rest of the novella (about 70 pages) is Cal trying to get Verity to stop worrying and thinking and just feel and be in the moment and Verity slowly losing her inhibitions as she begins to trust in her own attractiveness.
I'm so tired of hating myself. I'm so tired of feeling inadequate. And I'm frustrated. And I'm horny. And I think Cal Bailey just offered to have sex with me. I open the door. He is at the bottom of the steps, hands tucked in his pockets, moonlight glinting off his hair. 'Persuade me,' I say.

He turns, and my knees wobble just a bit. 'What?'

'Persuade me,' I say again, before I lose my nerve for the second time. 'Do whatever it is that you do to get women to go to bed with you.'

'Usually I just show up,' he says.
Cal has reasons for his sexual history too and later in the book his "usually I just show up" can be seen as bittersweet rather than cocky – because he thinks he's got nothing to offer a woman but his body.
Their first try at sex isn't that successful – because despite Cal being very talented, Verity can't let go and enjoy it. And also because Verity's goal is to be more than a 2 – which is perhaps not the best reason to have sex.
It also becomes clear that Cal has feelings for Verity beyond the sexual.  It takes Verity a little while to believe him – she starts from a place where no-one could love her because she's an awkward clumsy oaf with huge hands and feet. And, of course, Cal hasn't had any girlfriends in the past so I can see why she'd think he was a poor bet for a relationship but a good candidate for teaching her about how her body works. I suppose I have a small issue with the idea of a man being the expert on a woman's own body but I think in the end Verity (and the narrative) concluded that the "fix" was how Verity saw herself and Cal had only limited input into that.  He is very honest with her that not everybody is going to approve of her and if she lived her life that way, she was destined for disappointment.
There is one thing Cal says in the middle of the story which made me cross with him.
'I want to help you,' he says. He's almost shouting, and I can't help but flinch. 'But you won't let me. Everything I try, you find a way to make it fail. What the hell is wrong with you, Verity?'
As much as it made me a bit frowny, I also saw it as something that an actual, flawed person might say out of angry frustration and it did make him seem more real.  I understood his frustration in the context of the story and as I said above, Verity does have hangups about her body and sex.  Even so, I thought it was a bit harsh.  And I don't think he grovelled quite enough.
Verity does work for Cal and that was never addressed in the story, unfortunately.
There is a very British sensibility to your writing (which makes sense given you are British *rolls eyes at self*) and the flavour and vibe is, to me, very reminiscent of Charlotte Stein.  I mean that in the most positive of ways. I think those who enjoy Stein's work will enjoy yours and vice versa.   (It's certainly true for me.)
It is an erotic romance so there is plenty of sex; a lot of how the pair communicate/their journey is done via sex. The sex is revealing – which is what I want in an erotic romance and, when they get it right, very hot.   It's a short book and I did think the leap to "I love you" was a bit fast.  However, I did like how both of them started off thinking they were fatally flawed and both of them found ways to 'fix themselves'.  As such, there was a mutuality to their relationship that worked for me.  I didn't leave the story feeling like it was a guy coming along and fixing a woman (which I think would have left a sour taste in my mouth) but rather, it was about each of them encouraging the other to see themselves as they really are – worthy of love and pleasure.
Grade: B.
Regards,
Kaetrin