REVIEW: The Many Loves of Dobie Gillis by Max Shulman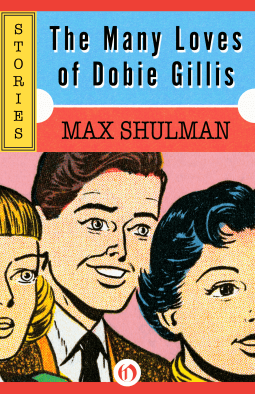 Including stories first published in Cosmopolitan and the Saturday Evening Post, this bestselling collection follows the romantic escapades of Max Shulman's famed collegiate Don Juan. Like most undergraduates, Dobie Gillis is a bit scattered—sometimes he's as quick as a whip, other times dull as a doorstop, and his major keeps changing from chemistry to law to journalism. But no matter what subject he should be studying, Dobie always has a girl on his mind.
In "Love Is a Fallacy," Shulman's best-known short story that to this day is taught in writing classes and English survey courses as an archetypal example of the genre, Dobie finds the perfect bride-to-be. She's beautiful and gracious, but not too smart—a flaw that he sets out to fix, with the most hilarious and ironic of consequences. In "The Unlucky Winner," Dobie and Clothilde Ellingboe cut corners in class to make more time for their dates. But after an impossible English assignment sends the couple deep into the stacks to plagiarize an obscure essay, Dobie finds himself in a ridiculous bind. And in "She Shall Have Music," Dobie can't focus on his duties as circulation manager for the college humor magazine because his girlfriend, Pansy, has been shipped off to New York by her purple-faced father. The desperate Romeo hatches a plan to save the magazine and visit his girl, but a series of bad decisions and a Lithuanian wedding band threaten to ruin everything.
Dear Readers,
I was just reading somewhere about someone who knows of a person who adored Shulman, considered him one of the funniest writers of the 20th century and loved this book in particular. I can't remember who now but that's the gray matter shriveling up. Anyway, when I saw this offered at netgalley, I jumped at it. It's old school, college days of the 1950s with bobby socksers going on hay rides, weiner roasts and other innocent-to-us-now pursuits.
This is definitely not OTT sight gag, slipping on a banana peel, roll your eyes at it humor. It's gentle and slipped in so calmly that you catch the joke a beat later and chortle as you're reading the next line. It's a delight to watch Dobie get into trouble, dig himself in deeper and then somehow managed to avoid the whammy at the end of each story.
Since the book is titled "Many Loves" that's exactly what you, and Dobie, get. In each story/chapter, he has a different girl he's madly in love with. Some are desperately wonderful – like Pansy – while others are a trial – which Dobie usually finds out by the end. It's clean cut, All American, white bread 1950s NA humor. Dobie is a typical hetero college male of the period – interested in girls, girls and girls. And perpetually broke. Also note the period lingo. Amazing and not to be missed things "fracture" you or are "desperately wonderful." The writing is sharp, snappy and compact.
The fun of the book is watching Dobie both get himself into a mess and then extricate himself when all hope seems lost – even in his eyes. Basically in the grand scheme of things, he's harmless – if fixated on a girl's looks and the blonder the better, the short stories are funny and I was amused reading them. They are, however, products of their time, that being the late 1940s and early 1950s so fair warning. Oh, and the Lithuanian wedding band fractured me. B
~Jayne