REVIEW: Overseas by Beatriz Williams
Dear Ms. Williams:
I read this book for one reason only. Lydia H, your publicist at Putnam, said I would love it. Lydia H, though, is not a romance reader (but we do share a love for the PJ Tracy series, Monkeewrench) and I'm always a bit leery of non romance reader recommendations. Plus, this book was a time travel and anyone who knows me knows I am not a fan of time travel books. But Lydia was so excited about this book and she never recommends anything to me that I had to give it a try. I promised myself I would only have to read the first chapter but by the end of the first chapter, I knew that this book was for me.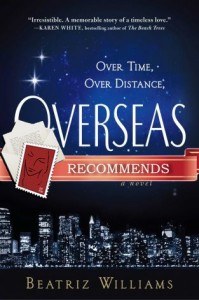 I'm going to write a somewhat spoiler-y book review because I feel that is the only way I can convince my die hard romance reader followers that this book is going to hit their sweet spots. For those readers who don't want spoilers and are going to give this book a try, let me give you a two sentence summary (or you can read Ms. Williams' debut questionnaire here).
This is kind of a "what if Time Travelers Wife wasn't so tragic and unhappy" sort of book. Julian, a billionaire hedge fund manager, and Kate, a low level analyst at an investment bank, share a past and depending on the time period (WWI or modern day) only one of them is aware of it.
Slight spoilers ahoy:
Make no mistake. Despite the vague title and the strange and meaningless cover, this is a romance book through and through. Julian is helplessly and devotedly in love with Kate. Kate is helplessly and devotedly in love with Julian but she is afraid. She's afraid of being seduced by Julian's money; she is afraid of losing herself in him; but mostly she is afraid that their time together is imperiled by Julian's secretiveness.
The story begins with a young American woman, standing in the rain outside the Amiens cathedral where the Honorable Julian Laurence Spencer Ashford is saying his prayers. Captain Ashford is a religious man and he is to be sent on another tour in a little over forty eight hours. It is all the time that Kate has to convince Ashford of a wild and improbable truth and to hopefully save his life. When the young woman faints, we fast forward to New York City, December 2007. Most of the book will take place in modern day New York and Connecticut.
In chapter one, we meet Kate Wilson, a low level investment analyst working at an investment bank. She is charged with preparing projections for an investment that the bank wants to sell to a hedge fund owned by billionaire Julian Laurence. (I may be getting some of these terms wrong) Unfortunately, despite all her hard work, Kate is dismissed before the meeting starts by her boss but not before Julian sees her and subsequently seeks her out.
I picked up my silent BlackBerry from the counter and made my way back through the maze of identical heather-gray cubicles to my own, where I stopped short.

A tall lean man stood there in perfect stillness, resting one hand on the back of my chair. His curling hair gleamed dark gold in the remorseless office lighting; his back, broad and immaculate, bent forward a degree or two toward my desktop.

"I'm sorry," I snapped. "Can I help you with something?"

He straightened and turned to me. "Kate," he whispered.

I flinched in shock.
Kate and Julian form a tentative bond, exchanging cute texts over the holidays until Julian sends her an abrupt message which signals the end of a flirtation. Kate is reeling, unsure of what happened and what it means other than she is somewhat broken hearted even though their relationship, if she could call it that, consisted of one evening of intense discussion and a flurry of holiday texts. Julian re-enters her life a short time later, apparently because even though he thinks separation is for their own good, he simply cannot stay away.
There are two things that bothered me in this book. First, Julian lies to Kate from time to time to "protect" her. I understood his justification at the end but it made me wonder how often he would be willing to intentionally mislead her. Second, Kate begins the book as a business analyst. Part of her objection to Julian's great wealth and his willingness and desire to buy the world for her is that if she accepts that, she becomes simply an appendage of Julian's empire but when she loses her job, she does little to seek out a new one even though she was saving for B school. Granted, much of the story does not involve her working, but she is supposed to have some kind of ambition but it's not evident from the text. She spends much of her time waiting for Julian.
But those problems were overcome by a few things. The book is very romantic. Julian is of the big gesture school.
"Yes," I said. "I just can't quite believe this is happening." "This?"

"You. Me. This. I've never felt this way. As though I know you perfectly, but not at all. And then you say ridiculous things like that, when we haven't even . . ."

"Haven't what?"

"You know." I felt the blush climb relentlessly in my cheeks. "Even kissed."

A chuckle. "Well, and whose bloody fault is that? Coffee breath, for God's sake. Little minx. Anyway, I did kiss you last night. And this morning."

"That's not what I mean."

He fell silent for a few seconds, and then the car swerved across three lines of traffic into the exit lane and slammed to a halt. "What are you doing?" I yelled, gripping my seat. SUVs and delivery trucks zoomed past us, horns howling in outrage.

"Kissing you," he replied, and he took my face in his large long-fingered hands and bent his lips into mine.
And, (and this is a big spoiler) [spoiler] Julian has only had one lover his entire life, Kate. He is transported to the future twelve years before he meets Kate. His single goal in the new life is to find her and live out their happy ever after. His search for defines his life. He goes to Wall Street because that is about the only knowledge he has of Kate. He builds up an empire so that he will have enough money to provide for her, search for her. He buys homes that he believes she will like. Most of all, though, he holds himself chaste for her because his body belongs to her and her alone. [/spoiler]
While there are separations, they largely take place off page so most of the book is spent with Kate and Julian together. Julian is quintessentially British and the patterns of speech evidenced by Kate and Julian were so different and distinct that there was no need for dialogue tags. I was impressed by how "in character" every one stayed during the duration of the book.
I struggled with the time travel aspect, even breaking down to write you for clarification. That said, I kind of had an epiphany the other day explaining the book to Robin so I believe I finally get it. I'm thinking I might like time travel after all because what is more romantic than a love that transcends time.  Oh, and of course, ends happily.
Best regards,
Jane