REVIEW: Lessons in Seduction by Sandra Hyatt
Dear Readers:
Given that Ms. Hyatt has recently passed away I don't feel comfortable addressing the review to her. Sarah Wendell recommended this book to me and I'm glad she did. I rarely venture into the Harlequin Desire waters.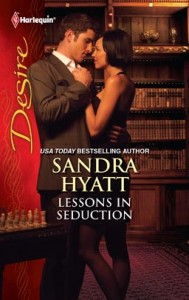 This is a bit of a role reversed My Fair Lady story. Adam is the heir to a small (and fake) principality, San Phillipe. The weight of this responsibility has always sat heavy on his shoulders making him more serious every day. He should be married but his betrothed ran off with his younger brother. Adam bears no grudge for either of them but he does acknowledge that there must be something wrong with him, particularly after a beautiful Fullbright scholar who seemed to share the same geological interests refuses a second date with him. He seeks out his old friend, Dani, and asks for her help.
Danielle St. Claire is the daughter of the palace driver and from time to time, she would relieve her father in his duties until Adam fired her.  She is currently trying to bring the Grand Prix to San Phillipe. She's unafraid of offending Adam, after all, he's fired her once, and they have a long history together.  Because of her ability to be frank with him, Adam believes she is the perfect person to help him both find the right woman for him and to catch her, because apparently being a prince is simply not enough.
Dani points out that part of Adam's problem is that he doesn't know himself well enough to be able to pick a good partner. He's so caught up in being the "prince" and can hardly name more than one interest (polo) outside his monarchical duties.
Both characters seem to appreciate the bounds of their position: his as the prince and hers as the driver and though they both wanted to kiss each other, they refrain in the beginning.
A couple things seemed off to me. The colloquialisms and cultural references were distinctly British or American and didn't fit the concept of a separate European principality. The heroine references Barbies and uses the idiom "you're winding me up" for example.
I would have liked to have a better understanding of Adam's attraction to Dani. He was shown nearly immediately to have a physical response to her and there was no explanation for why now he was feeling these stirrings of lust yet before he didn't.   It wasn't well defined, particularly in the beginning when we saw Adam date a couple of beautiful women, one incredibly smart and interested in the same things he was interested in. But he evinced no physical attraction to either of them. Was Dani just his type? Why didn't he consider Dani  wife material?  It didn't seem like he had class issues.
It was clear as the story went on, the case that Dani and Adam were perfect for each other was well articulated.  They both felt comfortable with each other and enjoyed the other person's company. They had a long shared history. They both loved San Phillipe and wanted to see it prosper. Dani would always be able to remind Adam of life outside the palace. By grounding him, Adam would be a better leader.
The two act on their attraction when they get stranded at a chalet manned by a burly and oblivious Australian who was filling in for his sister. The temporary innkeeper has no idea who Adam is and this allows Adam and Dannie to have a little holiday ala Roman Holiday (where the Princess played by Audrey Hepburn runs off for a couple of days with a reporter and pretends to be an ordinary girl).
The best part of the book is where Dani plays the aggressor to Adam's reserved knight.  My only wish is that this was played up more, maybe more extreme. It isn't that I wanted Adam to be the blushing virgin, recoiling at a light touch, and becoming faint with Dani's obvious sexuality but I delighted in the role reversal so much that I would have liked to have seen even more contrast.  B
Best regards,
Jane
Lessons in Seduction by Sandra Hyatt | Goodreads | Amazon | BN | nook | Sony | Kobo |Harlequin
This book is also the pick for Smart Bitches' Sizzlin' Book Club which means that there will be a book chat for the book on December 22, 2011, and you can also purchase it at All Romance eBooks with a 50% rebate.