REVIEW: Wrecked by Shiloh Walker
Dear Ms. Walker:
You and I are friendly on Twitter, but for the most part in the past, your books have not worked very well for me. But when I read the blurb for Wrecked, it sounded right up my alley. Abigaile Applegate and Zach Barnes are tied inextricably together by their past as child stars of the wildly popular Kate + Nate show. When Kate + Nate ended, Abigaile gladly left all of the trappings of Hollywood behind, including her conniving, ambitious mother who spent her money and allowed her boyfriends to make passes at her 15 year old daughter. Abby moves on with her life, becoming a successful caterer. Her only anchor to that past life is how often she's recognized and Zach. She and Zach have been best friends for years, he's her family and her support system. What she doesn't realize is that he's been in love with her forever.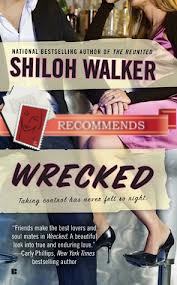 When Abigaile's fiance dumps her because she's "not being true to herself" (he means she should still be acting), she falls apart. She's maintained sanity after Hollywood by structuring and planning every moment of her life, but she never anticipated that Roger would dump her. Of course, Zach is there to support her. Unbeknownst to Abby, Zach is hoping that Roger's loss is his gain.
Zach is an accomplished tattoo artist. He left the trappings of fame behind him quite easily, with the exception of his friendship with Abigaile, which he has cherished and nurtured forever, he's a mostly regular guy. He knows that Abigaile journals relentlessly, planning out each and every detail of her life. After witnessing her devastation over the break-up, he buys her a new journal, aptly titled, Wreck This Journal. The idea being that she should break away from her regimented life and live a little.
Abigaile makes a new list:
1- Stop worrying so much about the future.

2- Call Roger and tell him off.

3- Flip off the next photographer that you see.

4- Get a tattoo.

5- Have a torrid affair with a hot guy.
She decides to start with the tattoo and she wants Zach to do it for her. Giving Abby the tattoo is sweet torture for Zach, but it leads to conversation between them where Abby finally asks if Zach has ever been in love. Of course, he has. But why did he never do anything about it? Because she never noticed.
This gets Abby's wheels turning. She's been feeling the attraction to Zach for some time, but is quite sure that he'd never want to jeopardize their close friendship by attempting something more. Will they ever act on their mutual attraction and become the couple they're meant to be?
I'm going to be honest, this book doesn't cover new ground. It's relatively predictable, and the characters should have been stock. Here's the thing though, I was charmed. I loved how Zach pined for Abby. I loved her idiosyncrasies. They were a couple that fit together beautifully. They have terrific chemistry and the sex, once they get there, is very well written and emotional. There is a terribly romantic scene where Zach creates some art for Abby that is both titillating and really sexy. Overall, it's just a charming, fun, entertaining, quick read. I wouldn't have imagined that your writing voice, which I've always thought of as super angsty and a little dark would be so well suited to writing light, fun, contemporary romance. But I found this one to be all of those things. I'm hopeful that this book will be a success so we can have more from you as soon as possible. Final grade: B+
Kind regards,
Kati