A Newbie's Experience of Venetia by Georgette Heyer, narrated by Phyllida Nash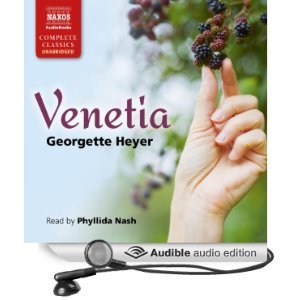 Dear Georgette Heyer's Ghost,
I have a confession to make.  Even though you've been dead for many years I remain intimidated by you.  I have many of your books on my TBR and a few in my audiobook collection (this is one of them) but after a bad experience with Regency Buck as my first ever audiobook (which threatened to put me to sleep and which I therefore DNFd), your books were always in the "I'll read them someday" pile.  The goal was more… aspirational than realistic. Every time I fixed my determination on trying a Heyer I'd get right up to the bit where I opened the first page and chicken out.
I've never studied Classics (alas) and I've never read Bronte or Austen (yes, I am a Philistine). My mental block was around the very real concern that your language would be impenetrable to me.   The only other of your books I've managed to get through (although I hasten to add that for the most part I've given up before even opening the book) are the three abridged audiobooks narrated by Richard Armitage.  The narrator alone was the reason I listened and I enjoyed them very much.  They were Sylvester, Venetia and A Convenient Marriage.  After I finished Venetia in the shortened form, many of my friends urged me to try the full length novel. They told me the bits which had been cut for the abridgement were too wonderful to miss out on.  I even went and bought it.  But I couldn't screw my courage to the sticking point (so to speak) and actually read the darn thing.
I recently listened to a wonderful podcast interview with Jennifer Kloester who wrote your authorised biography.  It was fascinating and inspiring and I had an Everest moment and decided that "today was the day".   I decided on audio because it came highly recommended and because I hoped it would be more accessible to me.  I decided on Venetia because I already basically knew the story so if I got lost, it wouldn't be all that hard for me to catch/keep up.  One of my fellow reviewers at AudioGals gave the book an A+ for both content and narration so I thought that was a good sign as well.  The narrator for the version of Regency Buck that I tried to listen to was approximately 182 years old and there was nothing that could keep me awake when listening.  I trusted (hoped) that this would be a different experience.  It was.
It has been a while since I listened to the Richard Armitage abridgement of Venetia.  I don't recall it being filled with slang/historically accurate cliches.  I am SO glad I decided on the audio version of the full length book because the unabridged version was chock full of them.  On audio, I had the luxury of having the narrator do some of the heavy lifting for me.  She clearly understood what she was saying and so presented me with all of these sayings I'd never heard and did not understand, in a context which made it clear what the gist was, for the most part.   I think if I'd read the novel, I'd have been constantly looking things up.  As it was, I still resorted to Twitter to find out what "born hosed and shod" (born rich) and "a shocking mushroom" (a vulgar nouveau riche person) meant.  It was diverting and very interesting but if I'd been doing that every time I came across something I didn't know I'd be reading the book until next year and I'd have totally lost track of the story.  Honestly, there were entire paragraphs made up entirely of cliche and slang.  However, because Ms. Nash knew what it all meant, the delivery alone gave me enough to be going on with and I found I could relax and be entertained by the story.  I'm sure I missed a nuance here or there but I'm confident I understood the general thrust of the narrative.
Venetia Lanyon is a single woman of 25 years who has lived her entire life in country Yorkshire.  Although she longed for a London season, her reclusive father would not allow it.  After the death of her father approximately a year before the book begins, Venetia feels obliged to stay at Undershaw (the family estate) to care for her youngest brother, Aubrey.  He was born with a disease of the hip and, now 16, walks with a pronounced limp due to shortening of one leg (a result of the disease and/or its treatment).  Her other brother, Conway, is on the continent with Wellington's army.  Venetia is disappointed Conway didn't return home after Waterloo but she is determined to see to Aubrey's welfare until he leaves the following year for Cambridge.  Aubrey is very scholarly.  He describes the three Lanyons thus: Conway is the brawn, Aubrey the brains and Venetia the beauty.
Venetia has a delightful practicality to her.  Even though she has been living in the country all her life and has not had a great deal of society, she came across as someone who saw beyond the surface of things and was not taken in by suave words or a handsome face.   A lot of the humour in the book is Venetia laughing wryly at herself or others – Aubrey is so scholarly that he ignores most of what is going on around him and he has that teenager thing where everything is about him anyway.  Edward Yardley, a local man and Venetia's would-be suitor is very priggish and self-important and does not believe women have intelligence.  And then there's Oswald Denny, a 19 year old stripling who thinks himself Byronic and has designs on Venetia and at which she frankly scoffs.  Each of these (as well as the rest of the cast) Venetia sees clearly.  She is in no way blind to their faults or shortcomings.  She is also kind and has abundant equanimity.  She has managed to find a way of getting on where she both stands for what is important to her (taking walks alone) and where she actively subjugates her own interests to that of others  (for example, she has stayed with Aubrey rather than going to London).    She does not seriously consider Edward as a husband – she does not think they will suit and her grand plan is to keep house for Aubrey once he finishes school – she does not believe he is destined for marriage either.  She is well aware that at some point Conway will marry and his wife will have the running of Undershaw.  Venetia does not want to be a third wheel in her own home.
Jasper, Lord Damerel is a rake. When he was a teenager, he eloped with a married lady and his life has been one scandal after another since then, with gambling, mistresses, orgies "and so-on"" (whatever they are).   He owns the neighbouring property and when he is staying there briefly on his way to somewhere else, he and Venetia bump into each other when she is picking his blackberries (not a euphemism).  She is dressed very simply for the task and he mistakes her for a village girl and not a lady of quality.  Even so, when he forces a kiss upon her, he later acknowledges that it would only have made a difference if she had had a maid with her.   He isn't a faux rake.  He is the real deal.   Venetia captures his attention in ways he had not experienced previously in his 38 years and he resolves to stay in the area.  His initial plan, I believe, was to seduce her. But in the end, it is he who is seduced and they end up becoming good friends and over the course of a few weeks spent almost daily in company with each other, they fall in love.  Damerel acts with propriety toward Venetia and begins to think seriously of marriage.  His hesitation is entirely because of his scandalous reputation.  He does not believe he is worthy of her.  Venetia – who, as I have already said, will stand for what is important to her, disagrees and takes steps to rectify matters.
I felt some of the plot threads fizzled a little – Oswald was the most noticeable there and Mrs. Scorrier, of course. I was surprised by some of the developments late in the book. I've no doubt however that Venetia would have worked out a way to get what she wanted even if not for that 'fortuitous' meeting.
I liked Venetia very much.  Most of the book is from her (third person) point of view and there are fairly large sections where Damerel doesn't appear much or at all.  I think I'd have been impatient if not for the fact that I did like Venetia and her clear-headedness and also, I am generally more patient when listening.  I think that is because I am always doing something else when listening to a book – driving or cooking or exercising.  When I read a book, that is all I do and it is for the book to keep my entire attention.  That's not to say that when I listen a book cannot grip me.  They often do.  But I can be more adventurous and more patient on audio because I have something else to occupy me too I think.  Something like that anyway.
Damerel is quite delicious.  I'd have liked more of him.  Given when the book was written I expect that hero point of view wasn't a major thing – Venetia had some of it which I count as a bonus but I am a hero-centric reader and I often wish for more of the hero so that's nothing particularly new to me.
I believe Venetia is famous for some ambiguity in the HEA.  Some readers think Damerel will be unfaithful and this has ruined the romance for them.  Others think the discussion they have near the end is more in the nature of a joke.
'You mean to warn me that he may continue to have mistresses, and orgies, and – and so-on, don't you, sir?'

'Particularly so-on!' interpolated Damerel.

'Well, how should I know all the shocking things you do? The thing is, uncle, that I don't think I ever should know.'

'You'd know about my orgies!' objected Damerel.

'Yes, but I shouldn't care about them, once in a while. After all, it would be quite unreasonable to wish you to change all your habits, and I can always retire to bed, can't I?'

'Oh, won't you preside over them?' he said, much disappointed.

'Yes, love, if you wish me to,' she replied, smiling at him. 'Should I enjoy them?'

He stretched out his hand, and when she laid her own in it, held it very tightly. 'You shall have a splendid orgy, my dear delight, and you will enjoy it very much indeed!'
My own opinion is that Damerel has no intention of being unfaithful and that the conversation above is in the nature of an in-joke between them.  That said, she doesn't ask for and he doesn't give her any promises of fidelity.  It is made explicit in the book that Venetia doesn't require it.  I think she would be happy if he were faithful but she will not be unhappy if he is not.  They have, if you will, negotiated an open relationship (or at least the potential for one).  I don't see that as ruining the HEA at all.  It is merely they have decided what their own HEA will look like.  Venetia doesn't count fidelity as a deal breaker.  Frankly, I think she's a smart lady.  Damerel is a rake.  He may well be faithful to her but it will not be because of promises she has wrung from him or a sense of duty and obligation. I think, it is more likely he will be faithful simply because she doesn't require it of him.
In some ways I found the book shocking because I had this impression of the time and of the time it was written, as being terribly stuffy and conservative. But there's orgies and open relationships and everything.  In some respects it's racier than a lot of historical romance being written today.
Phyllida Nash performed the audiobook extremely well.  I'd happily listen to more books narrated by her.  My only real complaint is that she made Venetia sound older than 25 years.  In some respects the text makes Venetia sound older but, while Ms. Nash is clearly not 182, she is also not 25 and her depiction of a woman of that age fell a little short.  However, the other characters were not only well differentiated but they were brilliantly portrayed.  Ms. Nash has a deep timbre to her voice and when she was channelling Damerel I believed it.
I am exceedingly grateful that I listened to this.  Frankly, I expect future Heyer's (which there may be but I'm not about to go on a glom either) will likely be in audio format for the time being too.  It's like a safety net – the narrator interprets the text before I do.  For some this can be a hindrance.  Not for me.
What I did decide I'd dearly like is a BBC series/movie of Venetia.  Especially if a clever screenwriter could boost Damerel's visibility in the story and give me a bird's-eye view of some of their wonderful (and scandalous) conversations – most of which were only hinted at in the book.
Venetia was well worth my time and I certainly count it a win.  I'm hovering between a B+ and an A- for the grade.  In any event, I'd definitely recommend it and particularly on audio for anyone who, like me remains intimidated by La Heyer.
Regards,
Kaetrin