JOINT REVIEW: The Blue Castle by L. M. Montgomery
Dear Readers:
Sunita: This month the TBR Challenge category is "recommended read," which gave me the chance to finally read The Blue Castle by LM Montgomery. Although I've read most of the Anne of Green Gables series countless times, I'd never read this stand-alone story. Susanna Kearsley generously gave me a copy of the book a couple of RT conferences ago and as usual, I'd been saving it for just the right moment.
When I told Jayne last week that I was reading it, she responded that she had just finished it. See, Jayne, you are my DA reading twin! So we decided to write a joint review.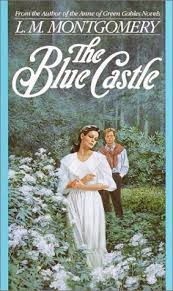 Jayne: The Blue Castle is a modern (for the time) fairy tale. Set in 1920s Canada, we meet a put upon heroine, living with her appalling family who finally gets set free – at least in her own mind – by a death sentence. Or what she thinks is one. Told she only has a year to live, Valancy decides that she's finally going to actually live.
The first part details how downtrodden the poor woman is. Just turned 29 and considered an old maid by her family, she lives in a horrible house with a witch for a mother and an ogre for a cousin both of whom firmly believe in Good Works and not wasting any time in such frivolous things as reading or even daydreaming. Life is a regimented horror of endless, gray, depressing days punctuated only by encounters with the family clan of equally awful people who make Valancy's life a living hell of ghastliness.
This part does rather go on a bit: chapters and chapters of it. I had wondered if I needed to skim a bit since it's depressing even to read about it let alone live it. But we must firmly see our heroine as the quintessential fairy tale woman and some things are set up that will pay off later on. Plus there's Valancy's black humor and secret thoughts to keep you going.
Sunita: I read somewhere that Montgomery was retelling the Cinderella story, and that makes sense, especially for the first part. Valancy is so badly treated and beaten down by her circumstances, and her family is so awful, that it really does feel like a fairy-tale world. I enoyed Valancy's internal monologues and thoughts, but like you, this part went on for a bit and I had to make myself keep going. I enjoyed the writing but it was depressing (even though I knew things were going to get better for our heroine). If I hadn't known it was supposed to be like a fairy-tale I might have bailed.
Jayne: Agreed. I expected some of this but not as much as we had to wade through. Then finally, she's set free. As she says, despair sets you free while hope – which for her had been to inherit a bit of money from a boorish uncle or maybe finally find some little dab of romance – keeps you imprisoned. A visit to a doctor turns out to change Valancy's view on life – or the dreary life she'd been living. Why not say what she thinks and do what she wants or not do what she doesn't want? If she's going to die in a year, she wants to finally kick off the traces that have bound her to this miserable existence. She wants her perfect hour of happiness.
So she does. At the family dinner party, she finally begins to look at them with new eyes and sees the pettiness, the littleness and the fact that they're not the looming tyrants she's always thought they were. Seizing the chance that helping an old acquaintance affords her to move out, she does just that and discovers that life can be so much more. It can be a beautiful garden, a nice new dress, a chance to go to a dance, an opportunity to help a friend even if that friend is dying. Valancy begins to enjoy life and her new freedom.
That new freedom leads to marriage, and a lot of the story is predicated on that change. But for the time, this would have been the aspiration of most women and to be an Old Maid would be a drab life since the world around you is always asking when you'll finally get a man, so I could live with this part of the book. Plus, wanting it opens Valancy to what happens next.
Sunita: Watching Valancy blossom and come into her own was a terrific next step in the story. I especially appreciated that she did that before she got married. She bought the dress, changed her hair, and generally fell in love with the world around her and found her place in it. She even went to a dance, although she had to be rescued by a Prince Charming. But she knew her ignorance in what could happen there wasn't her fault, and she didn't become cowed by making a mistake.
Jayne: I really enjoyed when she breaks free some more, as well as shocking her family which delights her to no end, and asks a totally unsuitable – in their eyes – man to marry her with the up-front information that this is only for less than a year because she's dying. And to her surprise this man she knows she loves agrees. I loved this gutsy move on her part.
Valancy and her husband turn out to be perfectly matched. Both are nature lovers and living in his small cabin out in the woods is Valancy's delight, so much so that people who haven't seen her for months don't recognize the happy, sparkling woman who glows with contentment. She and he agree to no lies but no questions about their pasts either – a typical fairy tale requirement. For a year they're as happy as clams at high tide. This section is filled with loving descriptions of the Canadian wilderness in all seasons sort of like the enchanted lands of fairy tales:
October–with a gorgeous pageant of colour around Mistawis, into which Valancy plunged her soul. Never had she imagined anything so splendid. A great, tinted peace. Blue, wind-winnowed skies. Sunlight sleeping in the glades of that fairyland. Long dreamy purple days paddling idly in their canoe along shores and up the rivers of crimson and gold. A sleepy, red hunter's moon. Enchanted tempests that stripped the leaves from the trees and heaped them along the shores. Flying shadows of clouds. What had all the smug, opulent lands out front to compare with this?

November–with uncanny witchery in its changed trees. With murky red sunsets flaming in smoky crimson behind the westering hills. With dear days when the austere woods were beautiful and gracious in a dignified serenity of folded hands and closed eyes–days full of a fine, pale sunshine that sifted through the late, leafless gold of the juniper-trees and glimmered among the grey beeches, lighting up evergreen banks of moss and washing the colonnades of the pines. Days with a high-sprung sky of flawless turquoise. Days when an exquisite melancholy seemed to hang over the landscape and dream about the lake. But days, too, of the wild blackness of great autumn storms, followed by dank, wet, streaming nights when there was witch-laughter in the pines and fitful moans among the mainland trees. What cared they? Old Tom had built his roof well, and his chimney drew.

"Warm fire–books–comfort–safety from storm–our cats on the rug. Moonlight," said Barney, "would you be any happier now if you had a million dollars?"

"No–nor half so happy. I'd be bored by conventions and obligations then."
Sunita: This was the happy fairy-tale sequel to the unhappy stuff that opened the book. It was so idyllic, so filled with love and contentment that it felt unreal, but it was lovely. In romance terms, it wasn't their relationship that felt unreal (which would have made their happiness fundamentally implausible to me), but more the fact that the outside world was so absent. Both of them had been shaped by that world and retreated from it, and I discovered that I was holding my breath waiting to see what was going to shatter their idyll.
Jayne: And then comes a moment of revelation followed by truths which turn their happy life upside down. Valancy learns some things – some of which I had guessed but some of which was a surprise. She makes a decision and takes action which brings the fairy tale near its conclusion. Will her husband turn out to be her true Prince Charming or a dud?
It should be fairly obvious once you've got to this stage. The protestations of love Valancy finally gets are enough to make up for all the prior 29 years of waiting she put up with, and they provide a crowning finale for the year of happiness just past. "Blue Castle" is a lovely, feel good fairy tale for when you need a book to make you feel good. Grade: B+
Sunita: Like you, I'd guessed one of the revelations but not the other one. All the changes felt like a bit too much, but that's the nature of fairy tales, so I went with them.
When I was about a third of the way through the book I told a friend that I wasn't feeling the specialness of the story as much as I had expected, and that maybe I had come to the book too late, after reading too many romances. But even though I'm not a huge fan of fairy-tale retellings, the year after Valancy's marriage and the writing in those parts sucked me in and cast their spell, as did Valancy herself. I closed the book feeling contented and thinking that this is a book I'm certain to reread. Thank you, Susanna, for a lovely gift. Grade: B+