REVIEW: Sweet Disorder by Rose Lerner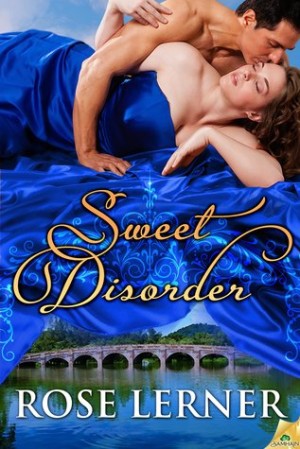 Dear Rose Lerner,
I've barely read any historical romance in the past couple of years but when I found out you had a new book releasing, it was enough to tempt me back into the fold, even if (possibly) only temporarily.  I adored your debut book In For a Penny and so I had high hopes here. (I'm also really pleased that you've got your rights to your first two books back and that they will be re-released, by Samhain this time,  later this year.) For people looking for something a bit different than the usual, your books are always a refreshing change.  There are no references to Almacks, not walks along the Serpentine, no carriage rides in Hyde Park.  Even though the hero here is the son of an earl, most of the rest of the cast are working people of the middle classes.
Under the Lively St. Lemeston charter, every freeman of the town has the right to vote for up to two candidates in an election."

"I know that, Mr. Gilchrist." Men always wanted to explain things, didn't they?

"Also under the Lively St. Lemeston charter," he continued, clearly having no intention of modifying his planned oration, "the eldest daughter of a freeman who died without sons can make her husband a freeman."

Phoebe tapped her foot on the floor. "My husband is dead," she pointed out, since apparently they were telling each other things they both already knew.

The young man took a sip of tea. He had an eye for a dramatic pause, anyway; she had to give him credit for that. "You could marry again."
Phoebe Sparks is a lawyer's daughter and the widow of a newspaperman.  She has lived all her life in the sleepy town of Lively St. Lemeston.  Her family have always been staunch supporters of the Whigs.  She is intelligent, independent and well-read.  Given that her marriage to Will Sparks turned sour before he died, she has no desire to marry again.  She lives in two very small attic rooms she rents from Mrs. Pengilly and (barely) supports herself by writing Improving Tales for Young People for the Girl's Companion in London.  When the Tory election agent calls upon her and attempts to cajole her into marriage to a Tory for her votes (which could be enough to swing the upcoming election), Phoebe gives him short shrift.
But her sixteen year old sister finds herself in an interesting condition and all of a sudden, the money and connections of a prominent party member (either Tory or Whig) are exactly what Phoebe needs to protect her sister.
The Honorable Nicholas Dymond is the second son of an earl and a former military officer.  He was forced to resign his commission after his leg was injured at Badajoz and he now walks with the assistance of a cane.  He is very self-conscious about his injury and his feelings about his leg; his stubborn pride which necessitates him never asking for help form one of the major themes of the book.  His formidable mother, Lady Tassell, sends him to Lively St. Lemeston to assist his youngest brother, Tony, in his election campaign and in particular, to secure the votes of Phoebe Sparks by marrying her off to Mr. Moon, a confectioner in town who will vote for the Whigs in return for the payment of his debts.
The set up reminded me a little of the Courtney Milan's Unclaimed – not so much in story, but in tone.  They are both set in a small town where everybody knows everybody's business and they both felt historically accurate in their portrayal of village life in their respective time periods.   (I did a little Googling to see if the situation with Phoebe's two votes was the kind of thing which really happened. My google-fu isn't great but what I did find supports my feeling from the the book that it was authentic. Certainly I read that people in 1812 expected to be paid for their vote as it was a form of property.)
The Dymonds are a political family. Lady Tassell particularly is always off involved in some political endeavour and election time is especially busy. As a child, Nicholas had even less of his mother's attention during elections.  Like Lady Tassell, Nick is blessed with a silver tongue.  He is charming and knows all the right things to say.  One of the other themes in the book is about saying what you mean, what you want – because you mean it, because you want it, and not because it is what someone else wants or expects to hear.  Both Nicholas and Phoebe learn lessons in this vein and both of them practice saying what they mean first, with each other.
Phoebe thinks Helen's best bet is to go away somewhere, have the baby and give the child to a good home and return to town.  That requires money and influence and she's leaning toward Mr. Moon because Lady Tassell would certainly see that Helen's child went to a good family and she has the connections to preserve Helen's secrecy in the endeavour.  However, Phoebe doesn't particularly like sweets and she doesn't particularly like Mr. Moon.  He's nice enough, but they have very little in common.  The Tory candidate for her hand is a widower with a young daughter.  He is more to Phoebe's taste (as long as they don't discuss politics).   But, the person she prefers most of all is Nick Dymond.  They spend a lot of time together during the election campaign and they enjoy each other's company.  Both are quick-witted and Nick loves that Phoebe sees right through the gloss to the man underneath – that she seeks to know the man underneath.  Similarly, Phoebe realises that to Nick she is more than just two votes in the election.
Nick's scars are not the only ones in the book.  Phoebe's marriage to Will had been somewhat of a challenge in that they bickered often and things didn't really get resolved, but they were mostly happy until Phoebe miscarried their child when she was five months pregnant. The experience was devastating for her and left her somewhat "frozen" inside.  It scars Phoebe at least as much as Nick's injury scars him – but her scars are on the inside where nobody can see them.  This is a bit of a hot button for me and to be honest, I may not have picked up the book had I known of Phoebe's loss.  It's something I find incredibly difficult to read about.  Done well it is too emotionally draining for me and done poorly, where such a loss comes across as flippant or merely a plot device, is even worse.  Here, I found the handling of the topic both sensitive and honest, while at the same time the narrative didn't dwell in the grief and loss to the point that I felt manipulated as a reader.  It is possible however that I may have kept myself at somewhat of a distance to the text here and that may have affected my overall feeling about the book.  It may also explain why the quotes I chose were about Nick's scars and not Phoebe's.
 "They held me down to operate on my leg." Of all the things one shouldn't talk about in bed, that filthy operating room topped the list. But letting her see his body and his thoughts was all of a piece. The words flowed with the same swirling tension as his arousal. "But it was understood that an officer shouldn't struggle. He shouldn't make a sound."

She sat on the edge of the bed. She listened with her whole body, mouth frowning, head tilting, shoulders leaning towards him, dark eyes focused on his face. He knew he must look ridiculous, but if she noticed, she didn't show it.

"I've never felt pain like that before or since," he told her. "But every time I moved or winced or strained against their grasp, I knew I'd failed in my manly duty. And I remember the shame more vividly than the pain."

She leaned down and kissed him; he gathered her up against his side with his free arm.

"It's hard to be a woman." She sighed. "Sometimes I forget how hard it is to be a man." She traced a finger over his scar. He tensed, holding himself carefully still. The skin there was sensitive; her touch tickled and teased. "Is it perverse that I want to lick it? To you it means pain and shame. But all I see is you."
I liked the way scars and limitations – imposed by loss or class or society was handled here.  It seemed matter of fact to me, neither something to be pitied nor something to be lauded as noble.  It just was; a part of that person's lot.  The reality is that Nick's disability is fairly minor in the big scheme of things – it is terribly important to him of course, but let's face it, things could be much worse.  Even he knows that and this is part of what he struggles with actually.  He knows he's not too badly off but he's still resentful.  It felt like a realistic portrayal of disability to me.  (My work involves helping people with disabilities but I do not have one myself and I don't purport to speak for everyone here of course.)
But he could feel her fingers on it. He felt it when she leaned down and ran the tip of her tongue up it. She couldn't really see, that close, and he felt it when she missed the jagged bit at the end. To her, it was just a part of him, like his fingernails or the dark blond hair on his chest.

Then he saw what he had tried to do: take his pain and his shame and put them in the scar, pretend they weren't really part of him. But they were, and they couldn't be amputated or lanced. He had to feel them.

He didn't want to.
Over the course of the book, both Nick and Phoebe come to realise the limitations their respective scars have placed on them – or perhaps more correctly, that they have imposed on themselves as a result, and both start to let those things go and heal.
It wasn't his leg that kept him from feeling like a whole man, he realized. It was something far deeper, a lack within himself. He had never wanted anything with such a bone-deep conviction. Sometimes, it seemed, he could go all day without wanting anything at all.
The plot is cleverly woven to make it seem impossible that everyone (who deserves it) can have a happy ending and the conflicts are realistic and believable.  Phoebe has good reason for her actions even when I didn't always like them. The election, the votes, family reputation, personal reputation, sacrifice, practical financial considerations are all mixed in and for a little while there it really seemed like there was no way out.
I'm happy to say that there is (it is a romance after all) but it's not a deus ex machina and having a happy ending doesn't mean that there are not challenges of the practical and financial variety for the various couples to work out (there is more than one romantic relationship in the book but the main focus is very much on Phoebe and Nick).  I was delighted that the conflict while it did seem impossible, didn't take a long time to resolve and that it was resolved in a believable way which kept to the tenor of the rest of the book, even if it was just a little convenient and neat.  (This is not a complaint. I like convenient and neat.)
I thought Sweet Disorder was a lovely read, enjoyable and engaging and cleverly drawn.  I wavered between a B and a B+.  My first instinct was a B but then I wondered if I'd distanced myself somewhat from the text because I think it really should be a B+.
Regards,
Kaetrin