REVIEW: Rush (The Breathless Trilogy) by Maya Banks
Dear Ms. Banks:
When I heard you were publishing a "50-esque" trilogy, I knew immediately that it would be on my reading list. Although I have hit-or-miss luck with some of your books, you write dandy alpha males, and I love nothing better than your dominant males, so I was optimistic about this reading experience for me. On top of this, the book features one of my all time favorite tropes: I'm in love with my best friend's little sister. Turns out, I was right, Rush worked for me on almost every level and I'm even more excited for Fever, the next in the trilogy.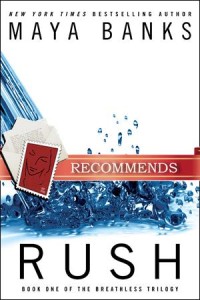 Gabe Hamilton has been attracted to Mia Crestwell for a while now. But he's known her since she was young, and she's the apple of her incredibly over protective brother, Jace's eye. Jace is Gabe's best friend and is a business partner (along with Ash – book 3 of the Breathless trilogy), so he's steered clear. But upon seeing the now 24-year old Mia enter the ballroom of a hotel for one of his company's hotel openings, he decides it's time to act on his attraction. Mia has been in love with Gabe since she was 16, but has always known that he was way out of her league. He's known as quite the ladies man, and she knows that his divorce crushed any ability to love that he might have had. But she can't help being attracted to his dominating spirit and his incredible good looks. So when Gabe asks her to dance, and then hustles her out to the balcony and lays an earth shattering kiss on her, she's floored. She's even more shocked when he tells her to be at his office at 10 a.m. sharp the next day. What the heck just happened??
Mia arrives at Gabe's office the next day determined to figure out what he was thinking and get any unresolved issues out of the way. She spends a lot of time with her older brother and his business partners and she can't have whatever that was making the situation uncomfortable. When Gabe tells her that he'd like to hire her as his personal assistant, she's surprised. Jace had been allowing her to work at a bakery while she tries to figure out what she wants to do with her life. She's not really considered working in an office, and certainly doesn't want to deal with nepotism accusations. On top of that, Gabe presents Mia with a contract. The contract is an agreement that she will cede her body to him, agreeing to allow him to have sex with her, dominate her, use pain play, or anything else he deems appropriate. She's shocked. She's no virgin, but had never considered some of the details outlined in the contract. She knows she wants Gabe, and was moderately aware that Gabe had some particular proclivities, but she had no idea what his relationships involved. He gives her the weekend to consider both offers, and after reading and re-reading the contract, she agrees.
From the start, Gabe warns Mia not to fall in love with him. He's very clear that this will be a private arrangement between them. Mia realizes her first day on the job that while Gabe thinks they're being circumspect, his staff is more aware than he thinks of the way he conducts his relationships and the talk immediately fires up about the two of them. Gabe involves Mia in almost all aspects of his business. But while he's busy wheeling and dealing, he's also busy stealing naked moments in his office, or any other location he feels like it with Mia. And she loves every moment of it. Gabe pushes her boundaries, makes her want more, and is challenging her routinely to use her brains to become an integral part of  his business. It's a heady mix. But Gabe does not want Jace to know of his and Mia's relationship, knowing full well that Jace will absolutely lose his mind when he finds out, and that it could damage their incredibly close friendship. Yet, the more time he spends with Mia, the more drawn to her he is. Will he allow himself to finally fall in love again and risk everything he's spent a lifetime building?
I really enjoyed every moment of this book. Gabe is domineering and dominant, but also a caregiver. It's obvious from the beginning that he cherishes Mia, and is falling in love with her, even as he denies his feelings. If I had any complaints, it's that he is a bit obsessive, which can be off putting, and he does make a giant jerk move toward the end of the book. But he knows he's screwed up and gives some most excellent romance novel hero grovel, which I loved. As for Mia, she's smart and instantly relatable, and she calls Gabe on his bullshit, which I loved. This is a couple whose love story I engaged in fully, and relished seeing them get their happy ending.  As soon as I finished the book I wanted more, which is always a really positive sign. I give Rush a B+, particularly for those who enjoy a strong, alpha hero.
Kind regards,
Kati