REVIEW: Rodeo Dreams by Sarah M Anderson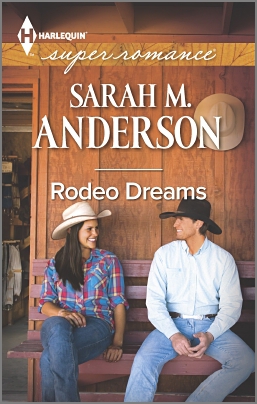 Love is one unpredictable ride
Ride straight to the top of the rodeo circuit—that's June Spotted Elk's dream. Yes, bull-riding is a man's world, but she won't let anyone—not even a sexy, scarred stranger—get in her way.

Seasoned bull rider Travis Younkin knows what it's like to make it to the top—and then hit the bottom. Back in the arena to resurrect his career, he can't afford a distraction like June. No matter how far he'll go to protect her from the danger. No matter how deeply the stubborn and beautiful rider gets to him…
Dear Ms. Anderson,
When I saw this in our Dear Authors submissions section, something about it caught my eye. I realized it had been a while since I'd read about cowboys or bull riders and I can't recall the last female bull rider book to cross my radar so into the reading hopper it went.
June and Travis both have very good reasons for bull riding. For Travis, it's the only thing he really knows how to do and he's determined to prove that he's come back from the horrific injuries that almost took his life. June on the other hand is the up-and-comer who knows she was born to ride bulls. She also wants to prove to those who say that a woman can't do this, that a woman can do it. Her whole life people – mainly her alcoholic father – have tried to keep her down and June sees this as a way to silence her critics and get herself and her recovering alcoholic mother off of welfare. She's almost got her college degree in teaching courtesy of scholarships but with a season's worth of winnings, they'll have heat in their house on the rez this winter and go from surviving to maybe a bit of comfort.
Their first meeting isn't memorable with June thinking Travis's efforts to keep her off the circuit are just another person telling her she's not good enough and Travis thinking that she's playing for attention in a way different from the usual buckle bunnies on the hunt for riders. It takes them a while to discover that he's only concerned for her safety and she's serious about what she's trying to accomplish.
Travis matches the lyric from the Garth Brooks' song in that he's much too young to feel as damn old as he does some days. Titanium rods and mesh hold him together, 3 long years of rehab are behind him, and his only possessions that survived the bankruptcy he had to declare because of his medical bills are a truck and beat up camper.
Meanwhile June lives out of a used Crown Vic with her dog Jeff – whom Travis calls the Hellhound – until events cause her to go undercover with two other riders trying to hide something the macho bull riders might not accept. And may I say how happy I am about these character. This is the first time that I've read a secondary romance like this in a Harlequin. Pooling their resources after that, it's a step up to staying in fleabag motels. The scraping by that most of the riders do sounds legitimate as well as the risks they're willing to take for the big purses offered to ride the ranker bulls.
The fears that Travis and June have about a relationship and each other sound reasonable too. Travis' girlfriend abandoned him after his terrible ride and he wonders if June is merely looking to climb from his bed to someone ranked higher in the circuit standings. June, due to the double standard we women must live with, doesn't want people thinking she's trying to sleep her way to the top. But after some inventive storytelling – remember June's no dummy, and tricky acting – her cousin just loves to play the tough guy, they get that worked out.
So what is the final hurdle to reach their HEA? A "mean as the devil" bull with a wicked kicking twist named No Mans Land. What looks like it might drive them apart is what actually brings them together. June is determined to help out a fellow rider the way no one bothered to help Travis in his time of need while Travis has first hand knowledge of what June will require after a ride on the wild side. They've learned from each other and will be there for each other and that's about as much as I can ask of a romance book.
I thought the way that Travis and June will get their little house, married life and – hopefully in a few years – kids is inventive and realistic. And Travis is going to get a job in a field in which he's an expert with medical insurance on top of that! Meanwhile June has proved that a poor, Indian woman can ride bulls, graduate and begin to teach.They reach their professional goals, find true love and will get to move on to rewarding careers. Plus they're not too battered by bulls at the end. B+
~Jayne