REVIEW: Easy by Tammara Webber
Dear Ms. Webber:
Warning: Triggers ahead
I was looking for a college set romance and author Julie Cross recommended this self published title. The minute I was done, I went and bought another Webber title. That's how much I enjoyed "Easy". I like college settings more than young adult because the characters are independent, more mature, and readying themselves for the rest of their lives. It is easier to believe in the commitment two people make to each other following college.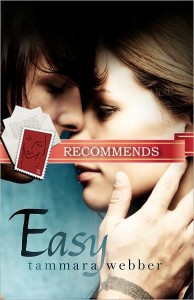 The female protagonist, Jacqueline, followed her boyfriend to state college instead of pursuing her dream of attending a musical college like Oberlin. A few weeks into their sophomore year and her boyfriend of three years decides that he wants the freedom to nail other college girls. Kennedy tells Jackie (as he calls her) that he has honorably restrained himself from cheating on her but that they shouldn't see each other any more.
Jacqueline has an economics class that she took with Kennedy and in her post break up grief, she skips class for two weeks and misses an exam. Her roommate and college best friend, Erin, gets Jacqueline to return to class but her grade is in jeopardy. Jacqueline throws herself at the mercy of her professor and he allows her to makeup the missed quiz and puts her in touch with his class tutor, Landon Maxfield.
Jacqueline realizes that during the past three years, she has done everything to become Kennedy's girlfriend, from the big things like giving up her dream of being a musician to the little things like allowing Kennedy to rename her from Jacqueline to Jackie. She begins the process of self-reclamation by taking back her name:
Three years had passed since I'd gone by Jacqueline, and I fought daily to regain that one original part of myself that I'd put aside for him. It wasn't the only thing I'd given up, or the most important. It was just the only one I could get back.
Much of the book centers around Jacqueline's economics class and the two young men that come into her life through the class: the tutor, Landon Maxfield, and a class hottie who sits in the back sketching, Lucas. Jacqueline's emails with her tutor become increasingly flirty but scheduling conflicts prevent them from meeting in person.
Landon, The worksheets are definitely going to help. I already feel less scared of failing this class. I did the first two – when you have time, could you look them over? Thank you again for wasting your time on me. I'll try to get caught up quickly. I'm not used to being the student who's a pain in the butt. I had two freshmen from rival schools in competition with each other at regionals. Both asked me, separately thank God, who was my favorite. (I told each of them, "You are, of course." Was that wrong??) They were very smug with each other when they came to get their basses from my truck, and I prayed that neither would mention the favorite status in front of the other. BOYS. Engineering? Wow. No wonder you seem so brainy. JW

Jacqueline, The worksheets look great. I marked a couple of minor mistakes that could trip you up on an exam, so check those. Ah, sounds like your freshmen have crushes on you? Not surprised. A bass-playing college girl would have rendered me speechless at 14. Of course I'm brainy! I'm the all-knowing tutor. And in case you're wondering – yes, you're my favorite. ;) LM
Jacqueline and Lucas see each other around campus. Lucas works a dozen different jobs from a barista at the campus Starbucks to parking enforcement. Their contact is limited text messages and charged stares. They are both mysterious to Jacqueline. The main complaint that I had about this book was the shortness of time between Jacqueline's breakup to the new romance she develops which is about seven weeks. Further, much of personal self confidence seemed to be regained through her interactions with Landon and Lucas.
But for all the slut shaming books out there, I felt like this was a very girl positive book. First, Jacqueline and Erin have a close and supportive relationship. They care about each other and the breakup and subsequent events suffered by the girls in the books bring them closer together. The book starts out with an attempted rape against Jacqueline by a fraternity brother of Kennedy's. When Erin finally finds out, she signs both her and Jacqueline up for self defense classes. When another girl is raped (this is not described in any detail), the females in the book stand up for each other including the president of a popular sorority. I almost wanted to clap during the sorority president's speech:
She drew herself up and crossed her arms over her chest. "And you're worried about who'll look bad if they tell? Screw that. Dean and D.J. and Kennedy and every frat boy on this campus can all go fuck themselves. Are we sisters or not?"
The male protagonist was delightful despite his sometimes (but thoroughly understandable) wariness with Jacqueline. The girl positive message was just a bonus. There are explicit love scenes in the story up to coitus. In college terms, everything up to third base is described with some detail but the home plate is fade to blake. More like this please.
Best regards,
Jane