REVIEW: Capture the Sun by Jessie Mihalik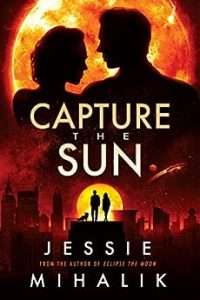 Readers please note:  Series spoilers follow. Also, I'm going to assume those who read this review will be familiar with the series and the characters.
Dear Jessie Mihalik,

I've been enjoying your Starlight's Shadow trilogy ever since Hunt the Stars first came out. In that book, readers got a taste of the attraction between Lexi and Nilo. They clearly had some history but there was no detail. I have been curious!
As it happens, one of the few things that didn't work super great for me in Capture the Sun was that backstory. It didn't quite match the prior tension between them or Lexi's clear hurt. At least, not for me anyway.
However, the rest of the book was pretty great actually.
Nilo and Lexi have had a thing for each other ever since they first met, prior to the events in book one. But Lexi's resentment over their first meeting meant that during Hunt the Stars, the pair's relationship was fractious and reluctant, even while attraction simmered not far below the surface.  Neither had any real part to play in Eclipse the Moon so we pick up their story only in Capture the Sun.
(That doesn't mean that one could skip book two – the overarching plot about the threat between certain factions on both sides to restart the war between the FHP and the Valovian Empire advances in all three books and if one wants to understand it all, then it's best not to skip anything. (Plus, Kee and Varro are good together.)   That said, I admit that part of the story was a little bit too convoluted for me – lots of crossing and double-crossing and various other machinations – and I'm sure I missed some things or at least, the significance of them. I got the gist though and that was enough for me to enjoy the series.)
Everyone knows I'm in it for the romance though so what was really the catnip for me was Nilo and Lexi. Nilo, a Valoff, comes from a different culture to human Lexi and he's naturally kind of reticent anyway so there are a number of misunderstandings between them. It's true I'm generally not a fan of "big misunderstanding" books but I don't think this book qualifies as having that trope. Rather, there are a series of perfectly understandable differences between the pair and part of their story is them learning how to communicate their needs and desires to one another and explaining how they feel rather than relying on guesswork. (Later in the book Nilo even suggests they both go to therapy to learn how to communicate better. I had mixed feelings about this. On the one hand, that's smart given their differences but also I guess I wanted the fairytale where everything is magically wonderful by the end. Overall though, I was more confident this couple would make it for the long haul because of their commitment to do whatever it took to make their relationship strong.)
Anywho, when Lexi goes to Valovia on a job (she's a "recovery specialist" – aka thief) which turns out to be a setup, Nilo appears (literally) to save the day. He's a teleporter so before Lexi knows it, she's been whisked away from danger and is alone with Nilo. The Empress wants Torran back – not because she misses him – and will happily use Lexi to draw him home. Tavi will come for Lexi no matter what and where Tavi goes, so to Torran.  Nilo, wants to protect Torran but also Lexi – so the pair plan how to get Lexi safely off Valovia. But then Tavi contacts Lexi to advise that Frank Morten and Sura Fev are on their way to Valovian airspace and the mission changes. Tavi and the rest of the crew of Starlight's Shadow are heading through the wormhole in pursuit but it's extremely risky notwithstanding Torran's recently acquired writ of safe passage from the Empress.  Lexi and Nilo want to be there to help and to act as backup/the rescue party if things go wrong.
As Lexi and Nilo spend 1:1 time together, their attraction becomes too much to ignore. Still, Lexi has reason to be mistrustful of others and tends to keep herself distant rather than risk getting hurt. Nilo wants more than a fling; Lexi isn't sure she has more to offer. Besides, Nilo lives on Valovia and Lexi is a thief who travels the galaxy. It could never work long term, right…. right?
I won't go into more of the plot other than to say there is a lot of action, things get very tense, with brief spates of calm, only to ramp up again and again until the final denouement.
And, Lexi and Nilo, of course, sort things out between them because after all, this is a romance.
From her experience in the war, Lexi is very wary of telepathy. Actually, that is a massive understatement. When Nilo first needs to shield for her, she has a panic attack. This fear also works as a metaphor for her fear of intimacy. She gets used to Nilo's presence in her head and moves from grudging acceptance to positive desire for it and at the same time, her other barriers start to fall.  What makes it work even better is that Nilo refuses to do anything he knows will hurt Lexi so if she's upset he withdraws from her mind immediately. He explains what he's doing and why and he gets her specific consent. He makes promises and keeps them.  All of these things are big intimacy and trust builders.
It is mostly Lexi who has the emotional arc – for his part, Nilo is pretty much gone for Lexi from the start but hardly dares dream it's even possible. I liked the way they made their way to one another. I liked the competitiveness between them but their protectiveness of each other when it came to anyone else.
It was also good to see all of the crew together and get more of the found family aspect of the series. Over the three books, the crew of Starlight's shadow has grown and bonded with the Valoffs who joined them at the end of book one. They're all one big happy family now.
I was a little curious about what might happen with Anja and with Prince Liang – perhaps there will be more in this universe even though this story arc is done?
Grade: B+

Regards,
Kaetrin