JOINT REVIEW: Storm Echo by Nalini Singh
Janine: Jennie and I have been reviewing the books in the Psy-Changeling series together since 2012. What better way to mark our aluminum (I looked it up!) anniversary than to talk Storm Echo?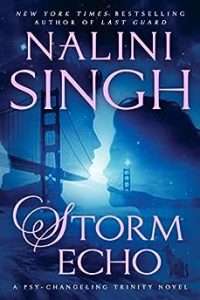 Jennie: I have a shiny can of diet ginger ale to celebrate!
Janine: Great idea. Let me open a can of Sprite.
Storm Echo is book six in the spinoff/continuation Psy-Changeling Trinity series. The protagonists are Ivan Mercant, a Psy and the scion of the powerful Mercant family, and Soleil "Lei" Bijoux, a healer and a feline shifter. Lei and Ivan meet when he is taking part in a wilderness training course and she is out collecting mushrooms. She stumbles on Ivan shortly after a rock has cut him and treats the injury. Ivan, though he has never been very drawn to a woman before, is instantly taken with Lei and realizes only after she leaves that he doesn't know how to find her.
He does find some mushrooms like the ones she collected, though, and he waits by them, hoping she'll turn up to collect them. She does. This time her interest is just as caught as his own, and they meet a few more times. Theirs is a sweet courtship; there's an open happiness to Lei that attracts Ivan, and Lei is equally drawn in by his solemn, "still waters run deep" interest in her.
Jennie: I really thought their initial meeting and courtship was lovely. Also, the fact that it's all shown from Ivan's PoV gives Lei an air of mystery that kept me interested.
Janine: Yes, it was, and great point. I didn't note that but you're so right.
In earlier years, Ivan feared that mating or marrying would not be appropriate for him—in typical Psy protagonist fashion, he carries a dark power in his brain that could pose a serious threat to him and anyone attached to him. But by this point, the power hasn't manifested and Ivan has relaxed some of his guard. He decides to let himself be happy, but first, he shares with Lei that he is something of an assassin, one who kills drug trade leaders to save the people they prey on from a destructive addiction to the drug Jax.
Jennie: I know that this has come up before, but I really don't like the glorification of vigilantism in this series and specifically in this book. It's in line with the championing of the "feeling" changelings over the "thinking" Psy that runs through the series, but in the real world deciding that people deserve to die is just not as simple as dividing them into victims and victimizers. There's a lot of overlap in real life, and pretending that complexity doesn't exist leaves a bad taste in my mouth.
Janine: Yes, I am not a fan of vigilantism either, in this series and in most books. It bothered me too. Supposedly law enforcement is ineffective in this world, but still.
Lei is not put off, or doesn't seem to be, at least until the next day, when she doesn't show up to their meeting. Ivan concludes that he's scared her off after all and realizes she also never told him where she's from. He is devastated but realizes that he has to let her go.
A day later, though, as he's driving away, he comes upon a scene of carnage. A cleanup crew is salvaging bodies in the aftermath of an outbreak of violence in a Psy settlement. Among the bodies are also a number of ocelot changelings, neighbors of the Psy. Ivan senses the mind of a living changeling among the bodies. The unconscious shifter he then digs out is Lei. Lei flatlines soon after that but Ivan manages to stimulate her mind telepathically and she starts breathing again. Then she's taken to the hospital, still unconscious.
This massacre is too recent to have been the cause of her disappearance from his life, so it doesn't change the status of their relationship. But Ivan wants to make sure that Lei is okay before saying goodbye. When he tries to find her, though, he can't. She's been transferred to another medical facility and because of an administrative error its location wasn't recorded. Ivan tries to trace her for months, but even his cousin Canto, who runs a global intelligence network, can't find her and eventually tells Ivan that they have to give up.
A year and a half after he last saw her, Ivan crosses paths with Lei again, this time on a San Francisco street. Just as he starts to follow her, a rupture in the PsyNet kills or injures many of the people in the vicinity. Both of them assist—Ivan telepathically, Lei medically—and he protects her throughout, too. But afterward, he realizes she doesn't know who he is. The injury she sustained in the earlier attack wiped out her memories of the preceding month, which encompasses the time they were together.
A secret agenda has brought Lei to San Francisco. Her pack members were executed by Lucas Hunter, the alpha of DarkRiver, a leopard pack in the area. Lei lost loved ones, including children, and now she wants Lucas to pay. She intends to confront him and kill him, but she knows there's a good chance that he'll kill her instead.
Jennie: Can I just say that I don't think the "Lei plans to kill Lucas Hunter" subplot added much? It was dropped so quickly that I didn't see the point except to give Lei a reason to be in San Francisco.
Janine: Plot-wise, its outcome was more than a little predictable since Lucas is a longtime hero in the series. However, I can think of other purposes it served.
Janine: The aftermath of the attack brings Lei to Lucas's attention. After she passes out, she wakes in the care of DarkRiver healer Tamsyn Ryder. Tamsyn wants her to rest, then talk to Lucas, but as soon as she leaves, Lei escapes. Just as she's leaving the building, Ivan shows up in his car and helps her to leave undetected.
There's a weird psychic bond, not quite a mating bond but not entirely dissimilar, between Lei and Ivan that allows them to communicate when they dream. Lei's cat is possessive of Ivan, and though at first Lei thinks it's irrational, it doesn't take her long to figure out that she must have known him in the missing weeks and that something must have happened between them. Ivan tells her that she decided she was better off moving on, and though Lei doesn't remember it, she's confident that it can't be true.
But though this should clear the way for them to be together, it doesn't. Because the dark power contained within Ivan has stretched awake in the intervening years, and it's no longer safe for him to love anyone.
Jennie: Gosh, what a surprising plot twist. Didn't see that coming.
Janine: Yeah….
This was an enjoyable book and I'm happy to see Nalini Singh come out with another good one. This series has been off and on for me in recent years—I've gotten frustrated with some repetitiveness and I know you have too, Jennie. I won't say that there isn't any here because that wouldn't be true, but I nevertheless had a lot of fun reading this book, and I felt that the first half was especially fresh and bright.
The amnesia trope hasn't been used that much in this series. Off the top of my head, I can only think of three other books that employed it. I've heard some romance readers groan about amnesia, but it's a trope I'm very fond of because it lends itself to high-stakes relationship dynamics. I love seeing one of the main characters cope with being a stranger to the person they love and the other protagonist struggle to remember their relationship in what is a bewildering situation. That vulnerability and dramatic tension is romantic and absorbing. On that level this book was very satisfying.
Jennie: I didn't mind the amnesia much because it seemed plausible given the trauma Lei had experienced. It gave a reason for the separation and it wasn't drawn out; even when Lei didn't quite remember Ivan she accepted their connection easily.
Janine: Yes. Additionally, Lei is a lovely heroine. She takes joy in small things like colorful, pretty dresses and planters shaped like pouncing cats (for once, I thought the clothing descriptions were relevant—they brought across her joie de vivre). Though she has moments of sadness and shadow, her baseline personality is sunny and she exudes her liking for other people. She and Ivan, who is much more self-contained and standoffish with many people, but not with her, complement each other well.
Jennie: I loved the detail about her colorful dresses, and I love that Ivan thought to buy her a dress that was more in line with her previous way of dressing when they met again, since in her traumatized state she had been wearing gray, baggy clothes.
Janine: That was charming.
I liked Ivan too. He had a depth of loyalty—to Lei and to his family, especially his grandmother Ena, the Mercants' matriarch. Ivan's mother, a drug addict, ran away from her family and hid baby Ivan from them. Ivan and Ena didn't meet until his mother died when he was eight, and Ena immediately gave him her all. In return, Ivan would do anything for her. Because Ena is aware of that, she is careful never to ask too much of him. I love the tenderness there—that each is protective of the other—especially since both are outwardly tough people.
Jennie: Ena is one of my favorite characters, for some reason. She's definitely a "type" – the icy Psy matriarch whose carapace of steel hides a loving heart. But she's always just had a lot of charisma, and I like a story more when she's a part of it.
Janine: Yes, she's great.
Jennie: I liked Ivan, but not as much as Lei. He felt a little bit more "central casting" Psy. But I've come to accept lately that I really have a preference for heroines, most of the time. A hero has to be really special to stand out for me.
Janine: I agree that Lei was the better character of the two. And while I wouldn't say I'm heroine-centric, at least not much, I do think that Nalini Singh's heroines tend to appeal to me more than her heroes.
As far as the subplot having to do with Ivan's power and his connection to the PsyNet, my feelings about it are nothing that I haven't said before and I don't want to beat a dead horse too long. This subplot took a direction that was all too familiar in focusing on impending personal doom. The last third of the book felt less fresh because of that.
Jennie: Yeah, for me it was a bummer because not only is it not fresh, but there is always a deus ex machina that occurs at the last minute (literally, I think it was at like the 97% point of the book). I have come to acknowledge that in these series the repetitive themes are a feature, not a bug, so even when I don't like them I have to make peace with them. I would love to see something different from a Psy other than "we can't be together because I'm doomed to die/kill everyone/kill everyone and die, etc." ad nauseum.
Janine: Yes! One of my favorite Nalini Singh works is "Echo of Silence," a novella in Wild Embrace. It's the one that takes place in an underwater station and the hero is a Psy. The main conflict is that he has to hide his emotions, including his love for her because this story takes place long before Silence was rescinded. Kaleb and Sahara's book, Heart of Obsidian, also didn't have the impending death trope, and was another of the better books featuring Psy main characters.
Moving on—something I really enjoyed was the way Ivan learned to adapt to being part of a changeling's life; what that meant, what Lei needed in general and what she needed from him in particular. This ties to the resolution of Lei's conflict with Lucas, and much of that DarkRiver stuff was satisfying.
Jennie: I almost felt like Ivan unbent a bit too quickly, but that's a minor quibble.
Janine: I have a few small nitpicks.
1) Ivan saw Lei as a cat in the PsyNet. This took a little adjusting to. In the original Psy/Changeling series, the visual description of the PsyNet was a field of stars in a dark background, almost like the night sky. Minds blink in and out of it as lights can blink in and out. More recently, there have been some insect shapes in there. That was a stretch for me to visualize in the middle of a field of stars, but I was able to go with it because the PsyNet is a net, after all, a web of stars, and I associate insects with webs. The cat visual stuck out to me and was jarring.
(I also wondered, if Lei was visible as a cat in the Net, why haven't any of the other changelings been visually represented there as animals? Does Silver see Valentin as a bear in the net? I don't remember that.)
2) The drug Jax was described as one that heightened its users' sensations and emotions. But in Caressed by Ice we learned that Judd and his fellow Arrows were given Jax for the opposite purpose—to deaden their emotions and make them to unthinkingly follow orders to assassinate people, including some innocents. So if Jax deadened their emotions and sensitivities, how is it that it has the opposite effect on its other users? This may have been explained in one of the earlier books but if so, I've forgotten that explanation.
Jennie: Re 1), I really just have to roll with whatever description of the PsyNet I read. It gives me a headache to think about it too much. So I didn't really even notice the issue there. As to 2) that's a good point. I don't have an explanation for that.
Janine: Nitpick 3) involves a spoiler.
I liked the book a lot, though. It's probably my favorite book in the Trinity series since Ocean Light. I was thinking I'd give it a B/B+, but in light of the fact that it's gotten damn hard for me to find a satisfying romance (only one other 2022 romance is on my "best of" list so far—B+ is my cutoff grade), I'm giving Storm Echo a B+.
Jennie: I'll give it a straight B, mostly on the strength of Lei and the Ena Mercant content.