REVIEW: Angels Fall by Nora Roberts
Dear Ms. Roberts: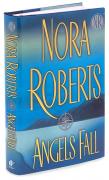 Thanks for stopping by. How fortuitous since I picked up your book at Costco ($14.19) and read it this week.
Angels Fall features Reece Gilmore, a young woman who suffered a terrible emotional trauma in Boston as she was just embarking on a career as a chef at one of the hottest Boston restaurants. She ran away from Boston because of those memories and found herself Angel Fist, Wyoming. Her car breaks down and while she is waiting to get her vehicle, she sees a sign at a local diner seeking a cook. Reece is a woman who is living just one day at a time. One day, while hiking, Reece sees a murder committed but there is no physical evidence to support her and many people begin to believe that her trauma induced mind is giving mass to her terror.
Watching this brave, strong woman overcome the trauma of her past was worthwhile even without the romance. The romance was like frosting on a delectable cake. There should be no mistake about it; this book contains a strong romance thread. Brody is a writer who gave up a career at the Chicago Tribune over a year ago. He's a surly male whose no nonsense approach to life is exactly what Reece needs. He never coddles her. He never pities her.
Why I liked the romance and Brody in particular is a bit of a spoiler. I thought Brody was impossibly romantic. Here is a woman who many people believe is crazy. Brody does not. He is her lighthouse in the storm. Her rock in the river. When push comes to shove, Brody is solidly on Reece's side of the fence and never once wavers. Those actions show me more than any amounts of endless exposition that not only does Brody love Reece, but he will love her forever, no matter what, amen.
My favorite part of this story was the development of the relationship between Brody and Reece from attraction to love. The attraction was instantaneous, but love happened overtime. I also think that dialogue can make or break a book. In this book, the dialogue sparkled. The humor was sly and smart.
"None I can't unearth. Come on, give me some dish. My own love life's been as sparse as Pete's hairline lately."
'"Hey! My hair's just taking a little rest between growing seasons." Pete slicked a hand over what hair he had left. "And I can feel my scalp starting to tingle in anticipation of a new crop."
"Need some more fertilizer. Is he a good kisser"" Linda-gail demanded.
"Pete? Amazing. I'm a puddle at his feet. Order up." Reece said when she'd finished plating the burgers, fries, and the little tubs of coleslaw she already knew would go to waste on the high-school crowd.
"I'll get it out of you sooner or later." After gathering up the plates, Linda-gail sashayed out.
"I am an amazing kisser," Pete announced. "Just FYI."
"I never doubted it."
"Let me think about it. Why couldn't you sleep?"
"How do I know? The doctor's got some sort of holistic tea he wants me to try."
"Sex is a good sedative."
"Maybe. Especially, for instance, if your partner's on the inadequate side. You can catch a quick nap during the act."
"I can promise you won't sleep through it."
Here's the problem with your book. I mentioned the other day at Keishon's blog how editing problems didn't bother me, but I was shocked to see how many editing issues there were in this book. I would have thought a NR hardcover would get special editing attention. Maybe it was a stylistic thing but there many phrases were made into sentences without a subject and verb. There were frequent missing quotation marks, weird punctuation errors and the like. There were a lot of run on sentences and a few sentences that I didn't understand. Here is just a tiny sampling.
"Maybe I saw a couple of people in an altercation, but it wasn't murder. Which is why no one's reported anyone like her missing."
It's good, it's really close.
He ate, he drank, he watched her.
This sentence I don't understand:
"The more crowded the cities and the burbs get, the more people want a place that isn't for their alternative time."
You were a little heavy handed on the symbolism, but not so much that I felt like you were talking down to me (unlike the recent Feehan book I read). And okay, this is another stupid niggle, but you have the two of them out in the canoe and you put Reece, a novice in the stern, and Brody in the bow. Traditionally, a canoe is steered from the stern. An inexperienced canoer could wreak havoc with someone trying to steer from the bow.
The editing issues and the tiny niggles aside, this was a very good story and I am not at all regretful that I bought the hardcover. B+ for you.
Best regards,
Jane