REVIEW: The Soldier's Wife by Cheryl Reavis
"Promise Me You'll Help Her."

Former Union soldier Jeremiah "Jack" Murphy should never have given his word to a dying man, especially a Rebel. But now he feels honor-bound to carry the message to the man's young bride. Besides, with false charges following him, Jack needs somewhere to turn. After he fulfills his promise, perhaps the North Carolina mountains can give this weary soldier some shelter. Yet when he meets beautiful widow Sayer Garth, leaving is the last thing on Jack's mind. Sayer, and her young sisters-in-law, need help that Jack is more than willing to provide. If only he could be certain that his presence–and his secrets–won't put them all at risk….
Dear Ms. Reavis,
I'm a long time fan of your books – both contemporaries and historicals – so I was tickled to see you have a new one out now. Calm, practical people fill your books. These are characters who simply put their heads down and keep going through the bad times. They don't wallow in angst, rather they're generally the strong silent types and as such they resonate with me: often not demonstrative in large ways but always in small ones. In that respect, I love this book. I can see and hear these characters, struggling to make their ways and survive the aftermath of war in the beautiful but harsh mountain life of North Carolina. As a romance though, I'm afraid it falls a little short.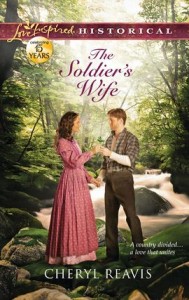 The book kicks off with a powerful start. Two men meet by chance in the aftermath of one of the last battles of the Civil War. Jeremiah "Jack" Murphy responds to the entreaties of an unknown, dying man who begs Jack to carry his belongings and final thoughts home to his wife. Thomas Henry Garth extracts a promise from Jeremiah to tell Sayer that he died well and bravely and that his last thoughts were of her. Jeremiah also hears the man's worried mutterings about troubles facing Sayer and her young sisters-in-law. But after Garth dies and Jeremiah returns to his own lines, word spreads that Lee has surrendered and the war is over. Jeremiah also discovers, via a letter to another man in his unit, that the woman who'd promised to marry him has broken her word and married a wealthy man in their hometown of Lexington, Kentucky.
Thinking of nothing but his pride, Jeremiah heads home as soon as he can only to discover his first love is not only faithless but a liar as well. Fleeing from the wrath of her powerful husband, he decides to head in a different direction – that of the family to whom he is supposed to deliver Garth's belongings. The battlefield scenes are moving and poignant with the news of surrender hitting the Union men with "if only" regrets. Jeremiah's a stubborn man, stubborn long past when all his friends and the priest who runs the orphanage where Jeremiah grew up tell him to get out of town. I wish there had been more time to spend on his journey to NC but the story moves quickly on.
Trying to find the Garth land, Jeremiah runs into one of the best characters in the story. Rorrie Conley is an old widder woman who doesn't suffer fools gladly. She's also handy with a gun and doesn't like being lied to – though she'll let Jeremiah keep a few of his secrets when she sees he means the Garths no harm. I love Rorrie. She's a spitfire who can put the fear of God into grown men, who speaks her mind and who doesn't waste any words. If she thinks someone needs a verbal push to stop acting foolish, she gives them a strong one. She's a mountain woman through and through and as hard headed as her mule but her intentions are always for the best and seldom wrong.
When Jeremiah arrives and discovers the difficulties the soldier's wife and sisters are enduring, he sticks around. The mountains are beautiful but demanding. The people are just as strong and when they discover why he's traveled there, they quietly welcome him as a comrade of Thomas Henry – a man they obviously loved and thought highly of. The memorial service they hold for Garth is dignified and heartfelt. The love and care they take of Sayer and her young charges Amity and Beatrice is touching. But they also notice that this young man has clearly been through the fires of war and is still suffering.
I get a bit lost in the relationship between Thomas Henry and Sayer that sets up the plot. Thomas Henry just falls in love with her when they're both children then comes to her rescue as an adult who can finally get her away from relatives who don't love her. I never quite got the reason why he fell so hard and permanently for Sayer. She just seemed like a large eyed, scared waif. She also seems to drift, and cry, through a lot of this book. If not for Rorrie goosing her into action quite a few times, I think she would have faded into the background for me. She's nice enough, cares for her sisters-in-law, wants to hold onto the Garth land for them but other than this is rather colorless. She does eventually stand up and act bravely when the villains arrive but her initiative was a bit lacking for a large part of the book.
The villains are twofold and end working in tandem before being taken down. Vance seems far too obsessed with Jeremiah for the little amount of history they have. I can see some pursuit on his part to teach someone who'd dared to see the wife he likes to control but the lengths to which he goes in this day and age of slow travel and slower communication almost beggar belief. Thomas Henry's vile uncle who covets the family land makes more sense as the central cause of external conflict. He's there and he has a concrete reason to harass Sayer and the rest of the family. I do understand that the threat of Vance needed to be removed from Jeremiah's life but am the way it's done just seems OTT.
I understand Jeremiah's reasons for falling in love with Sayer – she's pretty, she's loyal, she's a haven for him after the war and the betrayal of his first love. The haven part comes through the most. He finds peace here and people who accept him. But Sayer just seems to drift into love with him just as she did with Thomas Henry almost as if he's a substitute for her now dead husband. I usually like your quiet heroines but Sayer is perhaps just a bit too wrapped tight and undemonstrative. I'm left with the feeling that she might have fallen for any man who stuck around and helped out at the farm.
The religious aspects of the book are strong yet not overwhelming. These are people raised in religion who have just lost many to the war so it makes sense that they turn to God and their faith to see them through and give them strength. Characters wrestle with their beliefs in a personal way that never feels preachy or overwrought.
The setting you used here, post Civil War America, is one I enjoyed. The people of Ashe County are rock solid, hard working, and there to help their neighbors when it's needed. I had a great time reading about them. Rorrie is a delight, Jeremiah is tough and vulnerable at the same time but Sayer needed a little more oomph for me to get behind her. B-
~Jayne