REVIEW: The Monsters We Defy by Leslye Penelope
Dear Leslye Penelope,
I saw that your new book, a fantasy novel called The Monsters We Defy, takes place in the milieu of the Black community in 1925 Washington, DC and I thought that sounded interesting and fresh, so when Orbit offered me an ARC, I went for it.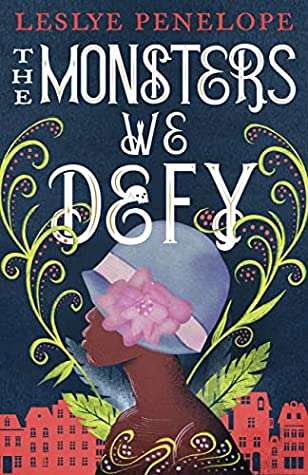 It's hard to describe the novel's subgenre. DC and its Black culture are depicted with some attention to history and real historical personages appear in the story. Since the book is set in a real-world city, I think I'll call it historical urban fantasy. The setting, supernatural forces, Black protagonist, historical details, and quirky crew of secondary characters made me think of it as a Black American 1920s cousin of Ben Aaronovitch's Rivers of London series, but with a female protagonist.
The book's main character is twenty-three-year-old Clara Johnson, a medium of sorts. Clara was born with a caul on her head and it gave her the ability to see spirits and other supernatural entities invisible to most human eyes. Among these are enigmas, beings that are more than willing to enter into bargains with humans, to give them a "charm" (often a magical skill or trait) in exchange for a "trick" (something the humans have to sacrifice in exchange).
Clara was caught in a terrible situation in her past and was forced to turn to an enigma known as the Empress to save herself. The Empress gifted her with a charm and Clara used it—she had no choice. But it is such a powerful charm that Clara is determined never to use it again. No human being should have that kind of power.
The trick Clara agreed to in exchange was that she would hear out everyone who comes to her asking for help from the enigmas, and facilitate a bargain for all who want one. Whenever anyone calls on her to ask for that, Clara has to invite the enigmas into her apartment (usually by means of a candle flame, though she can sometimes manage without one if it's necessary) and strike a deal for them on behalf of her callers.
The bargains are always a case of "be careful what you wish for" and Clara hates them, but she sees no way out. Word of mouth about her has spread, and as more people ask for her help to call the enigmas, Clara becomes less happy.
Zelda Coleman, a pickpocket and former circus "freak" (she's albino and Black, and her mother, a woman with too many children to feed, sold her to the circus when she was six) is Clara's roommate but only by dint of will. Clara and Zelda met after Zelda fleeced a man. Her would-be victim, a low-level gangster, pulled out a gun. Clara, a passerby, intervened and defused that situation. Zelda decided on the spot that this woman would be her friend, whether or not she wanted to. She came home with Clara, slept on her couch, and now, two years later, still refuses to leave. Clara keeps telling her to move out but Zelda insists that Clara needs her friendship and that she'll stick around.
Clara works at The Journal of Negro History, Carter G. Woodson's scholarly publication. As much as she admires Dr. Woodson, Clara has mixed feelings about working there because her clerical job isn't very fulfilling. Occasionally she runs into another problem—ghosts tell her to add historical details about their experiences as slaves to the historical articles she proofreads. A haughty writer at the paper, Dr. Alphonzo Harley, has complained about the "creative license" she took with his articles more than once. One person there who makes her cares lighter is Samuel Foster, the journal's fourteen-year-old errand boy. Samuel has a strong sense of responsibility and a second job besides the one at the paper. His paycheck supports his family, and he's kind and mature for his age.
Early in the book, Clara has a run-in with Addie Savoy, a snobbish, lighter-skinned Black high society girl she has reason to despise. They almost come to blows in public, but a popular and well-regarded jazz musician, Israel Lee, breaks up the fight. He calls Clara "lioness" and clearly likes her, but Clara refuses to admit to herself that she's equally attracted. She views herself as homely and doesn't believe she appeals to anyone.
The plot begins to thicken when a woman named Dorothy Monroe calls on Clara's help. Her teenage son, Titus, normally smart and industrious, has stopped communicating and begun shuffling, making attempts to go somewhere else without saying where. Dorothy is willing to pay any price to restore him to his usual self. But when Clara tries to call on the enigmas' help, none appear.
Soon Clara learns that several young people have inexplicably disappeared. Clara calls the Empress forth and asks her what's going on. The Empress tells Clara that she can only save the disappeared, as well as Titus, if Clara obtains a magical ring for her. But the woman currently wearing the ring is opera singer Madame Josephine, the wife of a notorious gangster. Clara declines; the task is too dangerous. Even when Zelda points out that she can use The Empress's hunger for the ring to negotiate for release from their bargain, Clara won't budge.
But then young Samuel doesn't show up for work at the paper, and when Clara tries to track him down, she discovers he's left home without a word. Her gut tells her that he too was taken; there's no way he'd abandon his disabled single mother and his younger siblings. She changes her mind and takes on the theft of the ring.
The Empress promises to free not only Clara, but anyone else who has entered a bargain with an enigma and who assists Clara with the heist. There's only one group of people whose bargains the Empress can't end—those who have bargained with another enigma, The Man in Black.
Clara recruits a few other bargain holders—Aristotle Bishop, a gay former vaudeville actor whose charm allows him to change his appearance at will and convince anyone of his role; Israel Lee, the aforementioned jazz musician, who acquired the skill of making people do what he wants them to do while he plays an instrument, sings or whistles; and Israel's cousin Jesse Lee, who has the enigma-given skill of tampering with other people's memories. All of them agree to collaborate on the heist, and of course, Zelda insists on joining them. There's one snag, though: Israel's bargain is with The Man in Black, so if they succeed, only one of the two of them—Clara or him—can be freed. And Clara is falling for him.
I enjoyed this book and particularly liked the historical details. It's clear that the author knows DC well and she introduces storied figures from history into her tale. The brilliant (you can read some of his gorgeous poems if you scroll down the page here) and now-renowned poet Langston Hughes works at The Journal with Clara (humorously, he's not all that into his job at the paper, so Clara is floored by his talent when she hears him read his poetry). Georgia Douglas Johnson, who holds a literary salon Clara and Israel attend, is also a real figure, a poet whose husband served as President Taft's Recorder of Deeds. Even Clara's character was inspired by a real person—Clara "Carrie" Johnson—whose backstory comprises part of Clara's (few records about Carrie Johnson remain, but we learn a little bit in the author's afterword).
Other period details like Model T cars and the popularity of jazz and of flapper dresses give the setting a historical feel, and attention to the history of Washington DC is another pleasure. Some of these details are dark (for example, we learn that the exclusive St. Charles Hotel once offered slave pens in its basement as an amenity to its guests), but I was glad to be enlightened.
One of my main issues with the book was that Clara was less appealing than the supporting characters who aided her in the heist. She was grumpy and not exactly the warm and fuzzy type. But she had ample reason to be; it was understandable given her past and her present, and it's clear that this is the first book in the series and that Clara is on a journey to become a happier person.
It's also evident that another of her growth paths will be going from a loner to someone with a community of friends and allies. By the end of this book, she has already begun that journey. I can think of a few other urban fantasy series with that arc—Ilona Andrews' Kate Daniels series, Patricia Briggs' Mercy Thompson series, and Seanan McGuire's October Daye books. In all three cases, the first book wasn't the strongest, and I've concluded that it's partly because the main character was still a loner at that point. I'm reasonably confident that as Clara continues to thaw and get closer to others, I'll come to like her more (not that I disliked her).
I liked the secondary characters. My favorites were Israel Lee and Zelda. Israel was a mix of suaveness and gentlemanly kindness. He was clearly aware of his appeal but never let it go to his head. Zelda had a great sense of humor and was such a fun character. The acrobatic skills she learned from her colleagues at the circus sure came in handy, too.
Colorism is a theme in the novel and while I'm familiar with it, outside of Brit Bennett's literary novel, The Vanishing Half, I haven't seen it delineated so strongly in a book before. The stratification of Black DC society (often overlapping with colorism) is also depicted. Some people hold themselves above others for little reason, as happens in many societies, and the book didn't shy away from the impact that had on those they excluded, looked down on, or ignored.
The writing is at its peak in a few flashback chapters interspersed between the chapters set in the book's present day (1925). The book begins with one of these: Clara's birth. The narration in these chapters is an omniscient voice wedded to African-American vernacular and I loved it.
Some folks say it wasn't just being born with a caul that made Clara Johnson ornery as a red hornet, it was being born at the crossroads. Her spirit, unlike most, had a choice to make right there at the beginning. Cold or hot, salty or sweet, lion or lamb. She came into this world through one of the forks in the road, and Clara being Clara, she chose the rockier way.
The scene is set so well. Clara's parents and her grandmother are headed north as part of the Great Migration when they have to stop just before they reach the Virginia state line, near a place called Whitetown, because her pregnant mother goes into early labor. Their fear that they'll be discovered by racists while in such a vulnerable position is palpable.
Other such intermissions from the main action, written in the same voice, reveal the backstories of the other significant characters (my favorites were Zelda's and Jesse Lee's). The rest of the book is written in third person. Ebonics expressions are sprinkled throughout the book, though not quite as strongly as in the backstory chapters. It gives the novel authenticity and immerses it in its milieu.
Except for what I said above about Clara, my only significant criticisms are that the pacing is slow, and that although I enjoyed the book when I read it, I found it easy to put down when it was time to go to bed. But while it wasn't a page-turner, it was still a nice way to pass the time.
Overall I enjoyed The Monsters We Defy and I recommend it to readers who want to read something fresh and different in the urban fantasy / paranormal genre. B-.
Sincerely,
Janine