REVIEW: The Good Wife of Bath by Karen Brooks
In the middle ages, a poet told a story that mocked a strong woman. It became a literary classic. But what if the woman in question had a chance to tell her own version? Who would you believe?

England, The Year of Our Lord, 1364

When married off aged 12 to an elderly farmer, Eleanor Cornfed, who's constantly told to seek redemption for her many sins, quickly realises it won't matter what she says or does, God is not on her side – or any poor woman's for that matter.

But Eleanor was born under the joint signs of Venus and Mars. Both a lover and a fighter, she will not bow meekly to fate. Even if five marriages, several pilgrimages, many lovers, violence, mayhem and wildly divergent fortunes (that swoop up and down as if spinning on Fortuna's Wheel itself) do not for a peaceful life make.

Aided and abetted by her trusty god-sibling Alyson, the counsel of one Geoffrey Chaucer, and a good head for business, Eleanor fights to protect those she loves from the vagaries of life, the character deficits of her many husbands, the brutalities of medieval England and her own fatal flaw… a lusty appreciation of mankind. All while continuing to pursue the one thing all women want – control of their own lives.

This funny, picaresque, clever retelling of Chaucer's 'Wife of Bath' from The Canterbury Tales is a cutting assessment of what happens when male power is left to run unchecked, as well as a recasting of a literary classic that gives a maligned character her own voice, and allows her to tell her own (mostly) true story.
Dear Ms. Brooks, 
I couldn't resist finding out what you were going to do with this famous character. Way back in the dark ages of my youth, I had to learn and recite the prologue of "The Canterbury Tales" in class (and can still manage a couple of the verses) but if I ever actually read the "Wife's Tale" I didn't remember much of it beyond that it was not thought to be a flattering view of women. Or was that incorrect and Chaucer was turning the common viewpoint on its head?     
At times funny, frank, and written in first person, Eleanor tells it like it is and dares to call out the inequality between men and women, especially about what got her into enough trouble to be packed off, at the age of twelve, to her first husband – a man much older than she. It might take two to do what she's accused of but why is it always the woman who pays the price while the male goes free? Then when her first husband dies, she marries again to, as she thinks, protect her interests. Only she finds a new type of oppression she must fight against before needing to marry a third time to protect herself as well as those who depend on her. The fourth husband is one she's strongly warned against but after three elderly husbands, she wants a young, lusty husband as she freely admits she enjoys the pleasures of the flesh. She thinks she's got it all figured out with husband number five only to fall prey to another danger faced by women. What will she do when this marriage is over? How will she fight the restrictions against women and an old adversary she never thought to see again?
"The Good Wife of Bath" is mainly about women reclaiming their voice and power but, after a while, not quite how I expected. Eleanor initially tries to work within the framework of acceptable behavior, only to have to step outside of that when needs must and she has no other options. Some of her marriages were good and while the husbands weren't what she might have dreamed of, they were kind, thoughtful, and not only recognized her talents and business acumen, they let her loose to take full advantage of them. One husband she very cleverly manipulated into letting her have her way. One caused her grief because she wanted him and refused to see him for what he was and another had a side she never saw before it was too late.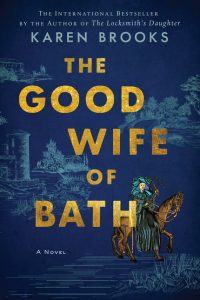 The historical details are woven into the story without turning into an opportunity to over display copious research. Harsh times sometimes called for harsh ways to survive. But even living a medieval middle class life didn't insulate one from stink, disease, fleas, and cold. A person who was on the lower end of the socio-economic scale had it even worse. Women had to fight all this and the beliefs and laws aimed at keeping them under the control of the men in their lives. There is much that is dark and watching Eleanor hurl herself against injustice again and again only to often still suffer for that got wearying. Eleanor is brave but also often foolhardy and naive – banging her head against a wall as if this time she'll crack the wall rather than it hurting her.      
I hate to admit but there were sections of the book that while interesting, seemed to meander a bit. In the second half, events repeat as if Eleanor must have lessons made clear to her more than once in order for her to finally grasp them. When a second person pays a high price for Eleanor's actions, I sighed and thought yes, Eleanor grieves for this person but if she'd only thought a bit, this might not have happened. I also found that many of the secondary characters weren't fleshed out well and given the length of the book, there was plenty of room for it.   
Eleanor can frustrate those who love her – and read about her – as well as make them proud of her. She can make horrible mistakes due to her pride and contrariness and often pays a dear price for it. Despite the fact that her actions often lead to "Fortune's Wheel" changing on her and causing her own downfall as well as that of those dependent on her, she has surprisingly (well, she admits she's surprised) loyal workers. But then she rose from the working class, treats her workers well, and does try to provide a way for them to earn a working wage. By the end of the book, she does finally appear to have learned some hard truths. She tries to live life on her own terms in a time and world in which women were not allowed to do so. And she sometimes managed to succeed. B-  
~Jayne