REVIEW: Sonata for a Scoundrel by Anthea Lawson
Dear Ms. Lawson,
I finished Sonata for Scoundrel just as Robin's Reading What You Know post set off an epic discussion of book-trance-killing pet peeves. As I read through all the replies, I realized that my inner red flags were at the ready when I started your story of a Romantic-era female composer. I've been disappointed before.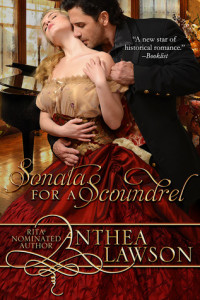 The Muse…
Clara Becker is a supremely gifted composer–a talent of little to use to a woman in 1830s Europe. Her compositions only have worth when they are published under her brother's name, yet this deception barely enables them to scrape out a living in the poorest quarter of London.
Meets the Master…
Darien Reynard, the most celebrated musician in Europe, pursues success with a single-minded intensity. When he comes across Becker's compositions, he knows that this music will secure his place in history. Darien tracks the composer down and, with some difficulty, convinces the man to tour with him. Mr. Becker agrees, but with the most unusual condition that he bring along his sister…
None of those red flags were needed for the "glittering backdrop of 19th century celebrity." The world-building made my inner geek very, very happy – so much so that I didn't even flinch at the blatant name-dropping of Chopin, Berlioz, Liszt and even George Sand. I think that's because this is very much Clara's story, and we get to see that world from her shadowy place off-stage.
Clara is a bit heart-breaking because she's never allowed to embrace her musical gift for herself. When we first met our heroine, she's pulling an all-nighter to keep her father's creditors at bay, only to be forced yet again to let go of her latest masterpiece:
Papa felt it best that Nicholas play the music as soon as she had finished the composition. It was a ritual now. Nicholas would play it, and the music would no longer be hers.
And later, on tour with the maestro, she must hide in hotel rooms or forgotten salons in empty palace corridors to keep up with Darien's demands for new compositions at every stop on their tour. But like any artist, Clara finds inspiration even in the depths of her frustration:
Yes. Yes! At last she heard it—the quick staccato beat of the piano, rapping notes out while the violin played with the fury of a fallen angel. Fire and passion and wickedness all coiled together in a mad rush of melody.
She rushed back to the desk, grabbed a new sheet of paper, and began to write furiously.
***
From her vantage point in the hallway outside the half-open door to the music room, Clara could see Darien Reynard's lifted brow as he accepted the pages from Nicholas. She rested her fingertips on the elaborate gilt doorframe and leaned closer, straining her ears to catch their conversation.
"El Diavolo?" Darien asked. "Do I dare ask what inspired this piece?"
Nicholas tapped his fingers nervously against his trouser leg. "It's a composite," he finally said. "Drawn from a number of experiences."
"I see." Darien flipped to the second page and studied the notes scribed there. "This is a bit more… technically ambitious than your previous works. You plan to put me through my paces."
Oh, yes. Wait until he attempted the cadenza. Clara swallowed back a sharp, bitter laugh. Her composition served him right enough; served them both. She might be invisible, but there was no denying her presence. Not when she was the one quite literally calling the tune.
It's not until her brother Nicholas drinks himself into a stupor and Clara takes his place in a rehearsal that the self-obsessed virtuoso finally sees her as a true musician – and a woman. Clara's life begins to open in ways she never imagined, and her compositions begin to take on more complex themes that push Darien's star ever higher. However, as the muse/master relationship deepens artistically and romantically, Nicholas descends into a shame spiral that threatens the trio's carefully constructed façade.
The remainder of the story plays out in a musical duel between Darien and his Italian Arch-Nemesis, who is truly the 19th-century equivalent of an epic douchebag. The final concert is totally Hollywood-esque, complete with the obligatory Royal Standing Ovation. By then I was all, "what the hell, bring it on," because I am a huge sap for schmaltzy endings.
And, of course, I completely geeked out over the Author's Note. I shall never reveal how many new mp3s were added to my playlists or how many hours I spent Googling the sex lives of Romantic-era composers (Lisztomania, indeed) or how guilty I felt when I remembered I had a novel about Clara Schumann mouldering at the bottom of the toppling stack of hardcovers beside my bed. I want to go back in time and give Fanny Mendelssohn a big ol' "You GO, GIRL."
For the most part, I really enjoyed Sonata for a Scoundrel. So many lovely telling details, like Clara's nervous foot-tapping that unconsciously matches the unfamiliar rhythms of her first cross-country carriage ride, and the way she counts repetitions in the patterned carpet to keep from nodding off at the latest snobbish patron's after-party, and Darien's post-bar-brawl panic until he realizes it's only his bowing hand that's bruised.
But too often (this is where the inner red flags started unfurling), those revealing moments were overshadowed by increasingly purplish prose. At first, the metaphors are both clever and relevant, letting the reader know that we're in the minds of professional musicians who think very differently from the rest of us mere mortals:
…The final movement burst like constellations through her, jubilant sprays of notes flung out over the audience.
… His hands ached with the need to play that brightness into being.
… Instead, he studied her as though she were an unexpected dissonance in the score of his life.
… The piece was full of shadows and silvery silences, the beginning a subtle interplay of long-held tones exchanged between the piano and violin. Her every sense was attuned to Darien as the music reached the first abyss—two beats of stillness they must hold for an identical interval before ascending again into the dark melodic waters.
That last one? THAT was glorious. It's a bit all over the place, but it fits the scene perfectly, revealing the characters using their own vocabulary. Early in the story, I was so enamored I could even forgive sentences like this:
… Darien tossed long skeins of notes from his violin into the welcoming waves pouring beneath her fingers.
Tossing skeins of notes? All righty, then. I kinda like it.
However…. *~*sigh*~* The Mixing of the Metaphors eventually began to take center stage (sorry, I just COULD NOT resist):
…This kiss would be a bright, burning star for her to chart her life by, the only thing in a dark sea full of night. She would look up and navigate her future by its light, by the memory of Darien's kiss.
… There were undercurrents here he did not understand; some family secret that lay like a sandbar, treacherously close to the surface. Was it going to wreck his plans on the shoals?
… Dare could not sip the liquor that was Miss Clara Becker—but that did not stop him from thirsting.
And whenever flowery metaphors invade the bedroom, it's just a short, perilous journey into the realm of (brace yourselves) Simile Sex:
She teetered on the brink of a vast, thundering mystery. The boat of their bodies had come to an endless plunge of waterfall. She clung to his shoulders, eyes fixed on his, and fell over the edge. The current seized her, thrust her headlong into sensation, a glittering sheet of water and air and pure noise. It was like standing in the center of a cacophony of drums, the rhythm shaking her apart until she hardly knew where her body ended and Darien's began.
Sometimes there's a fine line between authorial voice and purple prose, and passages like that make me feel the author is simply trying too hard to impress the reader with every tool in her arsenal. It wasn't quite Death by Thesaurus, but the book trance had vanished by that point, and I never did get it back.
While I loved Sonata's focus on Clara, I did get frustrated with the unfulfilled bits of backstory about Darien's similar impoverished childhood and Nicholas's previous bouts of depression. There's even hints that Nicholas might be gay, which would make a damn good sequel, especially if he gets his HEA while squashing the Italian Arch-Nemesis like a bug on the empty stage of La Scala. Or maybe dropping a piano on his head.
And the Big Reveal. Oy, the non-event of the Big Reveal. The blurb sets up the expectation there will be a Dark Moment; the story really could have used the build-up towards a confrontation – which sorta occurs when Clara deliberately seduces Darien to silence his questions – but then all that tension just kinda peters out as Darien gradually figures out the big secret (maybe because all those wave-crashing, bass-clef-reverberating orgasms made him smarter).
So. (I need a musical metaphor for "final analysis.") I guess I'm more conflicted than I thought. I fully admit I geeked out a few times, but this story definitely isn't for everyone. I'd recommend Sonata for a Scoundrel to any and every classical music lover, but all others must have a high tolerance for florid storytelling. Grade: B-
~ Kelly