REVIEW: Season of Storms by Susanna Kearsley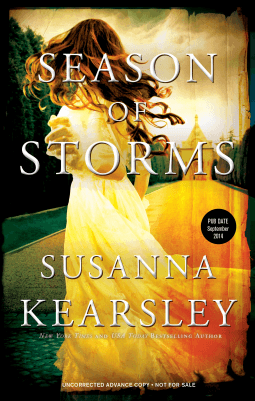 A mystery trapped in time…

In 1921, infamous Italian poet Galeazzo D'Ascanio wrote his last and greatest play, inspired by his muse and mistress, actress Celia Sands. On the eve of opening night, Celia vanished, and the play was never performed.

Now, two generations later, Alessandro D'Ascanio plans to stage his grandfather's masterpiece and has offered the lead to a promising young English actress, also named Celia Sands—at the whim of her actress mother, or so she has always thought. When Celia arrives at D'Ascanio's magnificent, isolated Italian villa, she is drawn to the mystery of her namesake's disappearance—and to the compelling, enigmatic Alessandro.
But the closer Celia gets to learning the first Celia's fate, the more she is drawn into a web of murder, passion, and the obsession of genius. Though she knows she should let go of the past, in the dark, in her dreams, it comes back…
Dear Ms. Kearsley,
I know you're hard at work on your newest book so I'll happily dive into this reissue while waiting. Patiently…. Okay, not so patiently. Before getting started with my thoughts, I'd like to give a shout out to the fine Sourcebook people at Netgalley who worked so hard to make sure the e-arc was ready to read.
Even after reading the blurb I still wasn't entirely sure what to expect here but then that often happens to me when reading one of your books. In fact, that's one of the things I look forward to – figuring out just what the heck is going on. Usually it takes a while for all the carefully laid pieces to fall into place but once they do, it all makes sense and I see – ah, that's why this character or that bit of scenery or the whole sequence was so important. I will admit that sometimes patience isn't my strong point but when I can hold onto my horses and just wait, good things come to me.
There's a lot of information that must be presented here and I like the authorial use of the one knowledgeable friend up against the know-it-all as a neat way to convey important information rather than the dreaded info-dump or "as you know, Bob" method. After all, I'm sure we've all endured a friend or acquaintance who just can't keep from slipping into lecture mode or one-ups-man-ship. At times during the guided tour of Venice, I had to wonder if it was all necessary but in the end, it is worth the time spent. The visuals of Alex's country estate, though, are breathtaking. I wanna go there and see that.
Celia is a very Mary Stewart-ish heroine when faced with the handsome, and rich, hero who has a sophisticated woman with her claws in him. Celia is more naïve, innocent and uncalculating which, of course is what draws the hero in. The information at the end when he tells her that he realized all along what the Evil Other Woman was doing and that it had no effect on him was a nice cap to The Smile which told her that he was all hers.
If I ever need to stage a play, I now have a good idea of what I'm in for. I knew there must be a lot of both excitement and tedium that goes into getting a production ready and I think the story conveys it without getting bogged down in the minutia. It's also an ingenious way to show Celia maturing as an actress, coming to terms with issues in her past then moving beyond them and bonding with two important people in her life. Also yay rah that her two "fathers" are such well rounded characters instead of stereotypes.
The long time setting up the characters, plot and location give a slow acceleration that allowed me the opportunity to get to know everyone and feel the friendships, antagonisms and tensions building. But the feeling of meandering around a bit diluted the menace too. Celia the First's fate kept getting lost – or rather wasn't referred to very often, maybe every 100 pages or so. If I didn't know it was important, I wouldn't have realized it was important.
The ultimate scheme that's going on didn't become clear until nearly the end of the book but when it's all explained, it makes perfect sense and is totally believable. I like Alex's view of the treasures of life – there are some things of which we're merely caretakers during this life and others that would be irreplaceable. We do well to know the difference.
Getting to read "Season of Storms" is a nice way to wait for your next new novel. It's got the trademark mystery x exotic location x gentle romance. If it takes a little while to finally get to where it's going, the scenery sure is nice along the way. B-
~Jayne