REVIEW: Runaway by Meg Cabot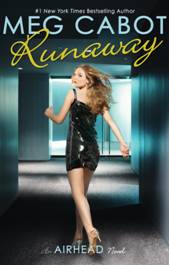 Dear Ms. Cabot,
Your books are known as some of the best YA chick lit out there. How To Be Popular was my first book of yours, and it's combination cuteness and morality was hilarious and made for a great read. The only other book of yours I've read is Avalon High, which really was not your best moment in the literary world. So, I came into Runaway with a few concerns. As good as it sounded, stepping into a series at the possible tail end was not something that I was sure about. It just didn't sound appealing. But, your writing was quirky and light-hearted, so I figured I may as well read the book and trudge on through my lack of series knowledge.
Nikki Howard is on the run. Well, Em Watts is on the run. Rather, both of them are on the run – in a confusion of bodies and boys. Em Watts' brain was transferred into Nikki Howard's body after a serious accident involving a falling television to cranium collision. Em enjoyed the fab life; Nikki – or rather, her body – is a major celebrity, modeling for Stark Enterprises. But when Em discovers Nikki was killed on purpose for knowing too much information about Stark enterprises, things get hairy. Not to mention Nikki herself was transplanted to another, much less pretty body, and the son of Richard Stark, company head, kidnaps both of them along with Nikki's mother and brother. Stark's son, Brandon, then attempts to extract the information and take over the company himself.
Em also has to deal with modeling, an eccentric roommate named Lulu (who's in love with Nikki's brother, Steven), and a mucho sexy kinda-sorta-boyfriend Christopher, who she may have told she never wanted to see again.
Yeah, it's a mouthful, and that's just the first couple pages.
While part of my confusion was the lack of reading books one and two, I couldn't help but be put off with exactly how much confusion there was. Without knowing all of the background knowledge, I was utterly clueless about everything until it was basically recapped. After the story began to move along, however, I found it very easy to keep up. But the beginning was a trial, making this a series that one should start at the beginning, with Airhead and Being Nikki, before diving in to the latest release.
Aside from that little speed bump, the plot moved like a freight train. Never once was there a dull moment . The entire book takes place over the course of maybe two or three weeks at most. There wasn't much time to work with, yet you managed to cram in several escapes, some harrowing junior-Nancy Drew skills, and a whole lot of sexual tension. While the entire plot is enjoyable, it isn't completely believable, just because the entire plot revolves around the secrets of a big cooperation, some major black market dealings, some technical aspects, and a major surgery that can transfer brains. If any of this was explained in the first books, then that may have been well and good, but for a newcomer, some of it was left too much alone. I would have preferred an explanation to how some of these things worked – at least so I wouldn't question them later on in the book.
Character wise, you are in top form. Em is a vibrant teenage girl who has to learn to juggle a very shallow career and the thoughts that go along with it. Overall, she works out pretty well, though there are times where she's a bit too dense for my liking. Christopher is a nice male lead, if for the simple fact that he very much acts like a normal boy, and gets Em to rethink some of her actions towards him for the better. Normally, I like a girl who one-ups her man, but Christopher was much more level headed in some areas, and I liked him a lot more.
Stephen and Lulu were probably my two favorite characters out of them all, and they rarely had enough face time. Lulu is eccentric, wearing outfits that involve fake animal skin, tutus, and leather jackets. If that isn't enough, Stephen is a sexy naval recruit that you want to lick off of the page. They could have an entire book to themselves. With such good characters, it's disappointing that their developing relationship is barely mentioned as opposed to all of Em and Christopher's problems.
The other characters served their purpose well enough, but never really sparked my interest. Nikki is a brat, plain and simple, and Brandon is a dumb, rich man's son who just looks for a woman who looks good. Both get paired off, and while I liked their partners (one is a band member who barely gets mentioned, the other is Em's much older manager, Rebecca) for their personalities, as couples they never developed enough for my liking.
Your writing is something that people will either like or hate. References to pop culture abound, and are always worth a good laugh or two. However, as other reviewers in the past of noticed, you sometimes slip the occasional political/religious comment that, while amusing, isn't needed in any context. I would, at the very least, like these comments to be more subtle, if not taken out completely. Like the main villain conversing with Rush Limbaugh? I appreciate the idea, but please don't be so obvious about it.
Runaway was an quick, enjoyable read that left me feeling that warm, cuddly feeling I get from a good romantic comedy, but there was something missing from it that would really make it stand out. I still want to read the rest of the books, especially to see some of my favorite characters return, but I wish the side relationships were developed better, and that some of the tidbits of writing were better covered. This book is probably a B- as of now, but that's also coming from someone new to the series. Either way, you write enjoyable Chick-Lit that's ultimately pretty good, and I will continue to be a fan despite some of your flaws.
All the best,
John