REVIEW: Lover Reborn by J. R. Ward
Dear Ms. Ward:
I haven't read a book in this series since Book 5.  My interest waned as I felt the series moved farther away from the core romance base where the series was birthed.  I read the flyleaf of the hardcover when I received my complimentary copy and discovered that this was the love story of Tohrment.  Tohrment lost his bonded mate in book one when she was shot, a casualty in the vampire/lesser war.  Because suicide would prevent Tohr from reaching the Fade, the vampire heaven, where he would be able to live out eternity with his Wellsie and their unborn son, Tohr spends each night fighting the vampire enemies with the hope of death.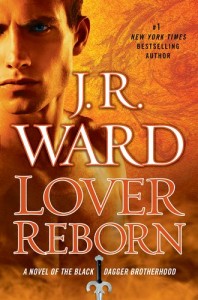 He hasn't fed from another woman in quite some time and his frame is becoming gaunt and weak.  With each swipe of the blade, he seeks oblivion.  Even in his blinding grief, however, he is a man who loves his adopted son, John Matthew, and the king, Wrath, that Tohr serves.  Tohr is caring man, crippled by his loss.  I've been trying out new paranormal romances but the power in this book makes those other authors' stories seem anemic.  Tohr's grief is a palpable, living thing.  It is as animated and full blooded as some characters in other books.  One scene early on in the book features Tohr taking Wellsie's dress that she wore during their bonding ceremony and placing it on "her" side of the bed, stroking it:
With a shaking hand, he touched the satin of the filled-out bodice. There were whalebones set within the fabric, the structure of the dress built to enhance a female's gentle, curving body.

It was not as good as her rib cage, though. Just as the satin was not as good as her body. And the sleeves weren't as good as her arms.

"I miss you. . . ." He stroked the indentation of the dress where her waist would have been—should have been. "I miss you so much."

To think she had once filled this dress out. Had lived inside of it for a brief time, nothing but a camera shot of one evening in both their lives.

Why couldn't his memories bring her back? They felt strong enough, powerful enough, a summoning spell that should have had her magically reinflating the gown.

Except she was real and alive only in his mind. Ever with him, always out of reach.

That's what death was, he realized. The great fictionalizer.
The struggle I had throughout the story, however, was that Tohr's entire emotional arc was getting over his grief or perhaps, coming to terms with it.  Tohr is confronted by an angel, Lassiter, who is stuck in the In Between and charged with a task of winning his freedom from the In Between by convincing Tohr to let go of Wellsie.  Because Tohr's grief and his refusal to move on from Wellsie's death is keeping her from entering the Fade, vampire heaven.  She is becoming nothing, a spirit to haunt the In Between, a purgatory.  In order for Wellsie to escape the In Between, Tohr must overcome his grief, start to live again.  Tohr is tormented by this – that his actions are causing Wellsie pain and preventing her from an eternal peace and happiness.
No'One is a former member of the vampire aristocracy, a Chosen.  She was stolen from her home and raped repeatedly by a Sympath.  As part of the backstory that was revealed in previous books, No'One was impregnated and subsequently rescued by the Brotherhood.  During her pregnancy, No'One is cared for by Darius and Tohr in their early days.  No'One gives birth to a half Sympath/half vampire named Xhex (her story is in Lover Mine).  No'One kills herself and Tohr buries her but she comes back to life ordered by the Scribe Virgin.  No'One refuses to take a name, hides her remarkable beauty in dark robes, and seeks to undertake the most menial tasks available.  She no longer feels as if she is a woman of worth ever since her abduction and rape.  She is taken into the home of the BDB to reconnect with her daughter, Xhex.
No'One and Tohr begin to use each other. Tohr to try to get over Wellsie and No'One because she believes her service to Tohr as a blood donor and then later as a sexual mate is part of a greater atonement.
There were several things I appreciated in this story. First, the unexpected happened, particularly at the end.  Second, you addressed what I thought was one of the biggest weaknesses in the series, and this is the role of women within the patriarchal vampire society.  Finally, the multitude of story lines were deftly woven together and while the subplots didn't captivate me like the main romance, they all played off each other.
The powerful emotional connection I felt to Tohr's grief overshadowed the romance.  I did not believe that Tohr fell in love with No'One.  His grief wasn't packed away until about 90% of the story was through.  I was unconvinced that No'One's love was returned. I believed that Tohr could come to love her but not that he actually did.  Further, I felt that his dark moment which led to cruelty wasn't assuaged by a sufficiently meaningful grovel.
The ploys for future stories were obvious and unlike a couple of twists to the Tohr and No'One storyline, were predictable which lessened their emotional impact.  I was fully engaged in the story when Tohr and No'One were on page but was impatient at times to move through parts such as Xhex and John's struggle to maintain their HEA or Quinn and Blay's apparent continued misunderstanding.  Likely because I haven't been following these stories, they held little interest for me.  When I was finished, I was vaguely dissatisfied but the grief storyline will stay with me and I'll reassure myself that Tohr's good heart will eventually come to love No'One in the manner in which she deserves.  B-
Best regards,
Jane