REVIEW: Hotter than Wildfire by Lisa Marie Rice
Dear Ms. Rice:
In the last series of books you wrote for Avon Red, the heroes were, well, of questionable heroic quality. I had some problems fully embracing those stories, although, in some sense, those anti hero stories gave me much greater food for thought. Hotter than Wildfire leaves the anti heroes behind and presents the second of three stories featuring three men who view each other as brothers, bound together by a frightful childhood and a single goal – save what women they could from abusive men.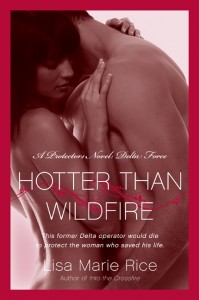 Harry Bolt valued one thing in his early life and that was his sister, Crissy. As a child himself, Harry took what beatings he could, stole food, clothing, and even toys for his sister. Yet, one child is no match for an adult male and one night Harry is unable to protect his sister from being killed by the brute his mother had brought home.
As an adult Harry uses his skills and money to run Lost Ones Fund, an underground railroad of sorts that takes abused and battered women away from their abusers and gives them new identities and a new life somewhere far away. Each woman is given a card with a phone number that leads back to the PI agency that Harry and his two friends run. This card is supposed to be a secret but one of the women that they have helped recognizes the lost, scared look in the eyes of Ellen Palmer and passes on the number to her.
Ellen Palmer had a head for numbers. She got a job as the head of the accounts department right after she had finished college and obtained her CPA license. It was a job too extensive for a college graduate but just right for someone inexperienced because the company she was working for was doing bad things. By the time Ellen figured this out, it was too late. Her boss had a more than business like interest in her and she knew more than she should about a very bad man. Ellen goes on the run and into hiding. But she's not very good at hiding because she enjoys singing as much as she enjoys numbers and based on some nightclub performances, Ellen becomes "Eve", a hauntingly beautiful voice with no identity. Only the bad guy recognizes Eve's voice (you don't become a top bad guy without noticing things, paying attention to details) and this sets in motion the need for Ellen to seek out Harry and his Lost Ones service.
Harry has an instant connection with Ellen (this is standard LMR fare, just go with it). In part because Harry recognizes Ellen as Eve (see, she isn't very good at hiding). Harry had to undergo excruciatingly painful recovery from injuries suffered in Afghanistan (also standard LMR fare).
As I was stating parenthetically, this is pretty standard LMR fare. Hero has instant woody near heroine. Heroine is in jeopardy. Bad guys are out to get them both. Hero and his team of good guys use a ton of technology to win the day (I swear LMR was writing about the iPhone before the iPhone came out). There is even a nod to Shannon McKenna in this book when LMR references a woman who was "a designer of jewelry that doubled as weaponry, only for women."
The action scenes are so over the top, though, that it is hard to suspend disbelief at times, particularly the ending. The ending comes straight out of a Jerry Bruckheimer film complete with airplanes, rifles, grapple guns. The world inhabited by these characters has no basis in reality for the most part even though there are efforts to ground it in current events. There are disturbing privacy lines that are crossed by Harry into Ellen's personal space. (It's hard not to draw parallels between these stories and those of Shannon McKenna where the heroes are actual stalkers). As it is all done in the name of love, it's excusable. But it won't be palatable for every reader. Clearly, these are meant to be high octane fantasies.
There isn't a ton of emotional movement for these characters either despite the dark places they come from, particularly Harry. For LMR fans, I think that this gives us what we often are looking for: the wounded hero who is obsessed with the heroine; the great internal guy monologue; the sexy love scenes; and the lonely heroine. The heroine is smart, but just doesn't have the means to defend herself. But this is more of an action adventure romance than a character driven romance.
I would have enjoyed the story more having less access to the villain's point of view. I'm not sure if those scenes serve a purpose. Perhaps they contributed to some suspense or urgency? I'm not certain. Finally, an advisory note. There are some gruesome scenes in the book, particularly relating to a woman (not the heroine). I waver between a B- and C+. I think it's a B- for LMR fans and maybe a C+ for everyone else?
Best regards,
Jane
Book Link | Kindle | Amazon | nook | BN | Borders
| Sony| KoboBooks