REVIEW: Delilah Green Doesn't Care by Ashley Herring Blake
Dear Ashley Herring Blake,
I first spotted your debut contemporary romance on Goodreads. Early reviews there were very favorable, and even though it's a "big city girl comes back to the small town where she grew up" story and that is one of my least favorite tropes in the genre, I was intrigued. My review schedule was packed so I hemmed and hawed about whether there was time to pick up a new ARC but, in the end, I went for it.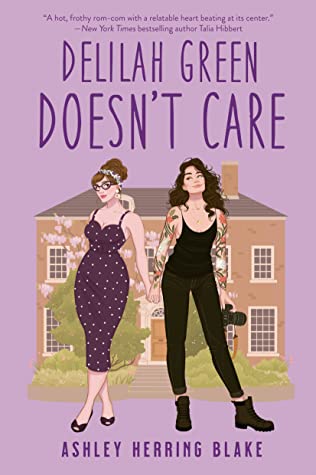 Thirty-year-old New York City art and wedding photographer Delilah Green would probably rather walk over a bed of nails than go back to her hometown of Bright Falls, Oregon. Delilah's mom died when she was three and her dad passed away when she was eight. After that, she was raised by Isabel, her stepmother. Isabel didn't give Delilah half the attention she lavished on her biological daughter, Astrid. Delilah was an odd, quirky child whereas Astrid was perfectly behaved. The lonely and neglected Delilah retreated into books and later into photography, always on the outside looking in. Astrid and her two best friends, Iris and Claire, excluded Delilah and sometimes talked about her behind her back. Once, she even heard them calling her "the ghoul of Wisteria House" (Wisteria House being the house that Delilah's architect father designed and built for his family).
In the twelve years since she left Bright Falls, Delilah has lived in New York City and made queer women showing difficult emotions the focus of her art photography. Wedding photography and other gigs pay the rent. Delilah has in those years had many lovers (both women and enbys) but only one relationship (it ended badly).
Delilah is forced to return to Bright Falls, if only for a brief visit, for Astrid's wedding and the festivities leading up to it. Isabel has hired Delilah to serve as the photographer (a fact that speaks volumes about their relationship) and Delilah really needs the money. On the evening of her arrival Delilah stops for a drink at Stella's Tavern, Bright Falls' only bar. Also at Stella's that night are Claire and Iris, who are waiting for Astrid to meet them. While they wait, Iris chides Claire for her lack of a sex life, and challenges her to pick someone up that night, or at least ask them for their phone number.
Claire is bisexual and has been divorced for nine years. She and her ex-husband, Josh, share an eleven-year-old daughter, Ruby, and on rare occasion, a bed. Josh is irresponsible, always obsessed with one project or another, and has disappointed Ruby in the past by failing to show up. He and Claire also disagree about how to raise her; Josh is indulgent and it is up to Claire to set boundaries. Nevertheless, he is attractive and convenient. Claire is all too aware that sleeping with him once in a while is a bad habit and it's one she wants to break.
Claire had Ruby at a young age and never got to go to college with her friends, and now she runs the bookshop that used to belong to her mother. Her life is somewhat circumscribed and can be stressful (with a rebellious pre-teen at home), so although it requires gathering her courage, she takes on Iris's challenge.
Immediately after Delilah arrives at Stella's she sidles up to the bar to order a drink. Claire hasn't seen her in years, and Delilah's looks have changed over that time. Claire only sees her from the back at first, and her eye is drawn first to the tattoos that decorate Delilah's arms. She approaches the bar and asks Delilah for her phone number. Even at that point, she doesn't recognize her as Astrid's oddball stepsister.
Delilah is thrilled by this turn of events. Not only has she been attracted to Claire since they were teens, she also thinks it would be fun (and a triumph) to sleep with Claire first and reveal her identity later. But then Astrid enters the bar and identifies Delilah, foiling Delilah's plans and leaving Claire mortified.
Delilah decides to try to seduce Claire anyhow, partly because of the attraction but just as much because she wants to prove she can. Early on, she tries to make a bet on it with Astrid, but Astrid refuses. The idea of Claire being attracted to Delilah is preposterous, Astrid implies. But of course, she's wrong—and the thought of proving it, even if only to herself, is irresistible to Delilah. Delilah hates feeling vulnerable in the same house she grew up in, and subtly drawing Claire in isn't just about attraction or revenge for her—it's also her way of making herself feel that she's in control of the situation instead of the situation being in control of her.
As the pre-wedding events (wedding brunch, wedding dinner, a weekend at a spa) ramp up, Claire tries to ignore how much she desires Delilah and also begins to realize that Delilah must have been a lonely and awkward child, much like her daughter Ruby, and perhaps the way that she and her friends treated her wasn't fair. But she is aware that Astrid is stressed and strung-out, and that a fling between Claire and Delilah could be the straw that breaks the camel's back.
Astrid's fiancé, Spencer, turns out to be a paternalistic, patronizing, and entitled asshole. Claire and Iris hate him for the way he orders Astrid around, and Astrid's compliance with his wishes baffles them. Delilah sees through him as soon as she meets him and her actions show it. This wins her Iris's reluctant approval (not that she acknowledges that she cares if she has it).
There is also the tension between Delilah and her relatives. Isabel remains chilly and disapproving, and Delilah takes some pleasure in thwarting her. But with Astrid the situation sometimes seems more complicated. Is Astrid simply cold and standoffish to Delilah, or is there more going on under Astrid's surface than Delilah wants to see?
Revenge is a trope I like a lot because although it often fails, there are times when it succeeds brilliantly (see: What I Did for a Duke by Julie Anne Long as a prime example of a great revenge-trope romance). Delilah Green Doesn't Care does pull it off well for the most part because Delilah's motives are so tangled and also undergirded by vulnerability. Her pursuit of Claire is tied up in childhood hurt feelings, which makes it complicated and messy. And messy is something I really like in a fictional romantic relationship.
The characters here are strong, especially the charismatic and unusual Delilah. Claire, though more conventional, is a great counterpoint to Delilah—mature where Delilah is still caught up in childhood emotions, and softer in contrast to Delilah's sharp edges, but she still feels dimensional, more than a "nice girl" archetype.
The first half of this book is really engaging–alternately sweet, sharp, satirical, pointed and fun. The chemistry between Delilah and Claire shines and feels organic, and the kisses and love scenes are not only steamy but fraught with unexamined motives and secret intimacy. There's a lot of humor in the book, too, though some of it was a bit too farcical to fit well with the complex tone of the rest of the book. But I did find a lot of it entertaining.
The second half isn't as strong. As things get less messy and the edginess of the relationship is smoothed away (inevitable in a romance, since we have to arrive at a happy ending) the book also gets less full-bodied and the beats start getting more familiar.
I wanted the tension of Claire's emotional conflict to be drawn out more. It would have given the book more depth. I ended up feeling like a bit more could have been done with Delilah and her angst, too. The reason for her fear of commitment was brought up but then faded from the story easily. That took away some of its substance.
Similarly, Delilah's relationship with Astrid needed more room to breathe.

There were some missed opportunities for Delilah Green Doesn't Care to be more—more moving and engaging and deeper. There was a lot to like about the book, though, too. I appreciated how messy and complicated things were in the first half. That section was strong enough that the second half left me with some disappointment, but still, reading the book was time well spent. B-.
Sincerely,
Janine