REVIEW: Christmas Wishes by Barbara Metzger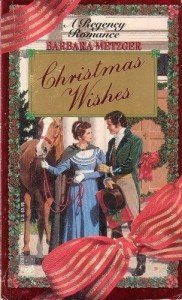 A crisis sends Juneclaire Beaumont on a difficult journey to London, forcing her one night to take shelter in a stable with the rakish Earl of St. Cloud. Though he behaves as a gentleman, the ton would never believe him to act the nobleman for a moment, let alone a whole night. When Juneclaire slips out of town, the earl sets out to prove them wrong, spending the twelve days of Christmas on an all-or-nothing ride to find her.
Dear Ms. Metzger,
"Christmas Wishes" is a book I initially read many years ago. I won't say how many but it's a lot. Anyway, I had wanted to go back and reread it before doing a review since I basically remembered the hero and heroine being stranded in a barn with a pig and not much else. Turns out there's a lot more to the book though not all of it worked as well for me this time around.
Juneclaire might come of at first as the stereotypical martyrish Regency heroine except for the fact that she knows she's being overworked by her ogre aunt and isn't doing all this so that a younger sister can have a Season or younger brother get his education at Eton. No, she knows she's alone in the world and in order to have a roof over her head and clothes on her back, she's got to do the work of about 10 people and fend off her smarmy male cousins to boot. So she runs her aunt's household, wears castoffs and hopes that one day she might have a home of her own.
What turns out to be the last straw isn't the fact that her aunt is now looking to marry Juneclaire off to a widower or older roué. Instead it's the fact that Aunt Marta wants Pansy – Juneclaire's pet pig – to be the centerpiece at Christmas dinner. With an apple in her mouth. That does it and with little fanfare or planning, Juneclaire packs her few belongings, stuffs her pockets with food and sets off with Pansy for London with the hope that she can find an old housekeeper now working there and obtain a position. Little does JuneClaire know about traveling conditions on the roads to London.
Merritt Jordan, Earl of St. Cloud, knows a lot about traveling from London to his ancestral manse and right now, none of it is good. Since the place is usually packed to the gills with odious relations and his vaporish mother, Merry attempts to avoid it if at all possible but a holiday command performance has him on the road with his man when they're robbed. With no blunt, a banged up curricle and winded horses, Merry is forced to leave his wounded man at an inn and set off alone for home.
A trail of abandoned belongings leads him to Pansy and Juneclaire who reluctantly agrees to his offer of a ride to the nearest village from which she can catch the post to London. Merry is astounded and enraged that Juneclaire's relations seem more rackety and less caring about her than his own are about him and though it takes Juneclaire a little while, she eventually realizes that Merry isn't mad at her but them.
Merry has made a career at avoiding matchmaking mommas and their debutante daughters but further events lead him to the conclusion that he must offer marriage to Juneclaire after they're forced to spend a night in a barn. Pansy simply isn't enough of a chaperon for the high sticklers of the day and Juneclaire is Quality and thus not to be messed with.
Despite having confessed her Christmas wish to Merry of having a place of her own where she's accepted and can never be thrown out, Juneclaire decides that she and Merry would never suit – thank goodness it's not because of any initial farradiddle about only marrying for love – because of the vast differences in their social positions. So leaving Pansy in his care, Juneclaire writes a note and heads off into the morning to London.
A frantic Merry soon sets off in hot pursuit with the pig in tow and a determination to find the woman he feels he's finally fallen for. But there's a lot more he's going to have to go through before he can try and convince Juneclaire to give them a chance, get rid of his leeching relations (his Christmas wish) and see that an old romance has a second chance.
As I said, there was a lot that I didn't remember at all about this book. Like the whole second half of it. I adored the first part which is your standard "just barely on the edge of total chaos" plot. Things move swiftly and I laughed out loud more times than I could count. Merry's dilemma about how to properly care for and cart Pansy around are worth the entire read in and of itself.
I also love Merry's firecracker grandmother who has the entire household running in fear of her. Her ancient retainers and her even more ancient horse add to the fun. Juneclaire manages to pick up a litter of kittens along the way – because the old Signet Trad Regencies just weren't Christmas ones without kittens – which makes things even more chaotic.
Where my interest sort of began to drift was in all the goings on at the Priory once Merry and Juneclaire were back together. Ghosts of Christmas present and past, rackety relatives, scheming widows and Juneclaire's skinflint aunt and groping cousins all end up together which lead to a lot of characters to suddenly keep track of. But what truly saddened me was the fact that Merry was showing signs of doubting Juneclaire. Yes, the events were bizarre but his lack of faith or willingness to believe what she was telling him about what was going on in his own house dampened my holiday spirit. He comes around in the end but the delay was enough to lower the final grade on this one to a B-.
~Jayne