Thursday Haiku Moment: Kiss of a Demon King by Kresley Cole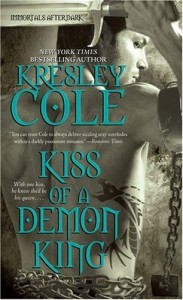 Story parallel to Cade's
What I liked: EVERYTHING
Cole can do no wrong.
Illusion Queen is
Misunderstood, not evil
(Well, a bit evil.)
Rydstrom shows his horns
Grows a personality
Bondage fetish, yum.
One part of story
Disappoints: we never see
Ryd's piercings, alas.
I'm a dirty bird
Wanted nasty hot sexxors
This has all & more
Witty, fun romp? Check.
Sex as playful torture? Check.
Gena shout out? CHECK.
Did I mention that
The cover is hotness itself?
Grade A from this girl.