REVIEW: Father Christmas by Barbara Metzger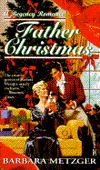 A war hero's widow, Graceanne still has her adorable three-year-old twin boys to love–until she receives a letter from her late husband's demanding cousin, Leland Warrington, the Duke of Ware. It seems that the duke–thirty-two years old, twice widowed, and with no forseeable plans to marry again–is in desperate need of an heir. And seeing that Graceanne has two boys, she could easily spare one. Well, couldn't she?

Graceanne is too strong a woman not to stand up to Leland's completely unreasonable expectations. When she does, she unleashes a hair-raising maternal fury that takes Leland by surprise. He also finds it all, quite frankly, magnificent. So much so that he's now entertaining thoughts of winning Graceanne's heart, as well as an heir–a romantic scheme that grows more mischievous, and more unpredictable, with each passing winter night.
Dear Ms Metzger,
Christmas themed books can be a hard sell to me. I don't want too much "from the heart" gushiness but I do want some sentiments of the season, otherwise why use that setting? "Father Christmas" strikes the right balance and adds a lot of the humor I've come to expect from your earlier trad regency books.
The Duke of Ware has been married twice and has no children to show for it. He needs to see about getting an heir but the thought of marrying again and not being sure of future little
Wares gives him pause. Then he remembers that his now deceased cousin fathered twin boys before his death in Spain. Well, that's the answer. He'll just write the widow and ask to have one of them. They are, after all, his heir and a spare right now. Surely she couldn't object to him taking over the raising of them. Could she?
She could and does and lets the arrogent Duke know it in no uncertain terms. She was taught self defense by her soldier husband and unleases it on Ware at their first meeting. Despite this rocky start, the two see that it's in the best interest of the boys for them to try to get along, even if Graceanne still fumes at the thought that Leland would try to take one of her terrors,
ooops, sweet darling precious angels. Throw in a wayward sister with an illegitimate baby, an impressed Irish father, the overprotective batman of the dead cousin, and a household of
Bright Young Things and their entourages for a Christmas at Ware and you give us the usual Metzger book of barely controlled chaos. I'd rate it a solid A.
~Jayne