REVIEW: Carnal Innocence by Nora Roberts
Dear Ms. Roberts: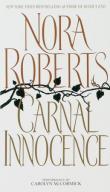 If I were to rate my favorite books by my favorite authors, this would probably qualify. It's full of classic Nora Roberts features: three dimensional characters, rich family relationships (albeit dysfunctional), and two believable individuals coming together to give each other comfort and love. Your books aren't about the big and grand romantic gestures, but rather the small gestures that show inevitably that these two lovers belong together and regardless of what life throws them, they'll be there for each other. Which is big and grand in its own way.
Caroline Waverly is a world class violinist. She had an emotional breakdown in the midst of a long tour and a messy breakup with her conductor-lover. She retreats to her grandparents' house in Innocence, Miss, to recover. Unfortunately peace and quiet isn't to be had because there is an attractive, naked, and murdered woman in her pond: Edda Lou Hatinger. Edda Lou had a very public spat with favorite son Tucker Longstreet just days earlier. She was looking for more than what Tucker ever offered to women: permanence. Edda Lou is the third mutilated female corpse in Innocence and thus an investigation is launched by a federal investigator. The town begins to look at one another with suspicion and none looks more guilty than Tucker Longstreet.
Tucker is the middle child of one of the founding families of Innocence, Miss. Like many families, the Longstreets have their share of skeletons. Tucker's daddy was a mean, angry drunk who didn't hesitate to turn against his children. Oldest son, Max, seems to be following in his father's footsteps. Tucker tries to avoid conflict hence his inability to committ to any woman and youngest child and only girl, Josie, is a mess trying to find her father's love in any man available.
When Tucker first meets Caro, he recognizes that she is something he has never encountered before. He's intrigued and puts forth an effort to charm her. Of course, this is a bit of a novelty for Tucker as he does not put himself forth to do anything. He likes to lay in his hammock, pleasure women and have a nice cool drink now and again. Tucker's pursuit of Caroline is pinched when Federal Agent Matthew Burns comes to town. It just happens to turn out that Burns loves Caroline like a thirteen year old loves the Hansons. He is a big FAN.
Caro is sick and recovering. She spent time in a hospital after her breakdown and she is at a crossroads. Does she go back to the limelight or does she stay and do . . . She just doesn't really know. As any good northerner, however, she is seduced by the warm people of Innocence, of the slow way of getting things done, the magic of the small town of Innocence which was comprised of the good and the bad, just like any other town, and by Tucker.
But the story is more than just about Caro and Tuck. It's about Caro and her mother. About Tuck and his dead father. About Tuck and his families. And about who's killing all these women. The villian seems clear on a couple of occasions but I guessed wrong and the end was a real twist. In rereads it seems obvious now. I'm thankful your writing is prolific and consistently good as it has provided me with hours of enjoyment.
Best regards,
Jane