REVIEW: The Mistake by Elle Kennedy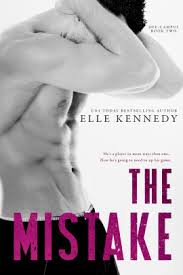 Dear Ms. Kennedy:
After reading and really adoring your previous release in this series, The Deal, I was very excited to read more about John Logan, a hockey player and a guy with a thing for his best friend's girl. I was intrigued to see how you handled that, as you already gave Logan's best friend, Garrett and his girlfriend, Hannah, a very satisfying HEA.
John Logan is tired. He's tired of partying and drinking too much, and hooking up with puck bunnies and getting every girl he tries for. He's tired of all of it coming too easily to him. He's tired of having a thing for his best friend's girl. And he's using all of those readily available distractions to forget what's awaiting him after college. Despite being among the best hockey players on his team, and being a shoe in to be drafted into the NHL, Logan will be skipping the draft. He and his brother made a deal. His brother has put his life on hold to handle the Logan & Sons, the mechanic shop that his father is supposed to be running, while Logan is in college. In return, after graduation, Logan will take over the business, and the care of his father, who is a fall down drunk.
Needless to say, Logan wants to forget it all.
One night while skipping yet another party, he mistakenly knocks on Grave Ivers' door. Grace is a freshman. One who gets stellar grades and is a very good girl. She works hard, minds her business and has never done a rebellious or dangerous thing in her life. Until John Logan knocks on her door. And she answers, while wearing ratty pajamas. She recognizes him immediately, and lets him in so he can call his friends. But John is distracted by the fact that Grace is in the midst of a Die Hard movie marathon. And soon he's invited himself to share her stash of gummy bears and watch the movies. Soon they're kissing, and John's not even sure why. Sure, he's attracted to Grace, but he avoids freshman as a rule and has zero interest in anything serious.
Grace can't believe it. John Logan is kissing her. Not only is he gorgeous, but he's popular and he's in her room and they are hooking up! But, when their interlude is over, John pretty much packs up and takes off. But when he spots her again at the movies, they end up sitting together and making out. Soon John and Grace are hooking up on a regular basis. While Grace knows she's starting to have feelings for John, he realizes that things are getting too serious. He decides to end things with her, but when he gets to her room to talk to her, she initiates a heated sexual encounter. When she confesses to John that she's a virgin, he seizes upon that as an excuse to end things with her, telling her he's not looking for anything serious, then he compounds the awfulness of the moment by confessing he might have feelings for someone else. Outraged, Grace kicks him out of her room and out of her life.
The rest of the book is about John's quick realization that he messed up BIG. And his pursuit and wooing of Grace.
And it is spectacular.
I love a Hero in Hot Pursuit trope. I love it even better if the hero screws up and then has to grovel. And John Logan? He gives excellent grovel. Plus, when Grace leaves college after her freshman year, she's devastated and upset about John and about a rift with her best friend caused in an ancillary way by her relationship with John.
She spends the summer getting herself together and comes back to college resolved to make changes in her life. And she does. Grace has agency. She makes important changes, including cutting out friends who weren't really friends, and keeping those who are bad for her at arm's length. She's funny and smart and self-aware. And watching her push John and force him to own up to his own past actions is lovely. Moreover, John is a truly sweet hero. Oh, not at first. At first he's careless with Grace and doesn't show the proper respect for how interesting and truly good for him he is. But once he realizes it, he does everything he can to make her happy, despite things not going well for him in his personal life. He is honest, and mans up to wronging her, and he continues to be honest with her, even when a lie would be easier. It's refreshing and sweet, and really romantic.
This is one of two really fantastic New Adult books releasing in a two week span (the other is The Friend Zone by Kristen Callihan, reviewed for DA by Kaetrin). If you've been waiting to try New Adult, and weren't sure whether you'd like it, I'd highly recommend starting with The Mistake — it stands alone very well, no need to read book 1, though you'll want to. The Mistake has wonderful characterization without the angst that seems to be so typical of NA romance these days, it features snappy dialogue and really hot love scenes. I loved this book, and I think you will too. Final grade: A.
Kind regards,
Kati