CLASSIC REVIEWS: Born in Fire, Born in Ice, Born in Shame by Nora Roberts
Dear Ms. Roberts: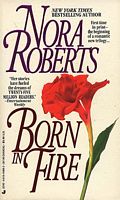 Your book Irish Thoroughbred began my deep and abiding love of romance. In the mid-90's, I began buying every single book I could put my hands on that you'd written. My keeper shelves are full of your work. So much so, that it's difficult for me to choose a favorite series or work. But time and again, when I'm jonesing for a re-read, I go back to your "Born In Trilogy". Your Irish set novels are some of my favorites, as I think you have such an amazing hand at creating a sense of place. Not to mention your Irish heroes are among my favorites. And the heroines in this trilogy epitomize what Sarah from SmartBitches calls "competence porn".  This weekend, I was casting about for something to read and happened upon an omnibus version of your Born In trilogy and decided, why the heck not? These mini-reviews are intended to entice readers who perhaps haven't given this trilogy a shot to try them.
In Born in Fire, we meet Margaret Mary Concannon, daughter of perpetual dreamer, Tom Concannon. Maggie is an artist, a Venice trained glass blower who creates quite literally from sand beautiful work that is gaining a small bit of traction beyond County Clare in Ireland where she lives. Fiery and passionate, moody and difficult, Maggie spends her days in her glass house working the glass, and her evenings with her sister, Brianna, who owns a small B&B nearby. At the beginning of the book, Tom suddenly dies while with Maggie on the cliffs looking over the sea. Tom's loss is devastating and leaves behind Maggie and Bri's mother, Maeve, a bitter, cold woman who was always very clear with her daughters that one was born of sin (she was pregnant with Maggie when she got married) and one of duty. She's never let them forget that she threw away all of her hopes and dreams due to the religious beliefs that "forced" her to remain married to Tom, a man who was always cooking up another money-making scheme and generally losing money in the process. Maggie barely tolerates her mother, but it's Bri who has the care of her. Tom supported both of his daughters and paid for Maggie to go to Venice to follow her dream of becoming a glass blower.
Unbeknownst to Maggie, her work has come to the attention of Rogan Sweeney, owner of WorldWide Galleries, a renowned gallery that has launched the careers of some of the most talented artists in the world. His grandmother bought the first piece of Maggie's glass, and once he's seen it, nothing will do but to sign her to WorldWide. Maggie wants absolutely nothing to do with Rogan. She won't take his calls, hanging up each time he contacts her. She's hostile to all overtures from him – she won't be handled. Finally, Rogan decides to travel to County Clare to beard the lion in her den. From the moment he meets her, they clash, despite their very obvious attraction. Rogan is proper and uptight, conscious of decorum and an accomplished and tactful businessman. Maggie is rude and temperamental, and has absolutely no interest in selling her art. Rogan cajoles, argues and finally convinces Maggie to sign with WorldWide. He knows that he can never act on their attraction. She's now a client. But the more time they spend together, the more he wants her.
Rogan is a traditionalist down to his core, and Maggie is impulsive and wild. She's decided that at some point, she's going to have Rogan, if for no other reason than to mess up his hair and his sense of propriety. Rogan informs her that traditionally, the man makes the first move, leading to this exchange, among my favorites in the book:
"And what of it? Oh, I know your type." Contempt colored her tone. "You like a woman to sit quietly by, mooning a bit, catering to your whims, to be sure, and hoping, while her romantic heart beat desperately in her breast, that you'll look twice in her direction. She'll be proper as a saint in public, never a sour word slipping through her rosy lips. Then, of course, when you've decided on what time and that place, she's to transform herself into a veritable tiger, indulging your most prurient fantasies until the light switches on again and she turns into a door-stop."

Rogan waited to be sure she'd run down, then hid a smile in his brandy. "That sums it up amazingly well."

"Jackass."

"Shrew," he said pleasantly.
Oh, I love them. They have such wonderful chemistry and are so much more nuanced than you expect when you start reading. Rogan is not just a sexist, traditional pig. He truly admires Maggie's talent, her fire and her passion. And Maggie has deep depths of fear and love and affection that she can't recognize until Rogan begins to woo her. Their romance is volatile and flat out entertaining as hell.
In Born in Ice, Brianna Concannon has achieved her dream. She operates a small, well respected B&B, made from her childhood home. She's known for a graciousness and the
attention and care she showers upon each of her guests. She lives in solitude, now that Maggie has moved their difficult mother to a home of her own, with her wolfhound, Concobar. It is there that she meets Grayson Thane, a paying guest who will be staying for an extended period with her while he writes a book. Gray is American and writes bestselling mysteries which are often made into movies. He's easy going and kind and immediately attracted to the beautiful yet reserved Brianna.
Brianna is discombobulated by the handsome and nosy American. He asks all sorts of rude questions and due to the fact that he's in the house for an extended period is witness to a number of family dramas that she wishes no one would know about. He has no boundaries whatsoever, making himself completely at home in her inn. Brianna is torn between dismay and delight that this handsome man has shown such an interest in her. She's had only one love in her life, Rory, who left her quite publicly, practically at the altar. She feels that she's known as "Poor Brianna Concannon"  most of the time, and is tired of the pity and sad looks people get when they speak about her. All she's ever wanted is to get married and have children, but after Rory's betrayal, she's not found the right person, and is unlikely to in the tiny village where they live. That is, until Grayson.
In the midst of all of this, Brianna cleans out the attic in her home and finds love letters written to her father that have been secreted away. Brianna is shocked to find that her father experienced great love, but that he stayed with her mother out of loyalty to vows he never should have taken and to his children. She's blown away to discover that his love, Amanda's last letter discloses that she became pregnant during their affair. Maggie and Brianna have a sibling somewhere. She asks Rogan to initiate a search, which he does.
This is one of my very favorite Nora's, and if I'm being honest, the one I flipped to first within the omnibus that I read. I love Brianna's reserve, and admire her extreme competence. I love how Grayson continues to get in her way, nudging, nudging, until she finally falls in love with him. It's a wonderful fantasy, he sweeps her away to the United States for a movie premier. He buys her gifts, and as he woos her, he woos the reader. But they both know that he's leaving. He's a nomad, staying in one place long enough to write a book and then moving on to where the wind takes him. They both know that their time together is short. Brianna resigns herself to the idea that that time is all that she deserves, and refuses to ask Gray to stay. Gray is leaving because it's what he does. And so he goes:
The pain came so quickly, so fiercely, she nearly staggered under it. Blindly she stumbled back into the bedroom, sat on the bed, and burying her face in the towels, wept.

Gray could hear her crying as he came up the stairs. It was a wild sound of grieving that stunned him, made him slow his pace before he faced it.

From the doorway he saw her, rocking herself for comfort, with her face pressed into towels.

Not cool, he thought, or controlled. Not levelheaded.

He rubbed his hands over his own face, scraping away some of the travel fatigue and guilt.

"Well," he said in an easy voice, "you sure as hell had me fooled."
As I said, this is among my very favorite Nora's ever. Grayson and Brianna are a beautiful couple and one that you root for from the beginning.
In Born in Shame, the Concannon sisters have finally located Amanda Bodine, the woman Tom Concannon had his ill-fated affair with – the mother of their sister, Shannon. When their letter finally reaches Shannon, she's just buried her mother, who died shortly after the man she believed to be her father for her entire life. Shannon is betrayed and devastated by the news that her father is, in fact, not her father. When she receives Brianna's letter extending an invitation to County Clare, she immediately resolves that she won't go. But after ruminating on it, she finds that she can't stay away. She'll leave her very successful job as a Creative Director at a top PR firm and  go for a two week holiday, meet the women who are her blood sisters and leave. She arrives in Ireland with a huge chip on her shoulder, which is aggravated by Maggie's brash personality. But she's agreed to be there for two weeks and even her snotty older sister isn't going to run her off. Among the first people meet is Murphy Muldoon, neighbor to Brianna and Maggie. He grew up as practically a sibling to both girls and is for all intents and purposes family. He is bowled over when he meets Shannon:
The vision stood in the doorway, watching through cool and glorious green eyes. Her skin was like the alabaster he'd read of, and looked as soft as fresh milk. Her hair shone as it followed the lines of her face to sweep the chin that was lifted high.

The fairy queen, was all he could think. And the spell was on him.

"Oh, Shannon." A flush heated Brianna's cheeks as she spotted her half sister. How much had she heard? Brianna wondered. And how to handle it? "Tea's nearly ready. I thought we'd have it in here. I'll serve the guests in the parlor."

"The kitchen's fine." She'd heard plenty, and would take time to decide just how to handle it herself. Just now her attention was focused on the man who was gaping at her as though he'd never seen a female before.

"Shannon Bodine, this is our good friend and neighbor Murphy Muldoon."

"How do you do?

Coherent speech seemed to have deserted him. He nodded, only dimly aware that he probably resembled a slow-witted fool.

"Murphy, would you tell the others tea's ready?" When she received no response, Brianna glanced up at him. "Murphy?"

"What?" He blinked, cleared his throat, shuffled. "Aye. I'll tell them." He tore his eyes from the vision and stared blankly at Brianna. "Tell who what?"
You see, Murphy has been dreaming of Shannon for years. He's dreamed of her in The Dance, the local standing stones, crying as he rode away from her on a horse. She's the one he's been waiting for. He'd told his mother years before that he was awaiting his woman, and he'd know her when he saw her. And there she is, standing in Brianna's kitchen discussing tea. He immediately begins a pursuit of Shannon. Shannon is attracted, but only in Ireland for two weeks. She's just left a relationship by mutual consent and she has no interest in getting involved with anyone, let alone having a holiday fling. But Murphy persists. He knows not just that he's attracted, but he knows this is the woman he's to spend his entire life with.
While Shannon is fighting her attraction to Murphy, she decides to paint some of the local flavor. She's always been an artist, but puts that creativity to work mostly in her career. But this vacation allows her the chance to indulge her creative side even more. She first paints the Dance, where Murphy tells her they've met before. As soon as Rogan lays eyes on the painting, he knows that Shannon is a special talent and nothing will do but he sign her to WorldWide Galleries. All of a sudden, Shannon has family in Ireland, a romance in Ireland, and a budding career in Ireland. She's overwhelmed and trying desperately to control a situation that seems to be spinning out of her control. As her romance with Murphy intensifies and her creative juices continue to flow, will she be able to let go of her tightly controlled life and make a leap of faith and of love?
I love this book so, so much! Shannon is so cool and calm at first, but as the reader gets to know her, they realize the deep wells of emotion that she feels and her very real fear about all that is happening to her. Murphy on the other hand is this wonderful beta hero. He's a seemingly simple man, but one who knows just exactly what he wants. And while he respects Shannon's talent and her drive, he has absolutely no plans to give up the woman he loves. It's a charming tale, with a tiny bit of paranormal thrown in to sweeten the tale.
The entire trilogy is a really fabulous read. Full of interesting characters and a charming locale. It is one of my all time favorite contemporary series and stands up pretty well, though it was originally published in the mid-90's. I can't recommend it enough. It should be widely available either in e-Book format or at used book stores. If you're looking for great beach reading, this is just the ticket!
Sincerely,
Kati