REVIEW: Back Across the Styx by Karalynn Lee
"Hades and Persephone have a son, and he's feeling trapped in the underworld. Bion's one solace is his friend since childhood, Myrinne, a mortal girl who was adopted by Charon the Ferryman. When Myrinne is kidnapped during a jailbreak from the underworld, Bion's rescue becomes a chance to experience life in the sunlit lands. He promptly falls in with Spartans who are desperate enough to raise the dead to fight a looming Persian army. But meddling in a war the gods have sworn not to interfere with isn't likely to put him in Zeus's good graces — and Bion needs the god's favor to help Myrinne, who's turning out to mean even more to him than he realized."
Dear Ms. Lee,
I grew up reading and reading about Greek mythology. Edith Hamilton's classic book "Mythology" has sat on my bedside table for over forty years. Reading your delightful novella was just like stepping back in time and re encountering those myths again … but better. It's full of gods and goddesses, men and monsters, fantastic places and bloody battles where the real and the unreal mingle side by side and are impossible to separate. I only wish I'd read it the month it was released as it would definitely have been a recommended read for February. As it is, it is a recommended read for this year and will probably end up on my Top Ten List for the year.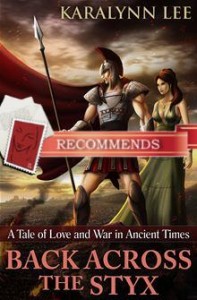 Novellas and short stories are an art form and often difficult for me to read. Too often something gets sacrificed – either detail or emotion or coherence. Here, it's perfect. This is a fantastic blend of history and fantasy. It's got a coherent plot, tight story telling, a logical sequence of events, and descriptions which are condensed to the essence yet still enough to clearly convey the thoughts, emotions and actions of the characters. It is focused but complete in the character and romance arcs.
I like the feisty heroine who has been raised slightly differently – to say the least – from the usual quiet and demure young Greek woman of the day. She's lived listening to the life stories of the dead as they cross the river Styx. She's heard a lot more than most women and is eager for adventure and a chance to see the upper world. Her natural curiosity leads her on yet her intelligence keeps her out of trouble. When she's faced with a difficult and permanent choice, her wisdom, despite her youth, makes her decision a simple and easy one.
Bion is a young god who has witnessed his parents' arguments for as long as he can remember. Their fights have, in a way, taught him how not to pursue romance and married life. He's also full of his manly youth and eager to prove himself as worthy of honor and acclaim as the Spartans who stood against the Persians still ravaging the Greek homeland. The battle sequences are enough for the story without getting too gory and manticore is hideous and in keeping with the other beasties of myths. Bion is young enough to sulk a bit when unearned blame is laid on him yet clever and mature enough to turn the situation in his favor when he needs to ask for one last enormous boon from Zeus.
The outcome of the romance is obvious from early on. These two are already well matched in temperament, preferences and desires. It only takes a nudge to get them to break free of the Underworld and taste life and adventure – but always together. Healthy young lust is tempered by care and concern for the other. Neither wants to hamper or coerce the other. Bion desperately wants Myrrine but refuses to pressure her one way or the other. His persuasive speech to the gods speaks volumes of his love for her.
"Even if I didn't desire Myrrine as my wife, I'd want her in my life. She's my dearest friend. I wouldn't have survived growing up in the underworld without her." He'd thought he wanted the fullness of his powers and freedom from the underworld, believing these things would make others see him as a grown man. But they didn't matter, not compared to the way Myrinne looked at him: with acceptance and tenderness and joy. He never wanted to lose that.
The family concerns are addressed well enough for me to be as at peace about them as are Myrrine and Bion. The fantasy element is handled well making it seem as natural to the story as it does in ancient myths. The storytelling is seamless and seemingly effortless while the romance is fulfilling to watch unfold. After I read the novella once, I read it a few days later just to be sure it still sparkled as much the second time around. It does. A
~Jayne