REVIEW: Swordheart by T. Kingfisher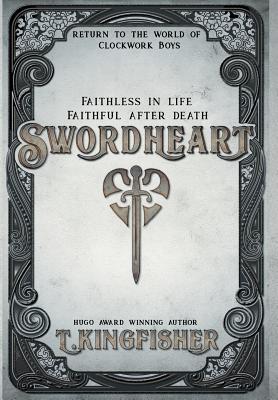 Dear T. Kingfisher,

I recently had the great pleasure of listening to Paladin's Grace and reading Paladin's Strength so I immediately went to your (extensive – hooray!) backlist for more goodness with Swordheart. There are similar themes between Swordheart and Paladin's Strength so I would recommend to readers perhaps taking a short break between reads to get the most out of it. It's partly why I ended up taking a bit of time to read this one. However, it is delightful and well worth reading.
Your humour really works for me and I enjoy the effortless diversity and acceptance of queerness in this rich world you've created. I gather there are earlier books set within the same universe – and certainly the later Saint of Steel books are too (I recognised Brindle the gnole here) but I have the sense that the world has much yet to explore and is as big as the real one I live in.
Halla is a widow who lives in Rutger's Howe with her deceased husband's relatives. For the past few years she has been keeping house for Great Uncle Silas who has recently passed away. Silas, very unexpectedly, left all his property to her and his remaining relatives, including Aunt Malva and Cousin Alver, are incensed. As a result, she has been locked in her room, pending her agreement to marry Alver of the clammy hands. Halla, who dislikes clammy hands (among other things) is not good with this plan and in any event, thinks it unlikely she'd survive very long once the vows are exchanged.
After a few days and out of acceptable options, she decides to take matters into her own hands and end her life. Silas was a great collector of artefacts and in Halla's room there is a great sword on the wall. She decides to run herself through. Only, when she draws the sword, there's a sparkling blue light and a man appears in armour and holding his own weapon.
Sarkis, the man in the sword, was enchanted into the weapon hundreds of years earlier in circumstances which become known as the book progresses. He is sworn to the wielder of the sword and as that person is now Halla, he helps her escape her horrid relatives in order to fulfill his oath and protect her.
There follows a delightful road trip to Archon's Glory and the Temple of the Rat to seek assistance in gaining control of her inheritance and thence back (with additional support) to Rutger's Howe with many adventures in between.
Halla is an absolute delight. She's funny and practical and well aware of her skills and shortcomings. She uses the former to disguise the latter to great effect. Sarkis is at first dumbfounded and then bemused and somewhat exasperated with Halla and her infernal questions.
"…Do women travel alone in your country?"

"Often enough," Halla said, wrapping the cloak tight around her shoulders. "It won't draw a great deal of comment. If I were younger or better looking, someone might care. As it is, they might think I'm being foolhardy, if anybody notices me at all."

He scowled at her. "You are a fine looking woman. If your countrymen cannot see that, it is the fault of the decadent south, not you."

Halla blinked at him, then felt a smile spread helplessly across her face. "That's…that's very sweet. Thank you."

"I am not sweet. Did I mention that I've fought dragons?"

"Yes, but you also mentioned that it was mostly unsuccessfully."

Sarkis grunted. "At any rate," he said, "if anyone asks, I trust you'll simply do that thing you do."

"What thing?"

"You know." He waved his hand irritably. "Begin asking unexpected questions until everyone in the conversation starts doubting their senses. It's a talent. Like some strange form of diplomacy that goes so far in the wrong direction that it comes out the other side."
At the same time he's also attracted and impressed with her and he tumbles helplessly into love.
Woman's built like an hourglass. The sort that measures twelve hours at a stretch.

Had he been younger and not trapped in a peculiar living death inside a hunk of enchanted metal, Sarkis would not have minded checking the time more closely.
Halla, for her part, doesn't take very long to develop feelings for this handsome warrior sworn to protect her at all costs (I mean, who wouldn't??) but worries that she's not his type. Her experience in life is not to have high expectations. She's not the kind of woman who men chase after and her scant experience with being caught didn't necessarily endear her to the concept.
She is always kind and thoughtful and she treats Sarkis like a person and not an enchanted sword. She cares for his comfort and wellbeing and his agency – all of which are fairly novel things for Sarkis.
I laughed out loud so many times during the read. Sarkis's dry wit and Halla's combination of "stupid questions and extraordinary stories to drive people to giving up and leaving her alone"  (the one about the cauliflower was hilarious) and her tripping over her own feet to not be too obvious about her attraction kept a smile on my face most of the time.
"Lady, I have slept on stone floors with snow coming in through the windows. This is not a hardship."

"Yes, but you don't have to," she argued. "There's no snow. And we've got blankets! And a cloak! You could even share the bed if you want—I mean, not share it, obviously, not share-share it, I'm a respectable widow, or I was before I met you and all this happened, but of course I'm still respectable like that, so I would never actually—not that I'm saying you'd want to, of course, even if I wasn't respectable, or that I'd want to—not that you're not—I mean, it's nothing against you, you're a fine man who's actually a sword and I don't know if swords even—I mean, it would be ironic if they didn't, given the symbolism, don't you think?—but—"

At that point, her embarrassment reached out from somewhere in the center of her chest and mercifully throttled her tongue.

Sarkis had begun staring at her at some point in that recitation, his head tilting farther and farther to one side, like a dog that could not believe what it was seeing.
I particularly enjoyed the section of the book where Halla and their accompanying Rat Priest, Zale, devise a series of experiments to understand the magic of sword. Poor Sarkis!
"No one," said Sarkis wearily, "in my entire life, has ever said, 'yay,' when I handed them a jar of piss."
In terms of the romance, the underlying attraction is always there but Sarkis is worried that Halla will not feel free to reject his advances because she needs his help to regain her inheritance and so resolves not to make a move until she is safe and her awful relatives have been ousted and dealt with. Halla's own thinking is not entirely dissimilar – she worries he does not have romantic feelings for her and she could possibly be taking advantage given that he's bound her to her service. I liked that the power differential (both ways) was explicitly discussed in the narrative and consent was very much a live issue. When the time came for them to act on their feelings I was in no doubt that the consent was freely given, mutual and (very) enthusiastic.
There are two other contemporaries of Sarkis who are also in swords and I dare to hope that we will one day get their stories. Certainly there's a kind of "Chekov's detour" which occurs in this book but which doesn't really go anywhere and on its own it's kind of pointless. I'm thinking however that it will probably become very significant indeed in future books.
Sarkis is keeping something of a secret (but he has a good reason for hiding it) which throws a spanner in the romantic works near the end and then there are shenanigans and it's Halla's turn to do the rescuing, using her unique blend of skills to do so. Go Halla!
While the story has a definite HEA, I would not be at all surprised if there are further adventures in store for this pair which will tweak things further in their favour particularly given Sarkis's long-held wish. I'll definitely be along for the ride.
Grade: A-

Regards,
Kaetrin