Review: Ashfall by Mike Mullin
Dear Mr. Mullin,
When I first ran across this book on Amazon, I couldn't wait for it to be released. While I have a spotty track record with Young Adult books, the concept was very intriguing for me – a supervolcano eruption that turns the world into chaos. As I read, I couldn't help but compare this novel to the Susan Beth Pfeffer books and I'm pleased to say it held up very well and provided a much needed dose of variety in the dystopian/post-apocalyptic glutted shelves of Young Adult.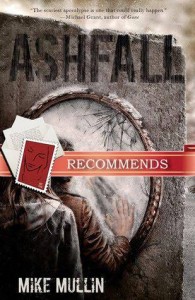 Ashfall is the story of Alex, a typical sixteen year old boy.  When his family wants to go away to Illinois for the weekend to visit family, Alex prefers to stay home and spend the weekend by himself. His parents are nervous to leave him, but he's old enough. They never expected that the supervolcano below Yellowstone would erupt, sending the world into chaos. Alex's house is hit by a boulder flying through the air and it collapses. No one knows what is going on. He's rescued by the neighbors just as soon as the next phase of the eruption starts – an endless stream of ear-shattering explosions and ash falling through the sky. A few days later, he is on the run and decides to set off on foot to find his parents in Illinois, even if it means crossing a hundred miles in the aftermath of the volcano.
This book is hard to summarize because so very much happens through the story. We see Alex go from a spoiled, self-centered sixteen year old boy into a thoughtful, resilient young man capable of surviving the worst the apocalypse has to throw at him. When the story starts, the narrative is almost childish in its shallowness and occasional petulant moments, and I wasn't sure I was going to like the story or Alex. But we see Alex change over time. He starts to realize that with the world in chaos, the old rules don't apply, and he adapts. Alex becomes more likable the tougher his world gets.
Along the journey, he meets Darla. I loved Darla. She's a farm girl who doesn't have time for Alex's nonsense. She's tough and hard and by far the most competent character in the book. Slowly, Darla grows to respect Alex and eventually they turn to each other for comfort and even love. I appreciated that their 'romance' did not begin instantly and that Darla was smart and resilient on her own without being useless. Too often I feel that female characters are delegated to auxiliary roles in order to show how amazing the male main character is, but I felt that was not the case in Ashfall. Darla is stronger than Alex, more competent, and yet she needs him just as badly as he needs her.
The world in this book was very stark and brutal. I have heard this story compared to The Road for teens, and while I don't know if I would go that far, I compared it to Susan Beth Pfeffer's Life As We Knew It  or The Dead and The Gone in that we experience the characters struggling to survive as the world changes around them. Characters are murdered. People starve. There are few places for Alex and Darla to find a safe haven at. No one is spared from the ash, and then the early winter that sets on. There are thugs and cannibals everywhere, trying to scrape out a living. There is brutality and starvation and winter and fighting for food, but there is also a note of hope and Alex and Darla cling to each other. I liked that we got to experience what Alex and Darla were going through as the apocalypse unfolded. I feel as if too often authors prefer to show the post-apocalyptic angle and have the apocalypse happen after the fact. That was not the case here; the characters are thrown head-first into the apocalypse and experience every stage as it happens.
This book has a few flaws: I found it tough to warm up to Alex for the first fifty pages or so. Also, toward the last 70% of the book, there was a plot turn that I was not surprised to see, and I felt it slowed down the story a bit. But that did not mar my overall enjoyment and I enthusiastically recommend this one to anyone who enjoys a good,  dark, grim apocalypse story with a hint of romance, or those looking for more boy books to fill up their libraries. There is a sequel that comes out next year and I am looking forward to it.  A-
All best,
January