CLASSIC REVIEW: Again by Kathleen Gilles Seidel
Dear Ms. Seidel,
About a dozen or so years ago, I read your 1994 epistolary contemporary romance, Again, and fell in love with it. I went on to read most of your other books and while I was very fond of most of them, this one remained one of my favorites. Now that Again has been reissued in a digital edition, I decided to reread it and see how it holds up.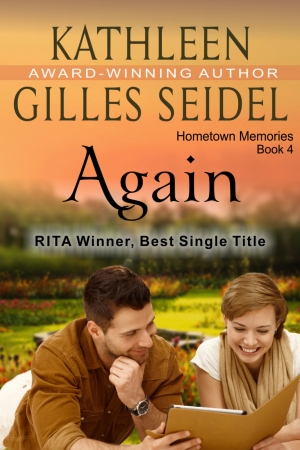 Again takes place on the set of a daytime soap opera set in Regency England. The show is called My Lady's Chamber. The story begins when its head writer, Jenny Cotton, asks that daytime veteran Alec Cameron be hired for a role that needs recasting.
Alec is coming off of a disastrous experience on another soap. Aspen's head writer did not understand daytime soaps, the directors could not come up with a consistent look for it, and the audience tuned out.
Alec, who has a personality that compels him to solve problems even when that is not his role, valiantly tried to fix these issues. For his pains, he was not only fired, but made to take the fall for the show's low ratings. He found himself unable to get another acting job, until My Lady's Chamber called.
Now Alec has decided not to make the same mistakes on My Lady's Chamber. Members of the cast tell him he'll love it there, that the show is like a happy family. Alec is determined not to fall for it, to remain detached, until he meets Jenny Cotton.
Jenny is the creative heart of the show, the one the actors come to with their problems. Alec finds her smile when she greets him "bright and gamine" and thinks "everything about her sparkled with energy." To his eyes she appears "fresh and uncomplicated," and Alec wonders why it's hard to meet more women like her.
If this were the kind of story we often read, this would be Alec and Jenny's cue to begin courting. But this isn't that kind of story, because Jenny already loves someone – her longtime boyfriend Brian, the actor who plays Hastings, butler to Alec's character.
Jenny met Brian when they were both fourteen. Jenny, the motherless daughter of a pool hall owner, was from a poor neighborhood and did not know how to do "girl stuff." This made her an outsider at her Oklahoma school, and yet, she was well-liked by kids from a variety of backgrounds.
Brian, whose mother left his alcoholic father and brought her son with her to her hometown, was under pressure to be respectable, but wanted only to be free. And Jenny, who had by then accepted her outsider status, "seemed like the freest person he had ever met."
Together, Jenny and Brian moved to New York. Together, they grew their careers. It was Brian who encouraged Jenny to create her own show, even making it possible for her to quit her job and so she could work full time putting My Lady's Chamber together, and later helping her sell the show.
And yet, despite this, Again makes the case that Brian is the wrong man for Jenny. Our first inkling of this comes when Alec witnesses Brian confront Jenny about a script in front of the entire cast. A second clue comes when Alec has difficulty figuring out his character, Lydgate. A castmember suggests he discuss it with Jenny, but during their conversation, Jenny suffers a miscarriage.
Alec rushes Jenny to the hospital. He then realizes Brian should be called, but when Brian arrives, he is worse than useless.
"I'm glad you're about to get out. This can't be any fun." Brian looked around the room. "I'd hate being in the hospital. It gives me the willies just visiting."

For God's sake, man, she just lost your baby. Show her that you mind.
————————————————————————————————————————————–
Alec thought he understood. There had been a rule in his own marriage—Chloe was the only one who was entitled to get upset. Alec wasn't supposed to have any problems. His job in the relationship had been to solve the problems, her job to have them. It had worked until they started having problems that he couldn't solve.
But even if Alec is starting to realize that Brian's behavior isn't fair to Jenny, Jenny does not want to face it. In the wake of her pregnancy, her sex life, which was never satisfying, becomes nonexistent. The miscarriage leaves her sad and forlorn, though before it happened, she had not even realized that she wanted a child.
When she returns to work, Jenny learns that Alec has figured out his character. He is playing Lydgate as cold, more interested in things than in people, even cruel to his wife. While watching Alec portray Lydgate, Jenny has an uncomfortable epiphany.
Karen turned to ad-lib a silent word to Alec, her movement stirring the silken folds of her dress. Alec mouthed a response and even though the camera was not on him, he took the smallest step backward.

It was a good touch, that withdrawing. It was the sort of thing some men did, the desire to distance themselves welling up even when they were unaware of it. Jenny hated it when Brian—

When Brian did it. That was Brian's gesture. Brian took that little step backward all the time.
I don't want to spoil where Again goes from here, but I have to touch on a couple of things that come later to explain the book's appeal.
One of the things I love about Again is that almost nothing is simple. The characters feel real and their relationships messy and complicated. It takes a long time for Jenny to fully see and accept who Brian is, and realize that he is not as committed to her as she is to him.
Another thing I love about the book, and something that makes it so enjoyable to read, is the way Jenny's writing plays into the story. Again is an epistolary novel, and we get outtakes from Jenny's scripts, story breakdowns and memos to the cast, even a letter or two. And Jenny pours her feelings into the show, but not in any kind of direct way. The writing Jenny does for the show reveals what she unconsciously knows about Alec, about Brian, and about herself, but hasn't admitted yet.
The scripts also give Alec clues, and sometimes he is on target in sussing out what they mean, while at other times he is misled. It's as if Jenny is speaking in code, telling Alec, and Brian, if only he would listen, what she thinks and needs and dreams.
Jenny is my favorite character in the book, for her competence, her intelligence, her good cheer, her imagination, but most of all for her complexity.
Alec is a little too perfect, but what I love is that even this—his tendency to be responsible, helpful, and strong for others at all times–is rooted in his past and explored.
I would be remiss if I didn't mention Brian, who is surely one of the most three-dimensional villains I have encountered in the pages of a romance. His layers are peeled back slowly, one by one.
I do have a handful of criticisms, however. The idea of a daytime soap set in the Regency was hard for me to swallow when I first read the book. It is actually a bit more believable now, after the success of Downton Abbey, but it's still a stretch.
A secondary character named Rita Harber, an ambitious nineteen year old who joins the cast, is judged by her co-workers, Alec included, for the way she dresses. This is all too believable, but I regret that slut-shaming words are occasionally used to describe her.
The book is also marred by one instance in which a racial slur, a derogatory term for Latinos, is used in fourteen year old Brian's POV when he is trying to figure out Jenny's background. I wish this had been changed for the reissue.
My last criticism involves major spoilers:
Again  is dated in some ways, but for a thirty-one year old novel, it has a story at its center which remains amazingly resonant. It is without a doubt one of the most complex, intelligent romances I have ever read, and also has appealing characters, heart, and emotion. For these reasons, I give it a A-.
Sincerely,
Janine