What Janine is Reading: Spring and Summer of 2015
The Deal by Elle Kennedy
I read this first book in Kennedy's Off-Campus series (reviewed for us by Kaetrin, who gave it an A) back in April. It's a New Adult romance set on a college campus. Garrett Graham is a hockey player and hot commodity on campus. Hannah Wells is a music major who doesn't care about sports.
But Hannah has a crush on an athlete nonetheless, another guy, a football player. After Hannah aces a test the Garrett fails, Garrett tries to get her to tutor him. At first she's not interested but after a lot of persistence from him, they strike a deal– he'll help her win the guy she has a crush on if she tutors him.
Hannah has an interesting background. At age fifteen she was drugged and raped while at a party. Although heroines who have been raped are not uncommon in romance, Hannah may be the first I've come across who actually took her case to court.
Sadly, as happens all too often in reality, she was painted as a liar and she and her family lost the case. Her parents were left in debt thanks to the legal fees and couldn't afford to sell their home and leave the town where everybody hates her and her family. Hannah got away from there by going to college, but the has experience made her wary of drinking at college parties.
This was heartbreaking but I appreciated how true to life it was. A second thing I appreciated was that Hannah and Garrett become friends first, before they start to see each other in a sexual way. And as Hannah's friend, Garrett watches her drink when she goes to the bathroom at a bar, and looks out for her in other ways.
Garrett background was also affecting but less interesting to me. His father was physically abusive. I thought this was less developed than it could have been. Garrett's dad was a villain with no good qualities except for having been a hockey star. There was no love or even a glimmer of understanding between Garrett and his dad which made their relationship feel shallow.
But the chemistry between Garrett and Hannah leapt off the pages. While I've seen heroes help heroines recover from sexual trauma many times in the past, the sex scenes here had a welcome earthiness. The book was also highly readable; I almost couldn't put it down. Because it was so much fun, I'm giving it a B/B+.
AmazonBNKoboAREGoogle Play Store
---
The Mistake by Elle Kennedy
After reading The Deal, I was eager for Kennedy's next book, The Mistake, which Kati reviewed in May (it was an A read for her). This one is about John Logan, a friend and housemate of Garrett's who was in love with Hannah in The Deal. In The Mistake, Logan meets Grace Ivers, a bookish virgin to whom he is attracted. Logan and Grace hook up, and she almost loses her virginity to him, but things go awry at the last moment.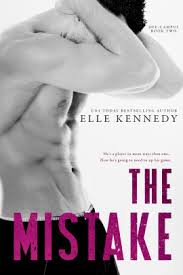 By the time Logan figures out that he was never in love with Hannah but only envied what she and Garrett have together, Grace has written him off.  She also thinks she gave too much of herself too easily. Logan has to work extra hard to win himself a place in her heart.
I was much more ambivalent about this book than about The Deal. On the positive side, it had many of the same strengths The Deal had, including a lot of pursuit and courtship on the hero's part, appealing characters, and hot chemistry between the hero and the heroine. Still, I ended up feeling that it was a little empty.
I didn't really buy the explanation that Logan wasn't ever in love with Hannah, but had only envied the relationship Garrett had with her and wanted one like it. That didn't fit with Logan's behavior in the earlier book.
I also didn't buy the premise that Logan had to keep a promise he'd made to his brother to take over their alcoholic dad's car shop after college, even at a cost of being unable to join the NHL. It made no sense because an NHL player could have afforded to hire someone to run his father's business and freed his brother that way.
I'm also getting tired of the "puck bunny" portrayals in this and other college romances. I'm not keen on the way they are used to draw a contrast to the virginal heroines. Why can't a heroine who enjoys sleeping with athletes (like Susan Sarandon's character in Bull Durham) win the hero's heart without being shamed?
I digress. The greatest source of frustration for me was something else — that Logan, like his brother, was a classic enabler and rather than realizing his behavior needed changing, he was bailed out by the coach in a deus ex machina resolution. It felt like a copout from tackling the thorny issues at the center of his life, enabling and martyrdom. C/C+.
AmazonBNKoboAREGoogle Play Store
---
The Wrong Side of Right by Jenn Marie Thorne
I got this book from the library seeing a recommendation on Twitter, and because I have a love for stories that center around election campaigns and political families. I only read 22 pages before it was time to return it to the library, but it wasn't anywhere close to as bad as this makes it sound.
The Wrong Side of Right is a contemporary YA about sixteen year old Kate Quinn, a girl who is a normal teenager until she finds out that she's the illegitimate daughter of a presidential candidate.
Kate's mother is conveniently not in the picture (dead), and her father acknowledges her and says he only just learned of her existence. He and his wife invite her to visit with them and their twin nine year olds, her brother and sister.
Kate goes along with what the campaign staff members want of her, and doesn't know if her father truly wants a relationship with her, or if he's just faking for the sake of his campaign.
From what I've heard (rather than read) Kate goes on to become romantically involved with the son of the President whom her father is competing against. This is one of the things that drew me to the book, but I didn't get far enough to see that character on the page.
This novel didn't grab me fast enough. Kate seemed a little too ignorant of politics for her age, and her father seemed to lack depth. I would have been more interested in their relationship had he been charismatic in person, but he was only that way in front of cameras.
His wife was the most interesting character in the section I read; I like that she was portrayed as both intelligent and sympathetic, neither a villain nor a victim. She'd learned about her husband's affair with Kate's mother years earlier, and she didn't blame Kate for it, but she also didn't like the way her life, and that of her two children, was up-ended by the revelation that her husband has another child.
Kate herself was less interesting. Based on the blurb it appears her story arc involves learning to be more authentic instead of telling people what they want to hear. But in the 22 pages I read, she was so unformed that I didn't feel invested in her. I wanted her to have more personality.
AmazonBNKoboAREGoogle Play Store
---
Good Time Bad Boy by Sonya Clark
I've saved the best for last. I really needed a comforting read after reading a portion of Kate Breslin's For Such a Time, and this book provided that. Sunita reviewed it here and gave it an A-. Her review and comments gave me the feeling that it authentically depicted a small town without demonizing city dwellers and that sounded good, so I downloaded a sample. At the end of the sample I wanted more and hit the purchase button.
This novel was really lovely, with characters that felt real and nuanced. The main storyline was a May-December romance between Wade Sheppard, a washed up country singer from a middle class background, and Daisy McNeil, a hardworking waitress from the other side of the tracks who is also a part-time college student.
Wade and Daisy both carry some baggage. Wade's marriage broke up after his ex-wife's miscarriage. Neither he nor his ex-wife knew how to talk about this loss, and now his ex-wife has moved on while Wade is still punishing himself for the past. After getting drunk on stage to forget the heartache behind one of his songs, Wade has to face his manager's disappointment. She tells him to take the summer off and get his head straight.
Daisy gave up her daughter for adoption when she was only eighteen, and while she knows it was the right thing to do, her emotionally abusive mother keeps telling her that she threw her daughter away. Daisy is also the survivor of a later relationship that turned violent, and that experience has made her gun shy.
Wade and Daisy meet when he shows up at his small Kentucky hometown's honky-tonk — the one where she works and where he originally got his start in singing. A drunken Wade makes an unwelcome pass at Daisy and slaps her butt; she sets him straight and gives him what for, but loses her job because of it. Wade then works out a deal with her boss– he'll perform for free all summer long if the bar's owner gives Daisy her job back.
With both of them working in the same place, Wade and Daisy get to know each other slowly, and very gradually begin to fall in love. But Wade is only in town for the summer, and Daisy has no desire to live on the road.
This book was romantic and sweet, with (as Sunita indicated) both the characters and the small town setting portrayed with authenticity. The author creates a community of secondary characters around Daisy and Wade, and tracks Daisy and Wade's development as individuals and as a couple beautifully. I loved the resolution to the career conflict because it didn't diminish either character.
I was reminded of a few of LaVyrle Spencer and Kathleen Gilles Seidel's contemporaries (partly, but not only, because these authors have both written about country singers). I'm so glad I read this book, which I never would have come across if not for Sunita's review.
There are some annoying copyediting errors, but otherwise the book is terrific. I didn't even mind the characters' fifteen year age difference, something that often bugs me, because it was acknowledged as a potential obstacle to the relationship and Wade and Daisy clearly gave it thought. For the longest time I thought I'd give this a B+/A-, but it has really stuck with me, so it gets a full on A-.
AmazonBNKoboAREGoogle Play Store
---