REVIEW: My Dangerous Duke by Gaelen Foley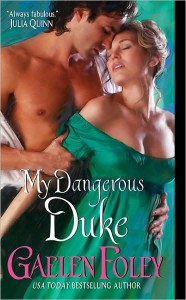 Dear  Ms. Foley,
I read and very much enjoyed your novel, The Duke, back when dinosaurs still roamed the Earth (okay, slight exaggeration, but sometimes it feels that long ago; actually, the internet tells me that The Duke was published in 2000). Impressed as I was, I hunted up and read your previous series, the Ascencion trilogy, and then  began to read each book in the Knight Miscellany series as they came out. I liked some of these books better than others, but my interest waned sometime before the Knight Miscellany series ended – none of the books had the same impact for me that The Duke had, and eventually I moved onto other things. Thus, it's probably been a good five or six years since I picked up one of your books. When I saw that you had a new novel coming out, I decided to dip my toe in the water again and see if I was missing anything.
The book opens in Cornwall in 1816. Our heroine, Kate Madsen, has been held captive after being  kidnapped some weeks before from her cozy cottage on the edge of the moors, in a possible case of mistaken identity (her captors think she is named Kate Fox). She is being held by a gang of smugglers, and now they plan to turn her over for use as a sex toy to the Duke of Warrington, known to the denizens of the local village as the Beast. The smugglers have run afoul of the Duke and plan to use Kate as part of a peace offering. Apparently this was before the invention of those pretty fruit baskets where the fruits are cut to look like flowers.
Anyway, Kate, a quiet, scholarly lass (but not so quiet and scholarly that she hasn't been fighting the smugglers tooth and nail since her abduction) is suitably horrified at the prospect. She's been drugged with opium to make her more compliant when she is dragged to the Beast's castle, a rather medieval affair supposedly haunted by the ghosts of murdered Warrington wives of bygone eras. You see, Warrington is part of a secret order called…the Order, which for centuries has battled another secret order, more imaginatively named the Prometheans (okay, to be fair, I later realized it was The Order of St. Michael, but they usually just go by the short name). In my quest to find out  (y'all, I do research for these reviews!) if the Prometheans were a real group, I came across: 1) some sort of weird role-playing game based loosely on Frankenstein, 2) a software company, 3) a philosophical movement which, from the website I perused for all of three minutes, seems typical of  most philosophical movements in its intense devotion to navel-gazing. Since the Prometheans in My Dangerous Duke are repeatedly  described as "evil", I'm guessing they may be related to #2 above, but who knows.
Anyway, where was I? Oh, yes, Beast, castle, virgin sacrifice. Anyway, our hero, whose first name is Rohan, accepts his gift and has her deposited in his bedroom for later ravishment. When he comes to do the ravishing, he finds her passed out from the opium (he thinks she's drunk, and a prostitute). Because he's really a nice guy, he declines to do the ravishing, which both the hero and heroine seem to later  think is just swell of him. Yes, I'm aware that the book is set in different times, but it wasn't written in different times, and there's only so much admiration I can muster for the hero for refraining from raping the heroine while she's unconscious. They do manage a little petting when she is pretty out of it, and honestly, I found that distasteful enough.
When Kate wakes up the next day, she tries to flee the castle, and, after saving her from falling off a cliff in a storm, Rohan is finally able to straighten out their wacky misunderstanding and realize that she's a kidnapped bluestocking and not a dipsomanicial whore. He also discovers that she appears to have a connection to the Prometheans, one Kate herself is not aware of. So then we embark on a period where Rohan wants Kate but doesn't trust her, and Kate wants Rohan (she cottons to him pretty quickly, actually) but doesn't understand all of his mysterious secrets or why he's holding her at arm's length.
The "why" has to do with Kate actually being a blood descendant not just of the Prometheans but of the original baddie himself, some sort of sorcerer known as Valerian the Alchemist. It was V the A who had originally "cursed" the Warrington line (no, seriously) and supposedly caused all of those Dukes of Warrington to murder or otherwise cause the deaths of their wives.
Okay, I had a lot of problems with this book, and this whole business was one of them. I am not a big fan of Unexpected Paranormal Elements, but I guess that's my problem. But I also am not fond of books that just can't decide if they want to be paranormal or not. This book did eventually decide, but far too late for my tastes. The entire Prometheans v. Order dynamic, replete with occult mumbo-jumbo, was way over the top, and not in a good way. I felt like the book got more and more cartoonish as it went along, at least in its portrayal of these two secret groups that were battling it out, good v. evil style, with the fate of the world hanging in the balance. It all just struck me as very silly (again, not in a good way, though others may be more forgiving). The silliness reaches its height in the dramatic denouement in which our hero and heroine venture into a secret, booby-trapped cave in the Orkney Islands in order to retrieve value scrolls from the tomb of Valerian the Alchemist before the baddies can get there. The scene seems to go on forever, and features rivers of fire and swinging knives – honestly, it's very Indiana Jones-ish, and I could see it working on screen, but on the page it was confusing (at least to me; I'm not a highly visual reader) and ridiculous.
This is one of those books, I'm afraid to say, for which my potential final grade kept slipping as I read. First I was thinking C, then C-, then D+, and then D. It never got to F level – it's not egregiously bad – but I didn't find that it had a lot to recommend it. The characterization was flat – the hero and heroine more a collection of cliches than anything. The writing was similarly cliched and at times far too purple for my taste. The external plot was absurd, and the internal h/h conflict was pretty tired as well – he's troubled because he's a big, bad assassin and so doesn't think that he's good enough for her.
Reflecting back on my fondness for The Duke, I have to wonder if I've changed or romance has changed in the ten years since it was published. Maybe it's a little of both. I think if I'd read My Dangerous Duke back then, I would've had more patience with some of the romance tropes it features. I don't think it would've been a A level book for me, but I think I would've liked it better than I do having read it in 2010. As it as, again, my grade for My Dangerous Duke is a D.
Best regards,
Jennie
Book Link | Kindle
| Amazon
| nook | BN | Borders
| Sony | BooksonBoard |
This is a mass market published by Avon who participates in agency pricing (thus no discounting and tax will be assessed for some readers).